Typhoon Hagibis wreaked havoc on the Rugby World Cup, causing the cancellation of multiple matches as Japan dealt with the impact of the devastating storm. But even Mother Nature couldn't stand in the way of the world's top rugby nations, as virtually all of the favorites went through to the quarterfinals after group stage play.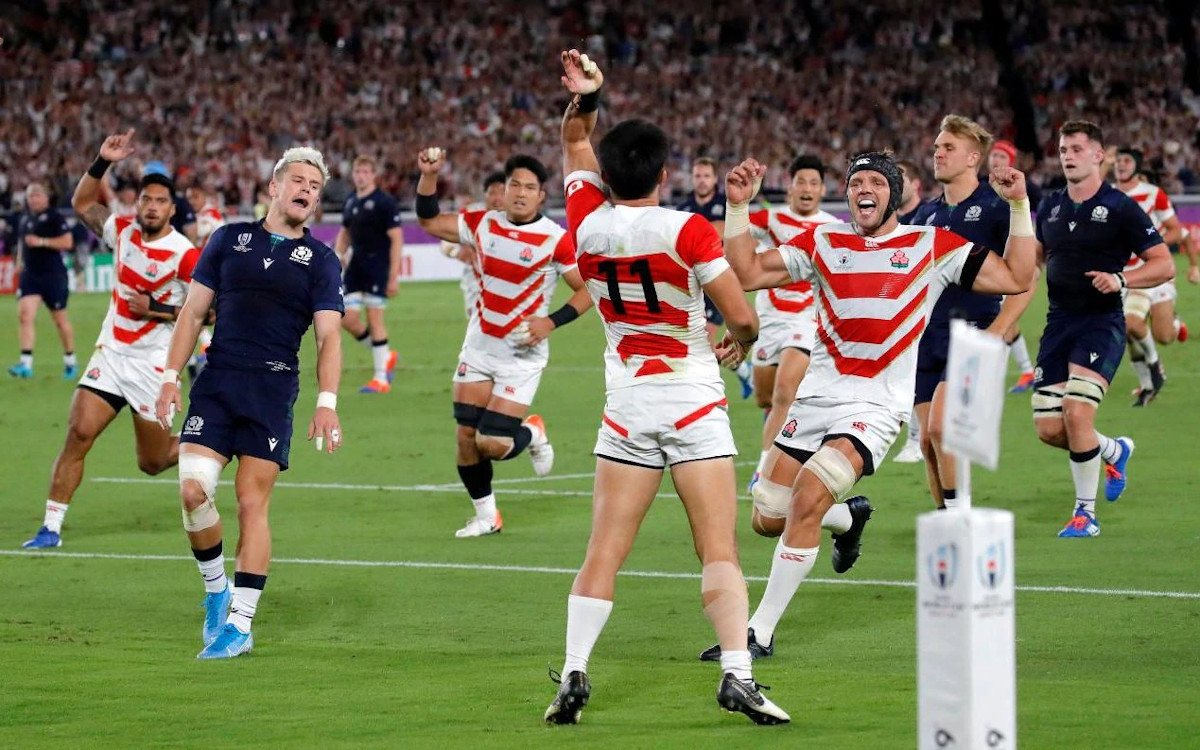 While cancellations and upsets shuffled the group stage standings slightly, there have been no major surprises in the Rugby World Cup so far. One result did, however, provide some unexpected excitement for home fans.
Japan Tops Pool Ahead of Ireland, Scotland
Japan had never before made the Rugby World Cup quarterfinals, and weren't expected to make much noise this year either. While they came into the tournament ranked No. 10 in the world, bookmakers were offering 300/1 odds on the hosts to win the competition. They were seen by most as, perhaps, the third-best team in a group that also featured No. 1 ranked Ireland and Scotland.
But Japan didn't just qualify for the quarterfinals – a result that would have made them the first Tier 2 team to make it that far since 1997. Instead, they topped Pool A, scoring wins over both Scotland and Ireland on their way to a perfect 4-0 record, and 19 points.
Japan finished off their run with a 28-21 win over Scotland on Sunday, allowing the Brave Blossoms to reach the quarterfinals, where they'll take on South Africa in Tokyo next Sunday. That result also sent Scotland packing with a third-place finish in the group.
"Scotland took it to us from the start and, in some parts, outplayed us," Japan coach Jamie Joseph told reporters. "But the tenacity of our team in crucial parts of the test paid dividends. Our persistence, confidence, and trust in our game plan saw us through."
Scotland had previously complained about the decision to potentially cancel the match against Japan due to Typhoon Hagibis, as that would have eliminated them without giving the team a chance to potentially earn their way into the quarterfinals.
In the end, that game was played, and Japan earned their way into the knockout stages. Other matches were cancelled though, including a clash between Pool C leaders England and France, and a Pool B match between Namibia and Canada. Also in Pool B, Italy was denied a chance to fight for a playoff spot when their match against New Zealand was canceled – though the All Blacks were a substantial favorite in the game.
New Zealand Remains Rugby World Cup Favorite
With all the other top seeds going through, the quarterfinals – scheduled for Saturday and Sunday – will feature classic matchups between traditional powers.
Tournament favorite New Zealand will take on world No. 1 Ireland in an intriguing quarterfinal test. At FanDuel Sportsbook, New Zealand is a -460 favorite to win the game and advance to the semifinals. Japan (+450) will try to keep its exciting run alive against a tough South Africa (-600) side that is expected to advance past the hosts.
Also in the quarterfinals, England (-310) is a solid favorite vs. Australia (+260), while Wales (-225) and France (+210) are expected to have the most competitive match of the round.
---
Rugby World Cup Odds to Win Outright
New Zealand (+125)
South Africa (+340)
England (+430)
Wales (+850)
Ireland (+1800)
Australia (+2600)
France (+2600)
Japan (+4400)
Odds via FanDuel Sportsbook
---
Overall, New Zealand remains a +125 favorite to win the Rugby World Cup, in what would be the nation's third consecutive victory. South Africa (+340) and England (+430) are given the best chances of upsetting the All Blacks, while Japan has seen their odds shorten to +4400, though that still makes them the longest of shots to win the tournament.