Raging Bull, one of North America's leading male turf runners, will retire after the Breeders' Cup Mile and head to his breeding career at Gainesway Farm in Kentucky. He will open his breeding career in 2022 for $10,000.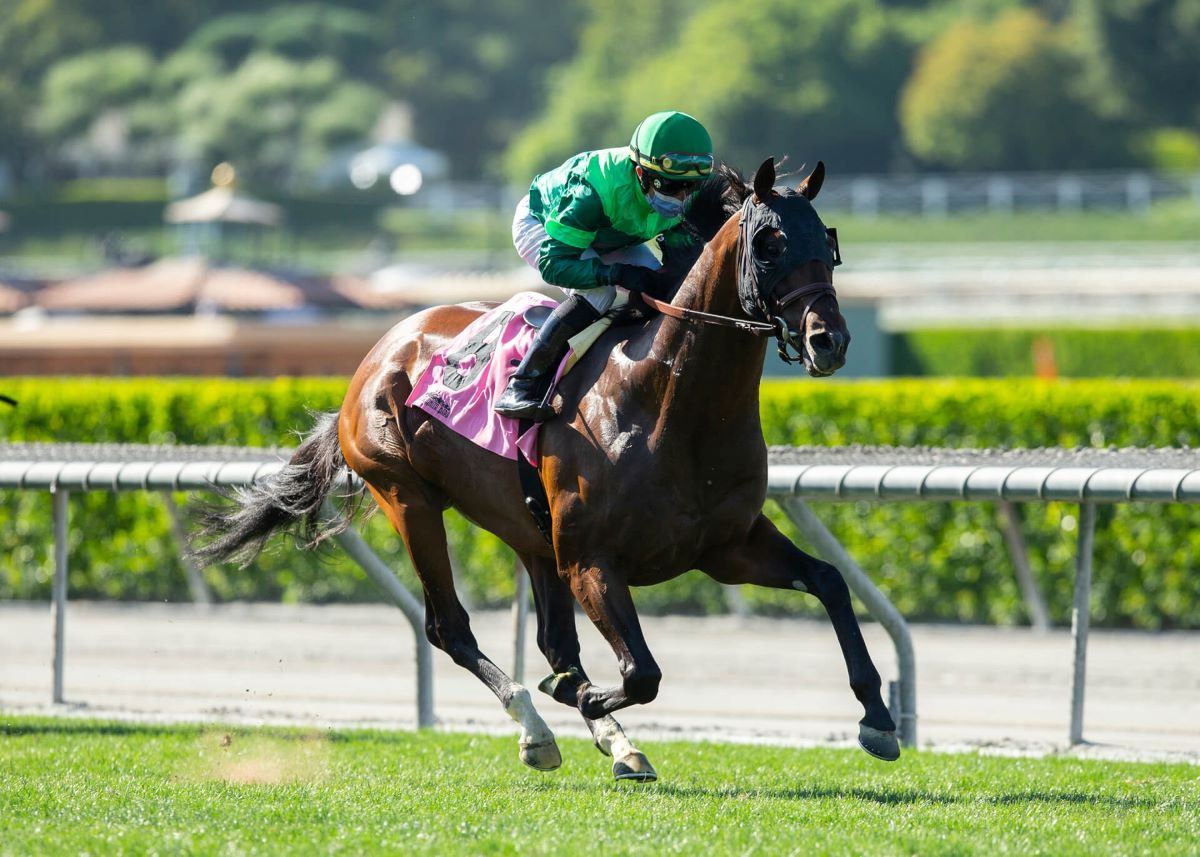 The 6-year-old horse, a product of standout European sire Dark Angel, owns Grade 1 scores in three different years. Those wins include this year's campaign-opening win in the Maker's Mark Mile at Keeneland, a race he finished third in last year. He also won the 2020 Shoemaker Mile at Santa Anita Park and the 2018 Hollywood Derby at Del Mar.
"Raging Bull is a knockout physically," Gainesway general manager Brian Graves said in a statement. "His six triple-digit Beyer Speed Figures and his performances over 14 Grade 1 events are impressive. His sire, Dark Angel, has become one of the most influential sires in international racing."
Raging Bull has been remarkably consistent on the speed front in 2021. That Maker's Mile Mile is his only score, one coming with a 106 Beyer Speed Figure and 108 Equibase Speed Figure. But all four of his races this year came with speed figures between 102 and 108. He also finished second in the Grade 3 Poker Stakes and third in the Woodbine Mile.
Raging Bull: 'The best looking horse I have ever trained'
"Raging Bull is the best looking horse I have ever trained," four-time Eclipse Award-winning trainer Chad Brown said in a statement. "He has run fast numbers at many different tracks, winning Grade 1s in three different years – the ultimate confirmation of incredible soundness."
In 2019, Raging Bull didn't win a Grade 1. He did run five graded stakes at five different racetracks, placing second in the Grade 1 Fourstardave at Saratoga and third in both the Manhattan at Belmont Park and the Woodbine Mile. Both of those are Grade 1s.
A French foal, Raging Bull banked more than $1.63 million in his 21 races. He found the winner's circle in seven of those and he's made 18 consecutive starts in graded stakes events – 14 of those Grade 1s. Of those 14, Raging Bull placed in nine (3-2-4). Since winning the Hollywood Derby at the end of 2018, Raging Bull has run 15 races. Fourteen of those were Grade 1s.
Looking for a better Breeders' Cup in his farewell
"I am extremely 'bullish' on his chances at stud," owner Peter Brant said. "We are excited to be partnering with Gainesway on Raging Bull and will be supporting him strongly with our mares."
Last year, Raging Bull finished a dismal-on-the-surface 10th in the Breeders' Cup Mile at Keeneland. He did finish solidly, only 5 ½ lengths back of winner Order of Australia and less than three lengths back of fourth-place Ivar. His 106 Equibase was only two points shy of his winning 108 in the Maker's Mark Mile five months later.