Merseyside Police are investigating an alleged assault after Cristiano Ronaldo broke a supporter's phone following Manchester United's defeat to Everton on Saturday.
The fan's mother revealed after the match that her son Jacob is autistic and also has dyspraxia, a disorder affecting movement and coordination. The 14-year-old was attending a match for the first time. He was left bruised by Ronaldo's abrupt gesture.
Manchester United forward Cristiano Ronaldo has apologised after he appeared to knock a mobile phone out of a fan's hand after his side lost to Everton pic.twitter.com/orGUOTEpzq

— TRT World (@trtworld) April 10, 2022
"At full-time, the Man United players started walking off. We were in the Park End so we were right by the tunnel where they came walking past – my son was there videoing them all," the supporter's mother, Sarah Kelly, told The Liverpool Echo.
"He filmed all the United players walking through. And then he lowered his phone because Ronaldo had pulled down his sock and his leg was bleeding. He lowered his phone to see what it was – he didn't even speak," the woman added.
"Ronaldo then just walked past, with a terrible, terrible temper and smashed the phone out of my son's hand and carried on walking," Kelly revealed. "You can see by the bruise that he's made contact," she stressed.
Ronaldo took to Instagram to apologize and offered to take the fan to a United game.
"He's autistic and he's got dyspraxia as well, so he didn't really digest what was happening until he's come home. He's really upset about it and it's completely put him off going to the game again. This is the first football game he's been to and this has happened," Kelly said after hearing about Ronaldo's offer.
"He's an autistic boy and he's been assaulted by a football player, that's how I see it as a mum," she concluded.
"It's never easy to deal with emotions in difficult moments such as the one we are facing. Nevertheless, we always have to be respectful, patient, and set the example for all the youngsters who love the beautiful game," Ronaldo wrote in his post. "I would like to apologize for my outburst and, if possible, I would like to invite this supporter to watch a game at Old Trafford as a sign of fair play and sportsmanship," he offered.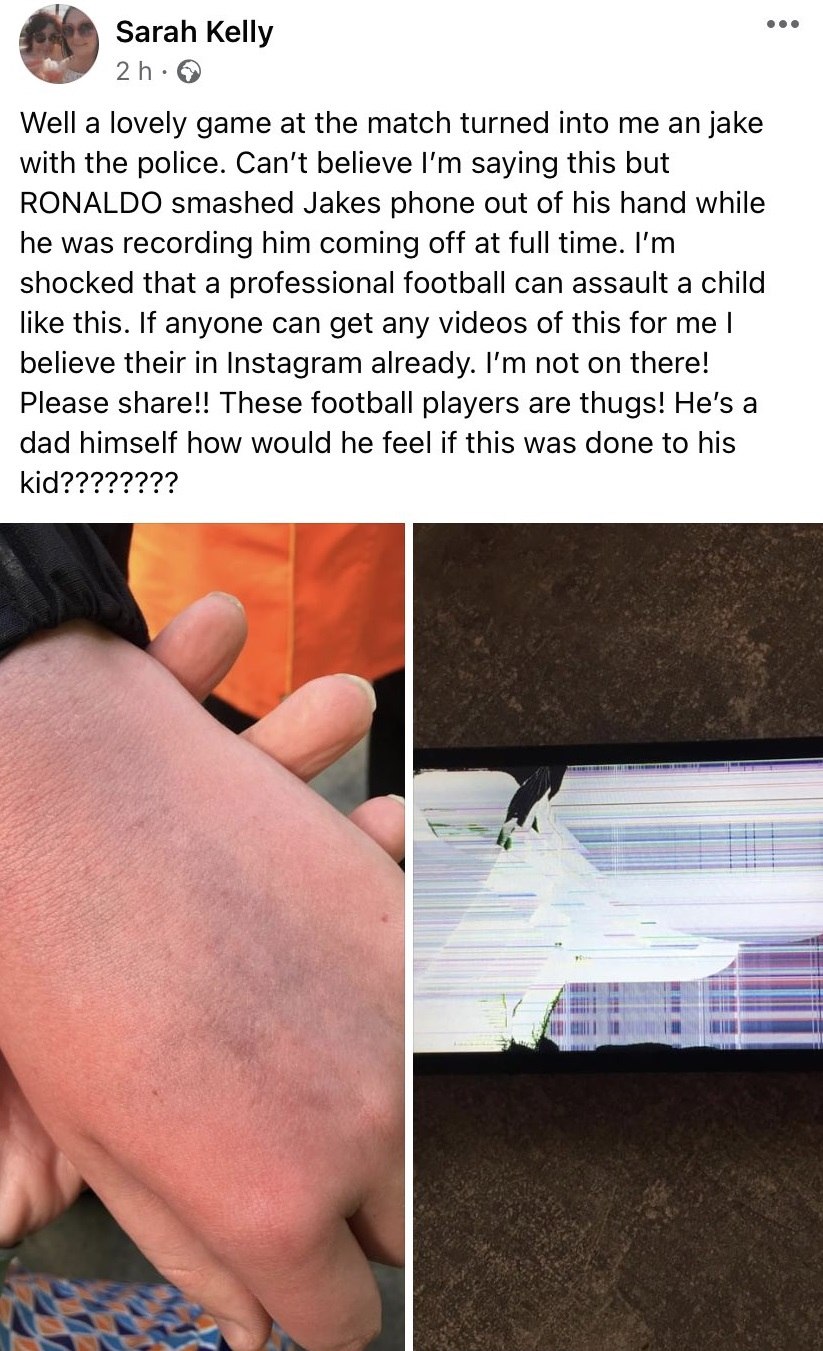 Ronaldo's gesture under investigation
Jacob Kelly isn't the only one who's not impressed by Ronaldo's comeback after the incident. Merseyside Police confirmed they are investigating reports of an "alleged assault" at Goodison Park on Saturday.
"As players were leaving the pitch at 2.30 PM, it was reported that a boy was assaulted by one of the away team as they left the pitch," the Merseyside Police wrote in a statement. "Inquiries are underway and officers are currently working with Everton to review CCTV footage and are carrying out extensive witness inquiries to establish if an offense has taken place."
Anyone with information on the incident was asked to contact the police. Manchester United said they are "aware of an alleged incident" and would "co-operate with any police inquiries".
Merseyside police are reviewing CCTV footage to establish if Cristiano Ronaldo committed an offence by knocking a mobile phone out of a supporter's hand after his team's 1-0 defeat at Everton. pic.twitter.com/AWIv7xKElO

— ESPN FC (@ESPNFC) April 10, 2022
The 1-0 defeat to Everton cut United's hopes of playing Champions League football next season. Heading into the match, Everton was one point above the relegation zone. Manchester United now sits in seventh place, with 51 points after 31 games. The Red Devils are six points behind Tottenham Hotspur with seven games remaining this season.
United is now at a huge +2200 to finish inside the top four at the end of the campaign. The bookies believe the fourth-placed Spurs have the highest chance of retaining the fourth spot in the rankings as Conte's men are now at -500. Now fifth-placed Arsenal is at +220. Manchester City, Liverpool, and Chelsea are certain of their permanence inside the top three at the campaign's conclusion.