If you are a fan of hockey betting, don't miss this PointsBet promo code for all new users. This PointsBet welcome bonus is worth up to $500 and does not require much work from you to claim. The time spent will be well worth having a gimme on your first five losing bets after signing up. Read below and find out how to claim and use this PointsBet offer.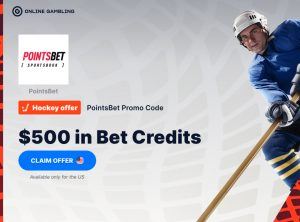 With the NFL football season now over, we can take more time to focus on day-to-day NHL betting. The PointsBet promo for a $500 bonus is the perfect way to make the transition from the NFL to NHL. You can lose your first five bets and walk away with all your losses as bet credits. Even professional bettors make mistakes and shouldn't pass up the chance for a second chance at a winning night. The PointsBet welcome bonus gives you up to five second-chances. To claim this PointsBet promo, click here and register a new account today. 
With eight games to choose from on Thursday night, many options exist for games to highlight. The NHL-leading Boston Bruins hit the road for a date with the Nashville Predators in Tennessee. The Predators are a good team, but Boston leads the league in wins straight up and against the puckline. As the most profitable team in the league, Boston is a hard bet to pass up, with +130 odds to cover. 
PointsBet promo code for NHL Thursday
The NHL has an action-packed schedule on Thursday, and it is a perfect opportunity to make the most of this PointsBet promotion and earn a $500 bonus. With the first game going live at 7 PM Eastern, you will have all day to plan your attack and make the best wagers possible. This $500 bonus offer does not require any promo code to claim. The only steps you need to know are signing up for a new account, depositing, and making an initial qualified bet between $0.50 and $100 at the sportsbook. 
With years of quality service, PontsBet has cemented itself as one of the best online sportsbooks on the market. This current PointsBet promotion is a great reason to explore the software, but far from the only attractive feature. Points bet also boasts an impressive parlay tool, odds on hundreds of events, and the ability to make live in-game wagers on many events. Take advantage of this PointsBet promotion and put your best foot forward with your new sportsbook account. 
How to claim PointsBet NHL Thursday promo code
PointsBet wants to make your life easy and doesn't ask for a promo code to claim the $500 bonus for Thursday's NHL. Just follow the steps below, and PointsBet will do the rest of the work and deposit your bonus funds.
Head over to PointsBet's website here to create your account. 
Input personal information such as name and date of birth to confirm your identity.  
When you are done creating your account, the next step requires you to make an initial deposit. 
Make five real-money sports wagers within your first five days on PointsBet. Only the first wager you make each calendar day will count towards the PointsBet bonus. The stakes must be between $0.50 and $100 for the bet to qualify. 
Any losing bet among the five qualified wagers that fails will trigger the bonus. The bonus money will be re-introduced to your PointsBet account immediately and expires seven days after issuance. 
How to use the PointsBet promo code
No promo code is required to take advantage of the $500 bonus from this PointsBet welcome bonus. Simply sign up for a new account, make a qualified deposit, and place up for five sportsbook wagers of between $0.50 and $100 on five consecutive days. Only the first wager you make each day qualifies; if it loses, PointsBet will refund your stake in bet credits.
Bet Credits earned from this PointsBet promotion are non-transferable and unable to be converted into cash before wagering them at the sportsbook at least once. Any bet credits not used will be voided 14 days after issuance. 
Betting on NHL Thursday
The NHL is filling out the schedule on Thursday with eight games across North America. One game you should have your eye on is the Boston Bruins (40-8-5) vs. the Nashville Predators (25-20-6). The Bruins are having a season for the history books as the only team in the NHL with fewer than ten losses. It's rare that a team as good as the Bruins also leads the NHL in wins against the puck line. But Boston is doing just that with a 33-20 record and a return on investment of +22.61%. At -180 on the moneyline, the Bruins are a reasonable bet to cover. 
The nationally televised game on Thursday features the New Jersey Devils (35-13-5) vs. the St. Louis Blues (25-25-3). The Devils enter Thursday with the third-best record in the NHL and trail the Bruins by ten points for the top spot in the Eastern Conference. New Jersey faces off against a Blues team in sixth in the Central Division. The puck line for the Devils is a strong play because the Blues have the second-worst win rate against the puck line at 24-29 with a negative return of -17.50 betting units. 
With eight games on Thursday night, don't feel locked into betting on the two mentioned. Also, don't forget that PointsBet offers a complete lineup of player props, alternative lines, and live in-game NFL betting. Before you start, don't forget to sign up at PointsBet Sportsbook and enjoy the PointsBet welcome offer of a $500 bonus. This PointsBet promotion should not be overlooked and is worth maxing out if you have the means. Otherwise, just ignore the offer for a $500 bonus just for signing up and placing four fixed odds real-money wagers.
Who is eligible for the FanDuel Sportsbook promo code?
The FanDuel Sportsbook promo code is available to new customers in the following states:
Coming soon
Online Massachusetts sports betting is expected soon. Keep up to date with the latest Massachusetts sports betting promos at Online Gambling.