Enjoy this Friday night's NBA schedule with a nice offer of a PointsBet promo code designed solely for new customers. PointsBet Second Chance allows you to get back in the action after a loss with up to as much as $500 in bet credits. Place a fixed odds cash bet, and if it loses, you get a second chance paid out in bet credits.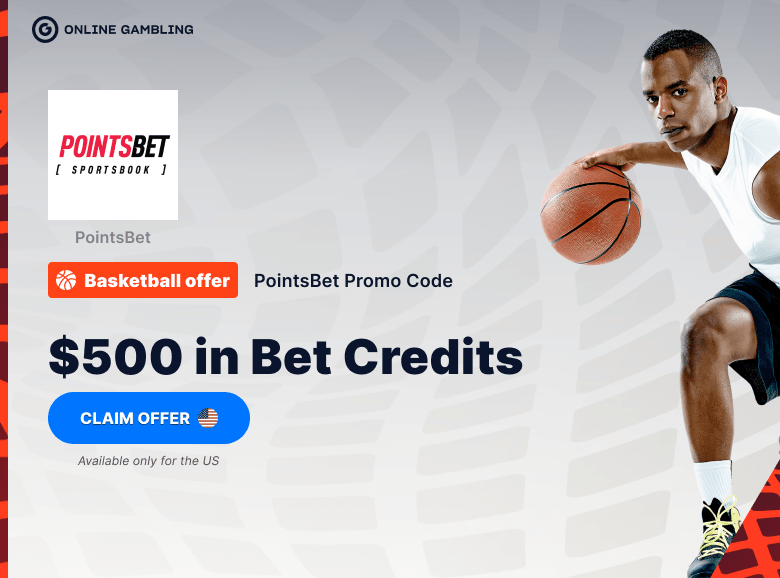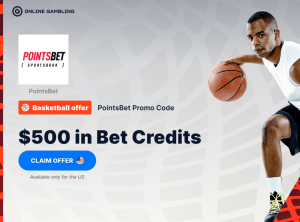 If you have never explored the options at PointsBet before, then this is a great opportunity to get in the game with second chance bets at PointsBet. Friday night's NBA slate has eight games with the highlight game of Suns-Celtics tipping off on NBA TV for a national audience.
To get the promo code, just click here to start the easy sign-up process at PointsBet. Once your account has been created and properly funded, you are ready to bet on NBA games played this Friday night. Your first fixed odds bet that loses is the one that will qualify for a second chance bet equal to a 100% match of your wager (max value is $100). You can do this for the next five days to receive a maximum of five second chance bets (max value of $500) if none of your cash wagers win.
PointsBet promo code for NBA Friday
PointsBet has been active online for four years now in the United States and it is currently live in 14 states and parts of Canada (Ontario). If you are a new user, you can easily take advantage of the welcome bonus by entering promo code "WELCOME" when you create your account and make that first deposit.
Beyond the Second Chance bets, PointsBet has an app with live streaming to help you make live bets on various markets. They also offer a Rewards Program where the more bets you make, the more points you receive that can be used to redeem bonus bets in their sportsbook.
How to claim PointsBet NBA bet credits
Anyone can follow the simple process to claim this PointsBet NBA promo. Just be sure you have the code entered in when you create your account.
Go to the PointsBet site and click "Sign Up" to start creating your account.
After entering your personal info, make sure "WELCOME" is showing in the Sign Up Code box.
Once your account is validated and you are logged in, deposit funds into your account so you can start placing fixed odds bets on NBA games this Friday.
If your first fixed odds bet of the day loses, you will receive a Second Chance in bet credits equal to the size of your stake (up to $100).
You can repeat this for your first 5 days on PointsBet, earning a maximum value of $500 in bet credits thanks to PointsBet Second Chance.
How to use the PointsBet NBA promo code
As long as you created your new account with the Sign Up Code "WELCOME", you will be able to take advantage of the PointsBet promo. Your first fixed odds wager (cash wagers only) that day is the one that counts towards the promo. If your bet wins, then there is no bonus. But if your bet loses, you receive a 100% match of your wager up to $100 that is paid out in bet credits. This is something you can do for five days to earn as much as $500 in Second Chance bonus bets. Keep in mind these credits expire after a week of when they were issued.
Only cash wagers qualify to receive bet credits. Any bet using bet credits will be paid out in the winnings only; the bet stake is not included. If you played a $20 Bet Credit that won $15, then you would receive $15 back instead of the usual $35.
If you receive a $100 bet credit, it does not have to be used as one $100 bet. You can do four $25 bets instead, for example.
Betting on NBA Friday
The NBA has eight games this Friday night. Sacramento's Domantas Sabonis will take on his former team in Indiana. The Orlando Magic and top rookie Paolo Banchero are in action against the Timberwolves in Minnesota.
The highlight game of the night is Phoenix playing in Boston on NBA TV. Jayson Tatum is averaging 31.1 points per game for the Celtics this season. The Suns are only 27-26 after some disappointing play and injuries to top players.
Whether you want to bet on three-point baskets made or who will put up a triple-double, there are plenty of props and usual sides and totals to bet on at PointsBet. New users should take advantage of the PointsBet Second Chance promo while they can.
Who is eligible for the PointsBet Sportsbook promo code?
The PointsBet Sportsbook promo code is available to new customers in the following states:
Coming soon
Online Massachusetts sports betting is expected soon. Keep up to date with the latest Massachusetts sports betting promos at OnlineGambling.