An extensive necropsy performed on Kentucky Derby champion Medina Spirit could not determine a definitive cause of death in the late 3-year-old colt, according to a release issued by the California Horse Racing Board (CHRB).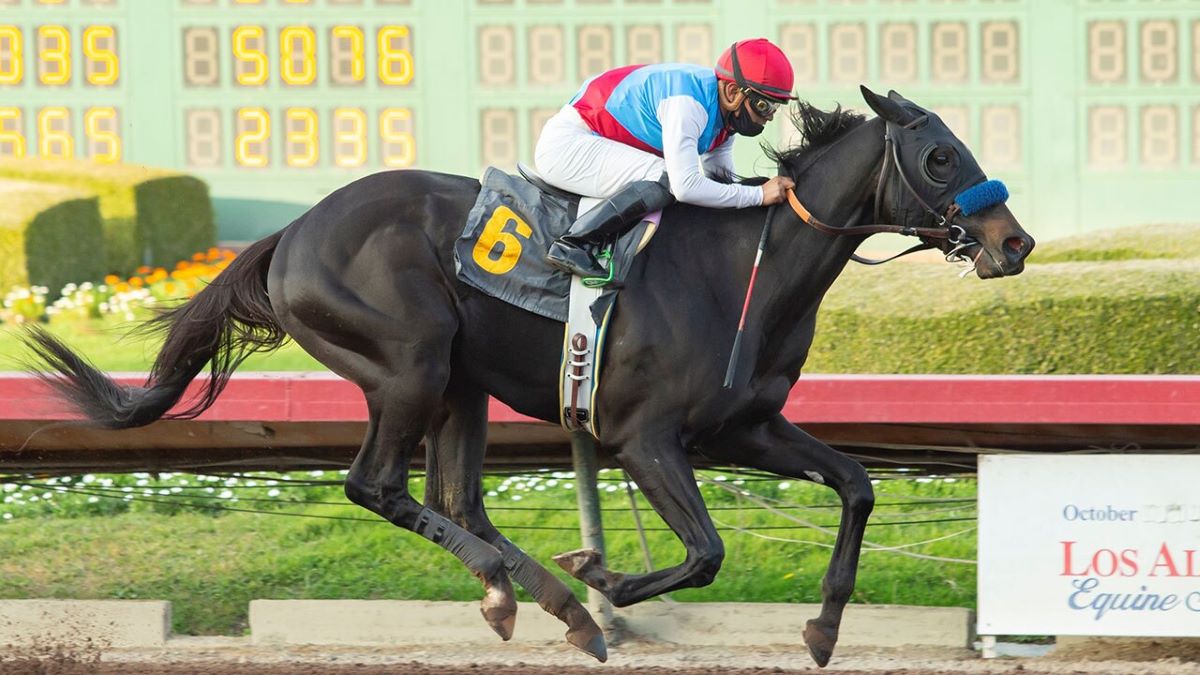 The CHRB's statement said the postmortem examination of Medina Spirit, performed by five members of the University of California-Davis School of Veterinary Medicine revealed medical issues that "are compatible with, but not specific for, a cardiac cause of death. They listed "swollen lungs and foam in the trachea, enlarged spleen and congestion and mild hemorrhages in other tissues."
At the same time, the statement said "a definitive cause of death was not established, despite extensive testing." That testing revealed the presence of Omeprazole and Lasix in Medina Spirit's blood and urine samples. Neither are uncommon; Omeprazole is an anti-ulcer medication and Lasix is an anti-bleeding diuretic, which  — while banned on race days in California — is often used during workouts.
No other drugs, heavy metals (including cobalt) or toxicants were detected. In an unrelated issue, doctors found Medina Spirit suffered from degenerative joint disease in his fetlock and elbow joints. This is common in racehorses.
It was after one such workout on the morning of Dec. 6 at Santa Anita Park when Medina Spirit collapsed and died from what was believed to be a heart attack.
A wide array of veterinarian experts examined Medina Spirit
After his sudden death, Medina Spirit was transported to the California Animal Health and Food Safety (CAHFS) San Bernardino laboratory for the necropsy. It was performed by Dr. Francisco Uzal, Dr. Javier Asin Ros, Dr. Monika Samol, Dr. Robert Poppenga and Dr. Benjamin Moeller. Overseeing that team of pathology, toxicology and equine drug testing experts were Dr. John Pasco, the executive associate dean of the UC Davis School of Veterinary Medicine, and Dr. Ashley Hill, the CAHFS Director.
The doctors performed an extensive examination on the body and internal organs. They collected specimens for examination, toxicology, drug testing and genetic testing.
That involved collecting tissue samples from the heart, lungs, liver, spleen, kidney stomach, intestines, muscle, brain, spinal cord, testicles and other glands. Each was examined for abnormalities and the liver was tested for heavy metals, anticoagulants, pesticides, environmental contaminants and other external products.
No forbidden drugs discovered
A blood sample was sent to Cornell University in New York, where it was tested for thyroxine. Meanwhile, blood samples were screened for hundreds of substances, including the blood-doping drug erythropoietin (EPO), clenbuterol and betamethasone.
Thyroxine played a key role in seven Bob Baffert-trained horses suddenly dying between 2011 and 2013. According to Thoroughbred Racing News, the CHRB investigation revealed those horses had been administered thyroxine. That thyroid hormone is used to treat hypothyroid conditions. It's also a likely cause of cardiac failure in horses.
Baffert trained Medina Spirit. He was suspended by Churchill Downs after Medina Spirit tested positive for the banned-on-race-day betamethasone after his Derby victory. Baffert maintained that positive test came via an ointment used for a skin rash.
Heart tissue samples were sent to the University of Minnesota and the UC Davis Veterinary Genetics Laboratory. That, as part of an ongoing research program in partnership with the CHRB to research and investigate possible genetic causes of sudden death in racehorses.
More eyes on the final report
Afterward, Medina Spirit was cremated. The final report went to Dr. Laura Kennedy at the University of Kentucky and Dr. Grant Maxie of the University of Guelph for another independent review.
"It was an attempt to leave no stone unturned when it comes to the investigation of this death and also to try and make sure that we were answering all the possible questions that people might have about this stuff," Hill said in a teleconference with reporters. "All said the results came back and were below normal limits."
Hill downplayed the role betamethasone could have played here. Aside from the fact Medina Spirit tested positive for the drug seven months before his untimely death, no traces of it were found in his system. He raced four more times after the Derby and passed drug tests every time.
Sudden death causes sometimes elude medicine
The CHRB report cited an international study that found causes of exercise-related sudden death in racehorses go undetermined in 25% of cases.
As exhaustive as that process is, it's not complete. The CHRB statement said Dr. Alina Vale will perform a required review of the necropsy report under CHRB Rule 1846.6. A CHRB safety steward and a member of the Board of Stewards are required to accompany her. Basically Dr. Vale is a backstop on the process. If her report reveals any rule violations, the CHRB will investigate and distribute possible disciplinary actions.
That process is routine for every fatality at a CHRB regulated track.
Medina Spirit banked $3,545,200 in his 10-race career. He won five times, including two Grade 1s: the Derby and the Awesome Again last September at Santa Anita. His four seconds included the Santa Anita Derby and his final race: the Breeders' Cup Classic last November at Del Mar.