While Thursday's Sweet Sixteen teams were all about Cinderella trying to get to the Elite Eight of the NCAA Tournament, Friday will focus on top seeds expected to advance. Villanova and Kansas, both No. 1 seeds, and No. 2 seeds Duke and Purdue are favored to move on to the next level.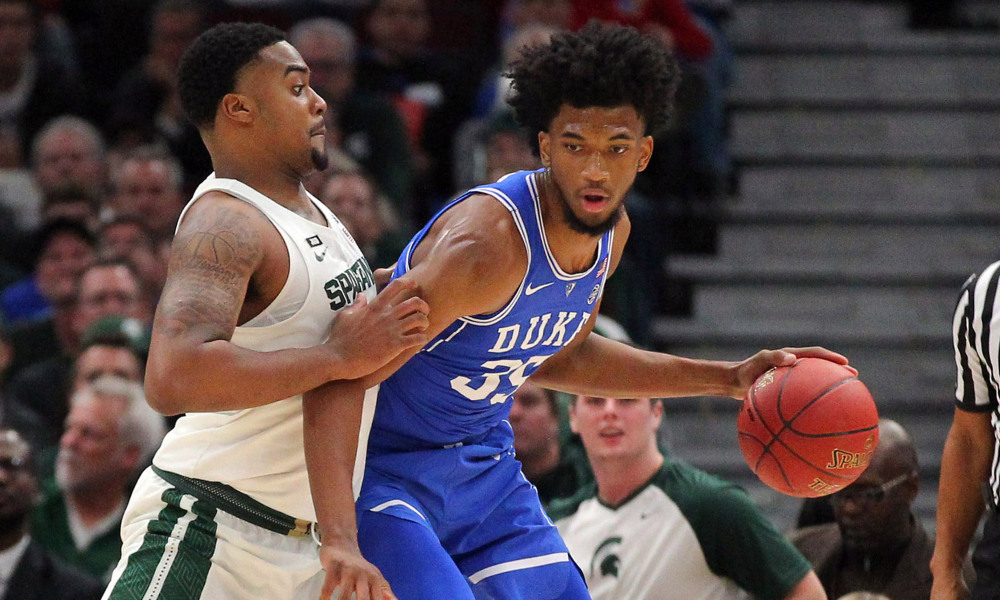 Villanova is a 3/1 favorite to win the tournament, according to Sportsbook.ag, with Duke close behind at 15/4. At the Westgate Las Vegas SuperBook the Blue Devils and Wildcats are both at +350.
Despite being one of only two top seeds remaining, Kansas is lumped in with No. 5 Kentucky and No. 4 Gonzaga at +700. Purdue is at +1500.
Duke Big Favorite
Though the Blue Devils are an 11.5 favorite against No. 11 Syracuse, the Orange have been 3-0 against the spread. They were a one-point underdog over Arizona State in the play-in game and won by four. They got 4.5 points against Texas Christian University and won by five in the first round. In the second round they faced Michigan State, a team that was favored during the season to win the tournament. The Spartans were a 10-point pick and Syracuse won outright.
Duke, however, could pose more of a challenge to Syracuse. The Orange are 11.5-point underdogs and will have to find a way to stop Marvin Bagley III, Grayson Allen and Wendell Carter Jr., all of whom averaged double-digit points per game.
The teams played each other during the regular season and Duke won easily, 60-44.
Kansas Rolling Along
The Jayhawks were the trendy pick to get upset during the second round of the tournament, but they had relatively little trouble against Seton Hall, beating the Pirates, 83-79. But that still wasn't enough for some critics who thought they should have won by 10 or more.
Kansas will now face a surging Clemson squad that won their first two games of the tournament by 11 and 31 points. The Jayhawks are favored by five, which has many predicting an upset.
Coach Bill Self said they will have to stop Clemson's backcourt if they are going to win.
"They've got three guards who are as good as or better than anything we see," Seif said. "Those are elite-type players, and all of them are capable of getting 20 or 25. It will be tough to keep all three of those guards down."
Villanova Faces Strong Defense
The Wildcats had one of the most proficient offenses in college basketball, but it will be tested by West Virginia's smothering defense. If the Mountaineers are going to defeat Villanova they will need to slow down a team that averaged 50 percent from the field and 40 percent from the 3-point line. Villanova is a 5.5-point favorite.
"Sometimes when you do stay attached they make shots," West Virginia coach Bob Huggins said. "I think we probably have as good frame of reference as anybody would just playing the people we play."
One of the favorites for College Player of the Year is guard Jaylen Brunson and he will be entrusted with keeping the Wildcat's offensive machine moving. He and guard Mikal Bridges combine to average just under 40 points a game.
Ball Control Key for Purdue
The Boilermakers have the toughest test against a quick, defensive-minded Texas Tech team. They are just 1.5-point picks over the Red Raiders and could easily be upset if they don't handle the pressure when they have the ball.
That responsibility will go to point guard PJ Thompson, who did not have a single turnover in their first two games. The team, however, has had 19 in those two contests and if they give away the ball 10 times they will have a hard time winning.