France and Spain clinched advancement to the UEFA Nations League Finals on Tuesday with five teams still competing for the final two playoff spots. Several more will be fighting for promotion to League A on the last day of group stage play on Wednesday.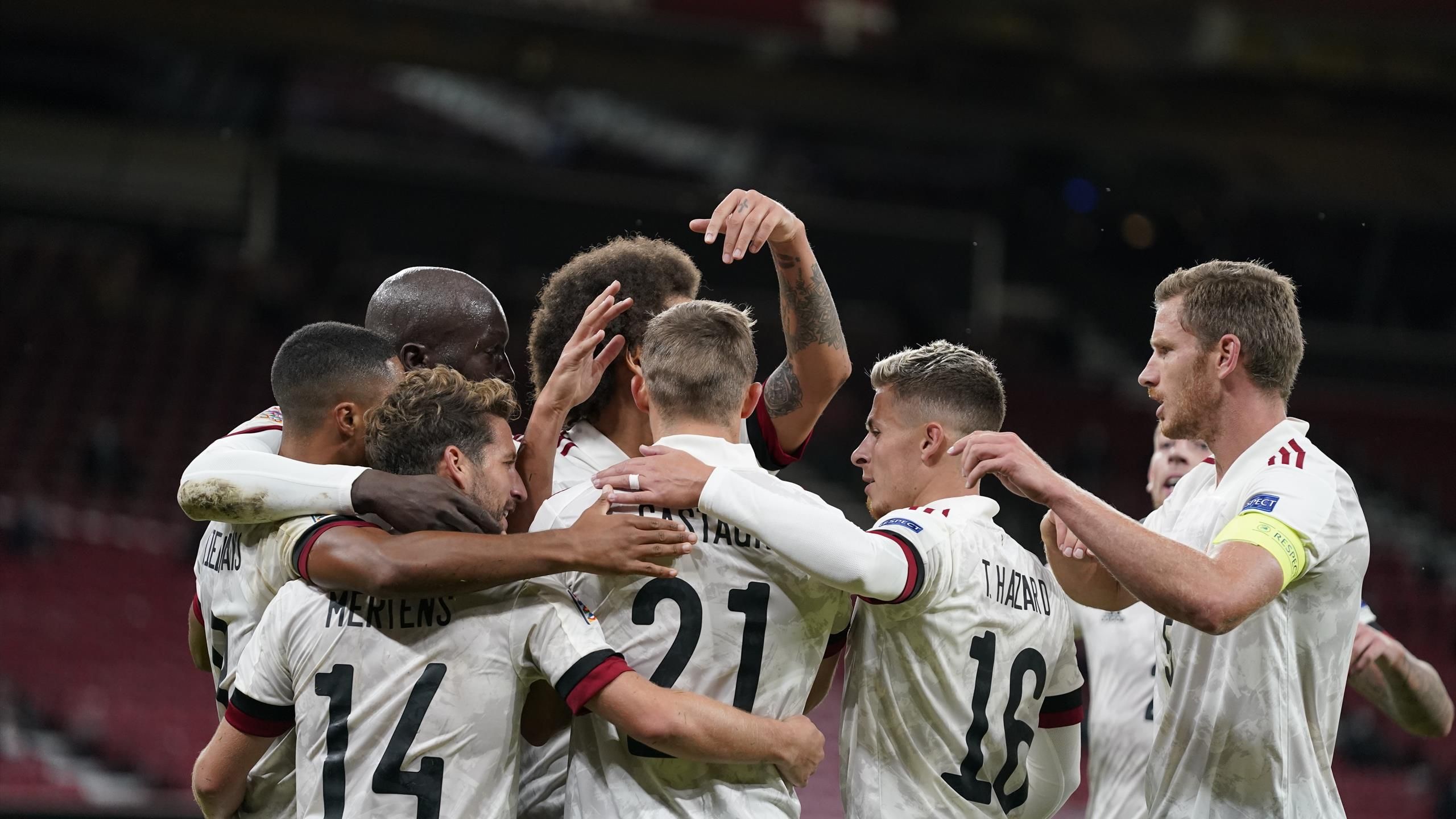 Italy and Belgium lead the races for the two remaining positions in the Nations League Finals, but both will have to hold off challengers to reach the knockout rounds.
Belgium, Italy in Control of Finals Berths
Italy can put away Group A1 with a win on the road at Bosnia and Herzegovina. The Italians lead the group on nine points, but could be caught by the winner of the match between the Netherlands (8 points) and Poland (7 points) if they slip up on Wednesday.
The Netherlands comes into that match as a -115 favorite over Poland (+300), according to PointsBet. If the Dutch win, then Italy will need a win as well in order to hold onto first place. Even on the road, Italy (-286) stands as a heavy favorite over Bosnia and Herzegovina (+800).
Group A2 contains fewer variables. Belgium sits two points ahead of Denmark at the top of the group. That means Belgium only needs a draw at home on Wednesday to go through to the Nations League Finals.
The Belgians enter as a -159 favorite, with Denmark listed at +425 to get the road win it needs to go through. While Belgium finds itself in a strong position, goalkeeper Thibaut Courtois says his team can't take advancement for granted until they take care of business.
"We must not think that we will just pitch up and win," Courtois told reporters. "We will have to show it on the field again. It is exactly a sort of final, we must have that fixed in our heads. Denmark are a good team, they won in England. They've got a host of players who play in the Premier League, Bundesliga, and La Liga. We will be keen to show what we can do, but it won't be easy."
Nations League Promotion on the Line
After Wednesday's matches, the final two group winners will join France and Spain for the Nations League Finals. That mini-tournament won't take place until next October.
Other important positions are also on the line on Wednesday. The Nations League features promotion and relegation through four leagues, and many teams will be fighting to move up – or stay up – on Wednesday.
---
UEFA Nations League Odds (via PointsBet)
Poland: +300
Draw: +260
Netherlands: -115
Bosnia and Herzegovina: +800
Draw: +380
Italy: -286
Belgium: -164
Draw: +280
Denmark: +450
Austria: -400
Draw: +500
Norway: +900
Israel: +155
Draw: +225
Scotland: +175
Czech Republic: -209
Draw: +320
Slovakia: +550
Hungary: +200
Draw: +230
Turkey: +135
Serbia: +170
Draw: +220
Russia: +160
Wales: +105
Draw: +210
Finland: +300
---
Of particular interest will be the teams in League B battling to move up to League A of the Nations League. All four League B groups still hang in the balance heading into the final matchday.
A couple of promotions will be determined by direct head-to-head competitions. In Group B1, Austria (-400) needs just a draw to hold off Norway (+900) for the top spot, as it currently leads the pool by three points. Meanwhile, Wales (+100) needs a draw to maintain its one-point lead over Finland (+320) in group B4.