Race fans and bettors were wondering if 4/5 favorite Mr. Money, facing 10 rivals in the 1 1/16 mile, $500,000 Indiana Derby, could win away from his home base at Churchill Downs in Louisville. That's where he easily posted wins in the Pat Day Mile and the Matt Winn Stakes.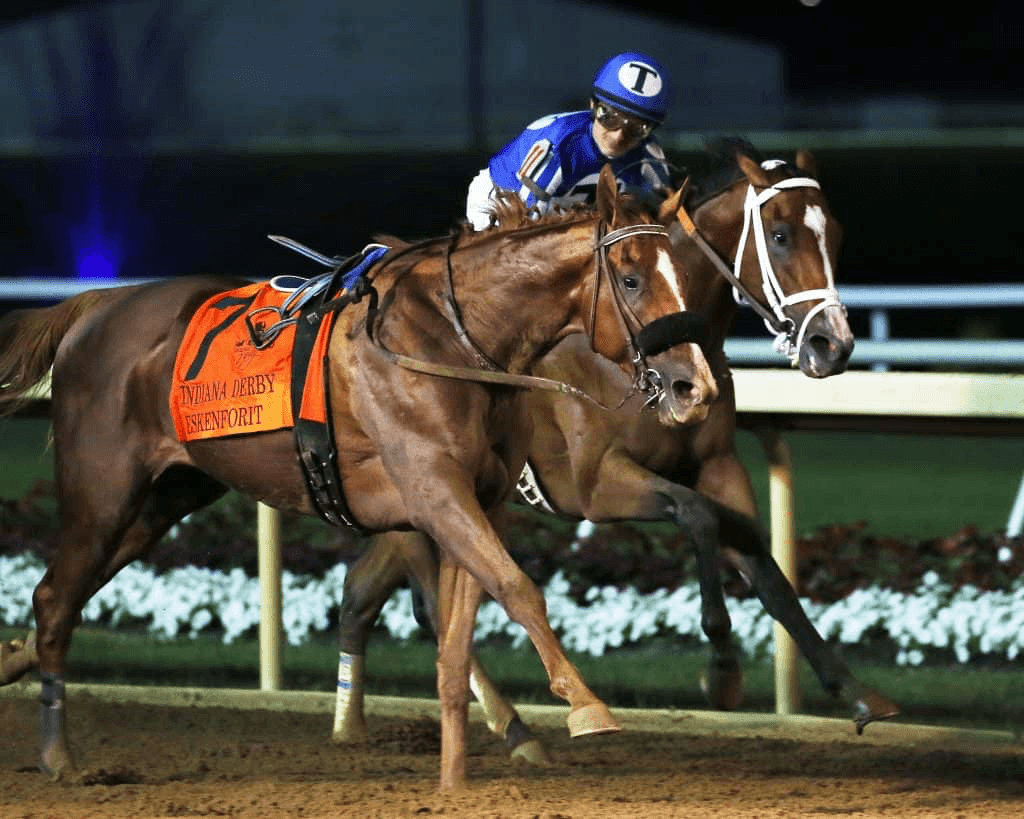 The answer to that question is a resounding yes.
In a competitive race consisting of 11 three-year-olds just a cut below upper echelon of the division, Mr. Money's far outside draw made winning the Indiana Derby at Indiana Grand a tough assignment for the Brett Calhoun student.
With Eskenforit stumbling badly out of the gate, Mr. Money's task quickly became double tough. Eskenforit's faltering at the start and unseating of rider Julien Leparoux made the loose horse troublesome for the entire field. A riderless mount is a major danger in any race. Eskenforit tracking and bothering the leaders throughout is the reason Mr. Money had to show extra class and he did. Race fans can easily recall the loose horse in this year's Preakness Stakes. Paying $3.80-$2.80-$2.40, those cashing winning tickets on Mr. Money always remember you can't go broke on small profits.
Leparoux took off his mounts Sunday at Saratoga, but is not seriously injured, according to media reports.
The next question fMr. Money now winner of three straight graded stakes is: has he what it takes to take on the big boys at Saratoga? Fans and bettors are hoping come Travers Day at Saratoga, they'll find out.
Game Winner Shows He's Just that at Los Alamitos
Game Winner, blasting away his overmatched rivals in the 1 1/8 mile, $150,000 Los Alamitos Derby on Saturday, is now once again front and center as a contender in Thoroughbred racing's glamour division — three-year-old colts. Regular reinsman Joel Rosario flew cross country from Saratoga for the mount.
Game Winner backers receiving only the minimum $.05 for each dollar bet on the Eclipse Award winning two-year-old champ with Los Alamitos wisely declining to accept place and show bets
The race now appears to be no more than a paid workout, with Game Winner reporting home an easy five-length winner. 
The now three-year-old son of Candy Ride continues under the tutelage of Triple Crown wining trainer Bob Baffert. A beaming Baffert says that, as many were forecasting, Game Winner is now heading towards the 1 1/4 mile, $1.25 million Travers Stakes. This important race, often called the "Midsummer Derby" is  Aug. 24 at Saratoga in Upstate New York.
Game Winner is following in the footsteps of West Coast. Just two years ago, West Coast, after a similar win in the Los Alamitos Derby, was soon showing his stuff as an upset winner in the Travers. The record shows West Coast as the three-year-old champion for 2017. This despite not running in any of the Triple Crown races.
Following West Coast's Template
And, just as West Coast, Game Winner is from the barn of Gary and Mary West. They are also the owners of Maximum Security. That's the horse first under the wire in the Kentucky Derby only to be disqualified for interference and placed 17th. 
The West's are continuing their long shot legal effort in Federal court in Kentucky to reinstate Maximum Security as the Derby winner.
Expect to see Maximum Security Saturday next in the 1 1/8 mile, $1 million Haskell Invitational at Monmouth Park. There he'll be tangling with Baffert's Mucho Gusto. He's one of the silver-haired conditioner's other top three-year-olds. After skipping the Kentucky Derby, he's is now rounding into top form. King For A Day, conqueror of Maximum Security in a prep for the Haskell, will also be entering the starting gate at Monmouth for that track's signature race.
Maximum Security, a son of New Year's Day, once was available to claim for just $16,000. He's in the barn of Monmouth-based trainer Jason Servis. If Maximum Security is successful at Monmouth on the New Jersey Shore, he could be heading to the Travers, too. There, the West stable could be in the enviable spot of having both leading contenders in the most important race of the summer season.
Travers Stakes Shaping Up as Huge
Other division stalwarts to keep an eye on for the Travers are War of Will and Code of Honor. War of Will, the Preakness winner, spent Saturday morning posting a strong workout. Trainer Mark Casse is pointing him towards the $600,000 Jim Dandy on July 27. That's Saratoga's Travers prep race. If all goes well, he'll be in the Travers to tackle the best of the best in the division — Casse telling reporters, "He always amazes me how effortlessly he does things."
Code of Honor is the impressive winner July 6 of the Dwyer Stakes at Belmont. Now he's at Saratoga. His canny conditioner Shut McGaughey is hinting Code of Honor as likely for Jim Dandy and possible for the Travers.
And don't overlook Tacitus. He's the Belmont Stakes runner-up for trainer Bill Mott. Mott's official Kentucky Derby Country House and Casse's Belmont winner Sir Winston are both on the sidelines, probably until next year. It's thought Mott will also aim Tacitus toward the Jim Dandy. If he impresses, he'll be hard to overlook in the Travers, as well.
Click here to see the full chart of the Game Winner winning the Los Alamitos Derby. For the Indiana Derby chart click here.