AS Roma beat Feyenoord 1-0 in Tirana to be crowned winner of the newly created Conference League. Thanks to his team's triumph, Jose Mourinho became the only manager in the world to have won all three current European club competitions.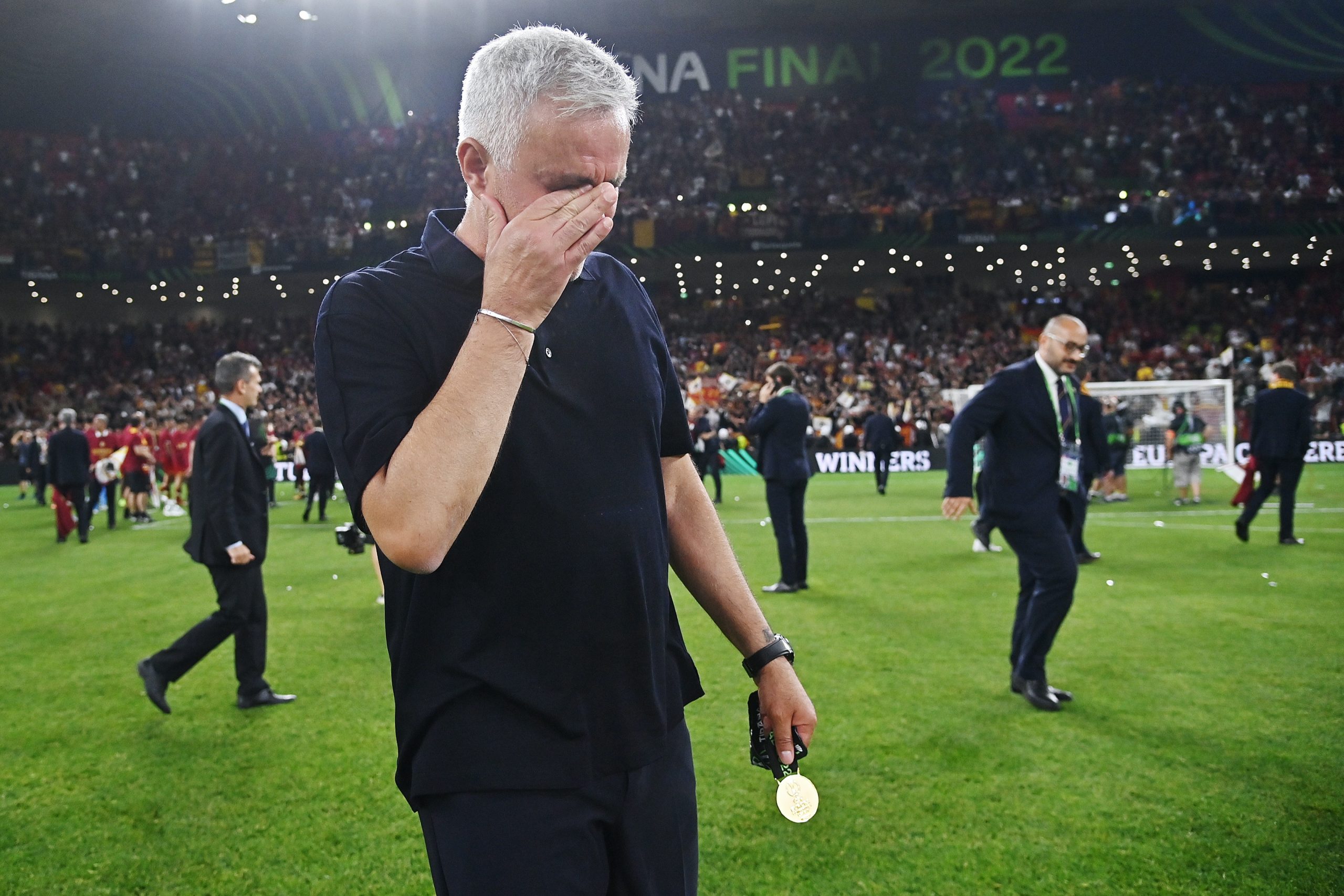 Mourinho won gold in the Champions League with two different teams, FC Porto and Inter, and won the Europa League as manager of Manchester United. Before UEFA Cup's rebranding into the Europa League, he won that tournament with Porto in 2003.
In 2010, Mourinho's Inter Milan was the last Italian club to win a European trophy before another side led by Mourinho, this time AS Roma, enjoyed success in the Conference League this season.
After the final whistle was blown, Mourinho couldn't hold back tears, with his reaction going viral. He could also be seen crying after picking up his winner's medal and in the media area while being interviewed.
Like it's his first 🥺 pic.twitter.com/aLPPIEDjz8

— ESPN FC (@ESPNFC) May 25, 2022
Mourinho not only wrote history by breaking an individual record, but marked a premier for Roma as well. The Giallorossi won their first major piece of European silverware in the club's history. Nicolo Zaniolo netted the only goal of the match after 32 minutes. Roma was largely dominated in the second half, but kept the score in its favor.
🥲Mou no pudo contener las lagrimas tras ganar la #UECL

🗣️"Rechazo cualquier propuesta. Me quedaré aquí en Roma incluso si hay rumores. Hicimos historia hoy. No tengo dudas, seguiré como técnico de la Roma" pic.twitter.com/N3E9YlgmHX

— BeSoccer (@besoccer_ES) May 25, 2022
Thousands of Roma supporters who couldn't make the trip to Tirana for the final celebrated together at Stadio Olimpico, the club's iconic home.
😍Así luce el Olímpico de Roma tras la conquista de la #UECL pic.twitter.com/iXh4B008lb

— BeSoccer (@besoccer_ES) May 25, 2022
Mourinho: 'We wrote history, I want to stay at Roma'
Mourinho said he felt "romanista 100%," promising to stay for next season. "I'm not leaving, there's no question about that. I want to stay. We now need to know what the owners of the club want for next season," Mourinho commented, hinting that he'd want to challenge for higher objectives.
Another one for the collection 😏 pic.twitter.com/YHjdR1qIBi

— Champions League final on CBS & Paramount+ (@CBSSportsGolazo) May 25, 2022
Mourinho, who's been with the club for 11 months, said he knew the team was special from the time he joined.
"This Conference League victory will be part of Roma's history. And it will also be part of my football story. Alongside Ferguson and Trapattoni, I am the only one who won European trophies over three different decades," he said. "I feel kind of old, but it's also a nice thing about my career. Now I'm going on holiday and I'll have many things to think about," Mourinho concluded.
Roma win their first #UEFA title in history. Just look what it means 🤩 pic.twitter.com/RdcmLEWn69

— Champions League final on CBS & Paramount+ (@CBSSportsGolazo) May 25, 2022
AS Roma will compete in next season's Europa League, the second most important European club competition. Roma finished sixth in the Serie A. Mourinho joined the club last summer, two months after being sacked by Tottenham.
The AS Roma players interrupted José Mourinho's interview to celebrate with him 😂 pic.twitter.com/0D3i3lkgRR

— Champions League final on CBS & Paramount+ (@CBSSportsGolazo) May 25, 2022