Leo Messi only left FC Barcelona over the summer, but he's already thinking about a return to the club where he spent his past 20 years. Messi, now 34, spoke to Catalonian newspaper Sport about his new life in Paris, his expectations with PSG and his plans after football ends.
Messi revealed he would fancy a come-back at Camp Nou in a technical secretary role.
"I always said that I would like to come back to help the club in whatever way," Messi told Sport.

"I want to be useful and help so that the club is doing well. My role? I would love to be a technical secretary, but I don't know if it will be at Barcelona," Leo added.

"I would like to return to the club to contribute what I can because I love Barcelona and I would love them to keep doing well, to continue growing and to continue to be among the best in the world," Messi confessed.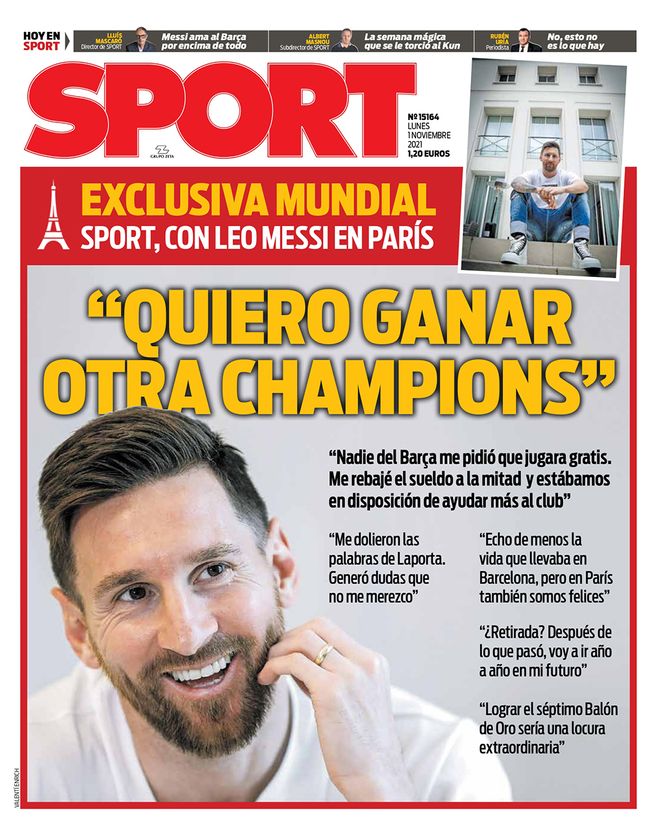 Messi: 'I came to help PSG win the Champions League'
Leo Messi says he is yet to find his rhythm on the pitch in the PSG shirt, but says things are going smoothly in the locker room, where he found many friends. Monthly flights to South America for Argentina's games in the qualifiers for the 2022 World Cup meant Messi could not fully settle at PSG.
"Ever since I came to Paris I felt I had a long time with the team. I know a lot of the players here, many of them speak Spanish so the adaptation was fast," he explained.

"I had games with the national team every month. You settle a bit, then you fly out again. It's a bit difficult, but little by little things start going into a good dynamic. I've been here for two months, I didn't play too many games. I'm still getting used to things," Messi commented.
Leo claims PSG's hunt for silverware motivates him. Messi dreams to win the Champions League again after doing it on four occasions at Barcelona.
"I'll try to win for as long as I play. When I took the decision to join PSG, I did it to play with so many great players, but as well to help the club grow and go after the Champions League after so many attempts in the past years," Messi stressed.
Messi scored important goals for PSG against RB Leipzig and Manchester City in the Champions League, but is yet to put his name on the scoresheet in a Ligue 1 match. In his five outings so far in the French league, Messi didn't score or assist any goal. The Argentine is the big favorite for the Ballon d'Or this year. At -175, he sits ahead of Bayern's Robert Lewandowski (+250) and Jorginho (+800) according to the bookies.
Messi joined PSG as a free agent in August, after Barcelona informed him they can't afford to extend his contract at Camp Nou.