Lionel Messi became the first South American player to reach 80 international goals when Argentina beat Uruguay 3-0 in the qualifiers for the 2022 World Cup in Qatar.
Messi put his name on the scoresheet in a match where his national team came out clear winners in front of Luis Suarez's Uruguay. Meanwhile, the leading team in the South American qualifiers, Brazil, was held to a 0-0 draw by Colombia.
Brazil is first in the race to Qatar with 28 points from 10 games — six points more than Argentina. Ecuador sits in third on 16 points, the same as Uruguay, who are behind because they've earned fewer victories. Colombia is fifth with 15 points. Ecuador, Uruguay, and Colombia have all played 11 games. The top four in the final standings earn automatic qualification for the World Cup next year, while the fifth-place team will need to go through an intercontinental playoff to qualify.
The only way to defend against Messi 👀 pic.twitter.com/bh7V16lKf9

— ESPN FC (@ESPNFC) October 11, 2021
Messi scores a strange goal as Argentina puts three past Uruguay
Before Messi opened the scoring in Buenos Aires, Luis Suarez went close for Uruguay after 21 minutes. The visitors were looking like the most dangerous team for more than half an hour, but a lucky goal helped put Argentina in front. After 38 minutes, Messi tried to find Nicolas Gonzales with a lifted pass from 25 meters out, but the ball squeezed past Fiorentina's forward and tricked Uruguay's keeper, Muslera. It was Messi's 80th goal for the national team, a record for South America.
Rodrigo de Paul doubled Argentina's lead just before the break, and Lautaro Martinez made it 3-0 after the hour mark.
"I think we are growing a lot," Messi commented after the match. "We are now used to having the ball. Tonight was a tough match and we had to win it. It all came out great for us," he stressed.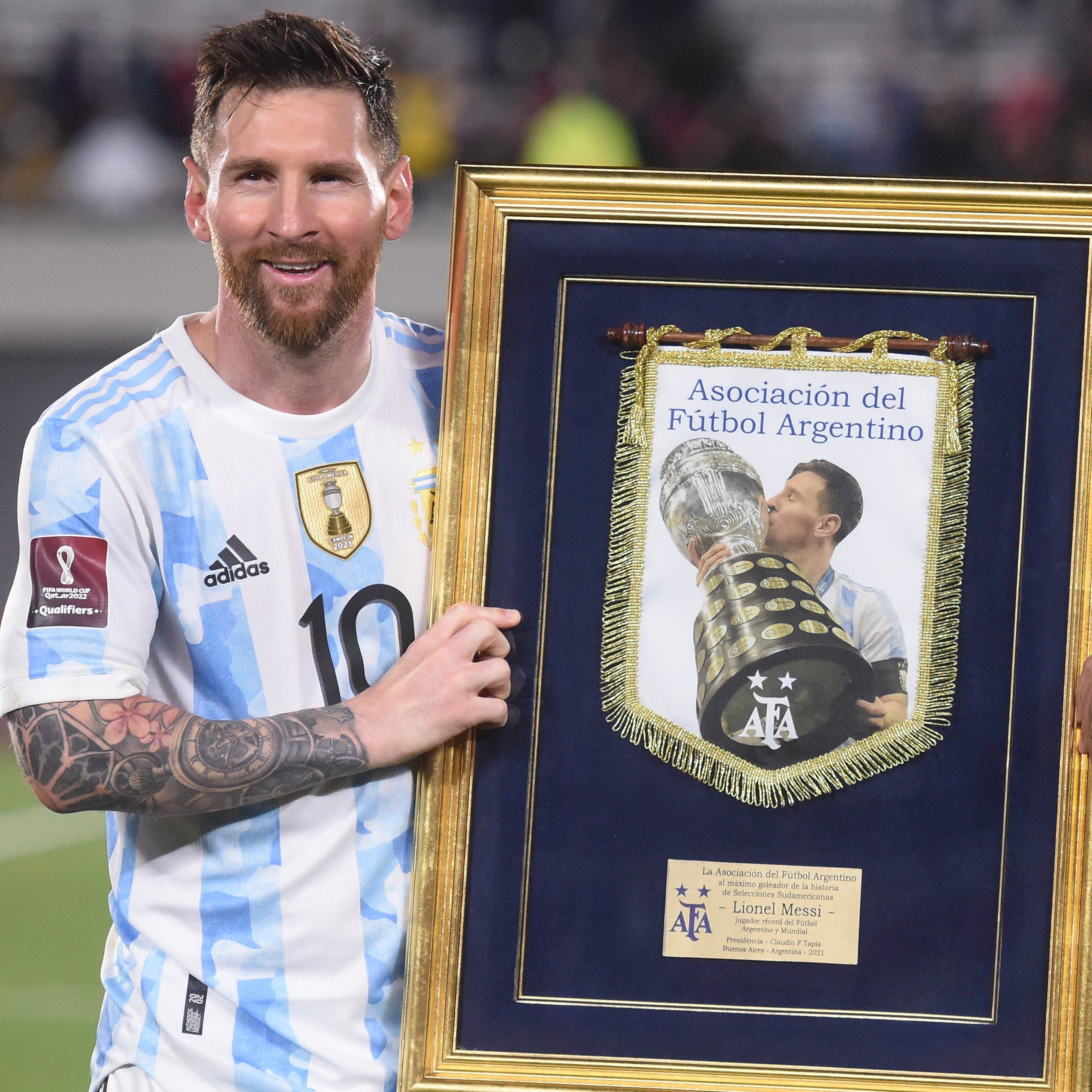 Argentina will host Peru on Thursday while Uruguay will travel to Brazil for another match.
Colombia-Brazil match ends in 0-0 tie
Colombia's goalkeeper, David Ospina, made three key saves as Colombia won a point against Brazil. Ospina's most important intervention came in the 84th minute when he did enough to deny a close-range finish from Brazil's Antony.
Expected to make the difference, Neymar struggled to find rhythm and inspiration throughout the game, missing several passes.
"Neymar is an exceptional player because he makes exceptional things. He does it exceptionally and not ordinarily," Brazil's coach Tite said.
"Neymar is a special player, we know it. And he was also well marked, sometimes by two players," Tite said to motivate Neymar's modest outing.