Winx the Aussie super mare, is ready to visit her nation's top sire I Am Invincible. The goal: produce another champion.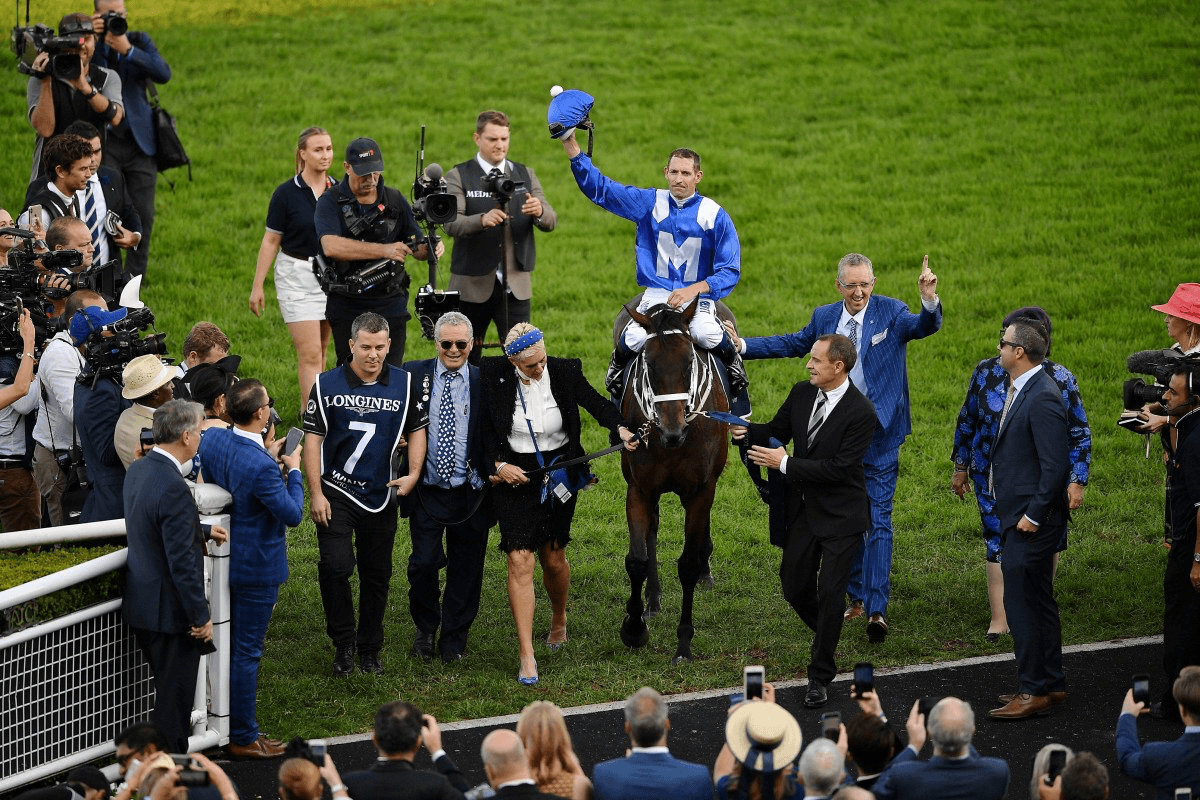 Winx retired just a few months ago with her history-making 33-race win streak from May 2015 through April 2019 still intact. She retires with a record of 37 wins from 43 starts, with three second-place finishes, for earnings of AUD$26,336,674. That's $18,314,516 USD.
The ownership group of Peter and Patty Tighe (Magic Bloodstock), Richard Treweeke and Debbie Kepitis say Winx will soon visit I Am Invincible. He stands at Yarraman Park in Scone, New South Wales. The scheduled mating became public Monday. 
I Am Invincible is no slouch himself, especially in the breeding shed. His record at stud shows he's Australia's leading freshman sire during the 2013-14 season. More recently, he's rewritten breeding history by siring a record 28 Australian stakes winners in a single season. Among them are Group 1 winners Oohood, Voodoo Lad, Viddora and Invincibella. The latter is a Chris Waller trainee, Winx's conditioner, as well.
Equine Darling Stays Down Under
The ownership group, in making its much anticipated decision, issued a statement explaining their considerations:
"We have utilized and considered the expert advice of bloodstock professionals both domestically and internationally. We have sought the opinions of various pedigree consultants, bloodstock agents and stud managers. They provided us with the foundation of information to assess and use to compile the short list of stallions for consideration. This process highlighted the extreme depth to the stallion ranks in Australia and across the world, however when considering the options of traveling overseas her welfare remained of the highest priority and we decided she would remain in Australia for her first breeding season."
Invincible Spirit, the sire of I Am Invincible, is by Green Desert, a son of the Northern Dancer stallion Danzig. Winx is by Street Cry, a son of the Mr. Prospector stallion Machiavellian.
Breeding the Best Racemare
Leading international pedigree analyst and breeding authority Sid Fernando, president of Werk Thoroughbred Consultants, told OG News via email that the stallion I am Invincible is the best and most expensive sire in Australia. His fee is set at AUD $247,500 ($172,111 USD).
"It's certainly a case of breeding the best racemare in Australia to the best stallion in Australia, regardless of the theoretical gymnastics behind the mating. If the foal is outstanding physically, it could bring a record price at auction," Fernando said. "When you have a mare of that quality, there are only a handful of stallions to consider because no one wants to 'under breed' the mare."
Because Winx's owners limited their choices to Australia, he was the standout choice befitting a mare of her caliber. Others outside Australia that would have been considered were Galileo, Dubawi, and Frankel in Europe or Deep Impact in Japan.
Fernando warns Winx fans not to get too set on the possibility of Winx producing a champion, however. "It's anyone's guess how she will produce, but her foals will always be compared to her and will likely suffer from the comparison," he said. "Few outstanding mares breed foals as good or better than them. But you never know."
America's Finest Breeders: Rachel Alexandra, Zenyatta
In the US, the top mares of this generation, Rachel Alexandra and Zenyatta are producing less than stellar results when it comes to their offspring. Champion Rachel Alexandra produced a G1 winner, but she wasn't of her quality, Fernando says. For Rachel Alexandra's complete history on and off the track click here. Rachel Alexandra defeated males on several occasions including in the 2009 Preakness Stakes.
Zenyatta is by Street Cry just like Winx. She beat the boys in the 2009 Breeders' Cup Classic, but hasn't had any real success in duplicating her own excellence. Click here to see Zenyatta's record.