Manchester City won their fourth Premier League title in five years after beating Aston Villa 3-2 on the last day of the season.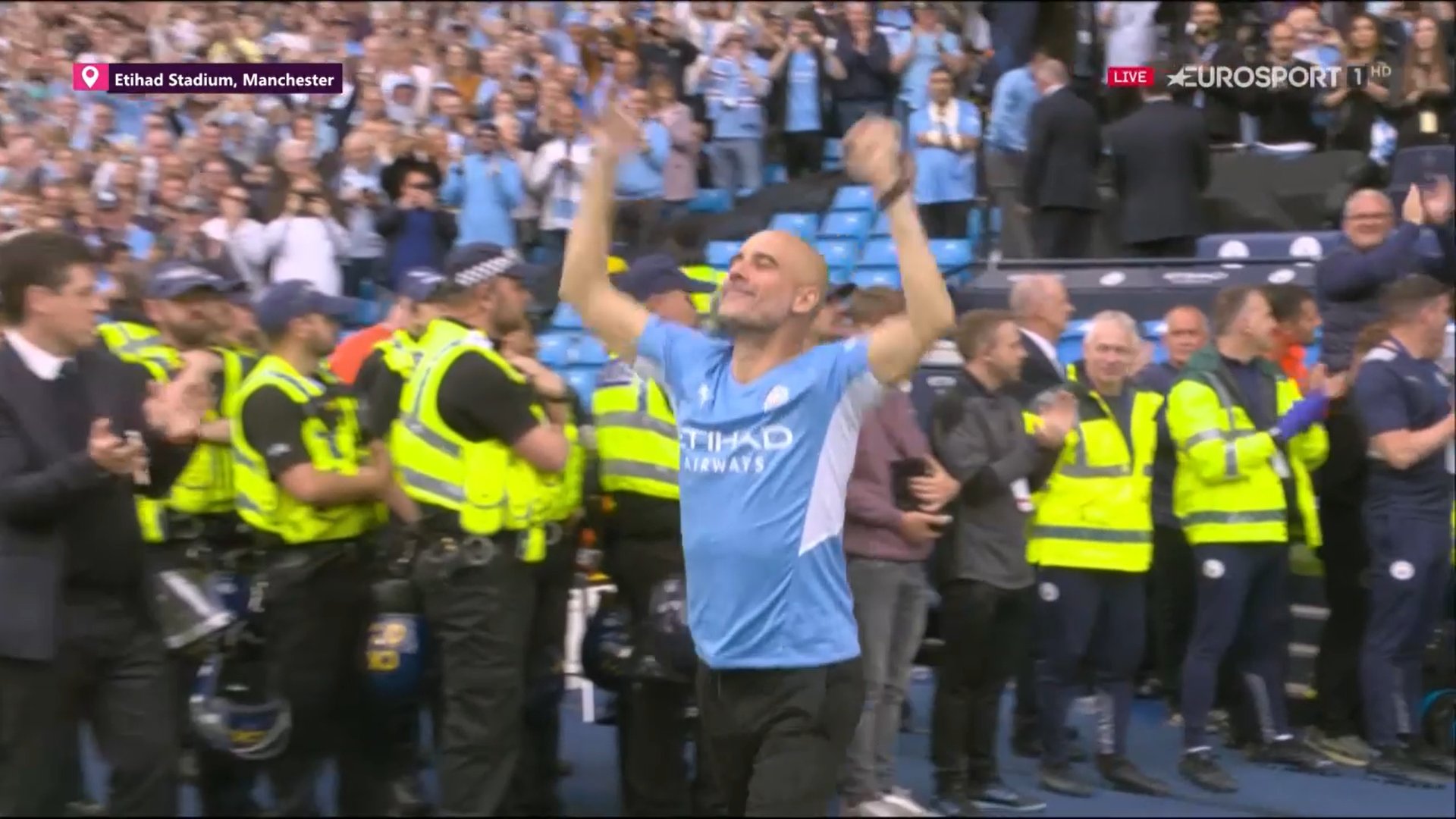 City were 2-0 down after 75 minutes but managed to score three goals in less than six minutes to make Liverpool's 3-1 victory over Wolves count for nothing. All eyes went to Pep Guardiola on the sidelines as the game finished. The Catalan manager couldn't hold back tears at the final whistle, before running into the tunnel.
Pep's tears…. #ManCity are the #PremierLeague champions! #MCIAVL #LIVWOL pic.twitter.com/hrM2IPMzbJ

— OGCOM (@OGambling) May 22, 2022
A pitch invasion followed, with thousands of City supporters celebrating the title alongside the players. During the celebrations, Villa keeper Robin Olsen was allegedly attacked by a supporter. Manchester City apologized through a statement and launched an investigation with immediate effect.
Ecstatic City fans climbed on one of the goals, breaking a crossbar.
Crossbar gone. #ManCity #PremierLeague #MCIAVL #LIVWOL #Guardiola #Gundogan pic.twitter.com/jnHZePZ8mA

— OGCOM (@OGambling) May 22, 2022
A crazy afternoon of football settled the title race
Goals from Matty Cash and Philippe Coutinho took Villa 2-0 up at the Etihad, with Liverpool and Wolves stuck at 1-1 in the other title decider. For Liverpool, a win was mandatory, but City changed moods at Anfield as the hosts were pushing for a second. Ilkay Gundogan, a second-half sub for City, headed the ball past Olsen in the 76th minute, then Rodri made it 2-2 after two minutes. Gundogan wanted all the glory for himself, netting City's third in the 81st minute to give his team the trophy.
Liverpool's two late goals only counted for the stats. Jurgen Klopp's side won the match 3-1, but the Liverpool players weren't in the mood for celebrations after the clash. This was despite Salah being crowned top goalscorer in the league over Tottenham's Son and Divock Origi bidding farewell to the Liverpool supporters after his final appearance in front of the Kop.
3,405 minutes were played in the Premier League for the champion to be found in these FIVE crucial minutes 🤯 pic.twitter.com/BRmPPTTX0A

— ESPN FC (@ESPNFC) May 22, 2022
Tottenham Hotspur will return to the Champions League after finishing fourth, ahead of North London rivals Arsenal, while Manchester United finished sixth and will play in the Europa League, the second-most-important club competition on the continent.
Leeds United's great escape
Leeds United beat Brentford 2-1 away and survived relegation. Burnley lost at home to Newcastle, 2-1, and will play Championship football next season, as will Norwich and Watford. Leeds will make Brenden Aaronson their first signing this summer. The USMNT attacking midfielder will join for $28 million from RB Salzburg. Aaronson, 21, was a target for Leeds in January as well, but Salzburg refused to do business at the time and rejected two bids worth $20 million and $25 million respectively.
Part of the now-agreed fee will go to Philadelphia Union, who negotiated a sell-on clause when they sold the player in January 2021.
Leeds United will keep Jesse Marsch as their manager for next season.
The #PremierLeague 2021-22 table. What a season it's been! pic.twitter.com/ewvSbAxHBr

— OGCOM (@OGambling) May 22, 2022