The opening favorite for the 145th Kentucky Derby, Omaha Beach, was a surprise scratch for Saturday's Run for the Roses. The outstanding three-year-old was removed from the $3 million 1 1/4 mile race for three-year-olds late Wednesday, after trainer Richard Mandella and veterinarians discovered a concerning breathing problem.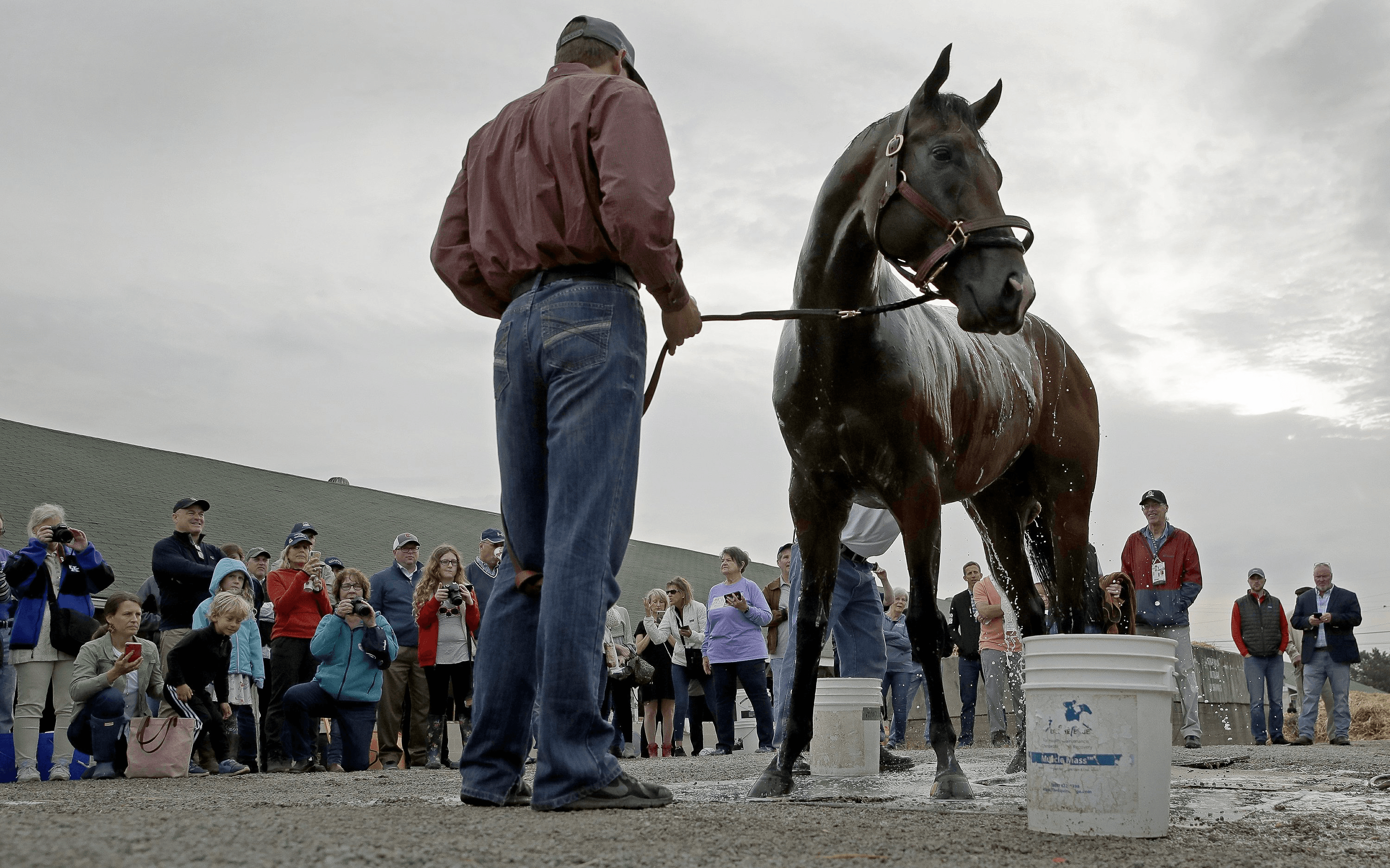 The Daily Racing Form's Jay Privman broke the news that 4/1 favorite Omaha Beach was out, saying that according to Mandella, the horse had been coughing, and an examination revealed an entrapped epiglottis.
The Omaha Beach defection opens up a starting spot for the Bodexpress, the Kentucky Derby's lone alternate, also-eligible horse. Trained by Gustav Delgado and ridden by Chris Landeros, Bodexpress is at 30/1 on the initial morning line, will wear head number 21 and will leave the gate from the far outside post position.
Horses originally slated for post positions 13 through 20 will all slide over one position toward the rail, retaining their original head number. There will be no number 12, Omaha Beach's original head number and starting stall.
Reduced Odds for Baffert Backers
For bettors the absence of Omaha Beach will likely mean the Bob Baffert trio of Game Winner, Roadster, and Improbable will share favoritism.
The Baffert threesome race as separate betting interests, but now are likely to be at significantly less odds than they might have been had Omaha Beach been able to make the "Run for the Roses."
The Omaha Beach absence also leaves Hall of Fame rider Mike Smith available for another mount. In a decision reported early Friday, Smith has been named by trainer Todd Pletcher to ride Cutting Humor in the Kentucky Derby in place of Corey Lanerie.
Breathing Issues for Arkansas Derby Winner
An entrapped epiglottis, not uncommon in horses, occurs when a fold of tissue called the "aryepiglottic fold" becomes stuck and blocks the epiglottis. The epiglottis protects a horse's larynx by preventing food from going down the trachea or "wind pipe." The condition is typically corrected with surgery. Although recovery time is relatively brief, race training is suspended. Normally, it is not a life-threatening condition.
Horses with an entrapped epiglottis will often make unusual noise while breathing during exercise and may show reduced performance.
It it not known if Omaha Beach will undergo surgery to correct this issue. If he does, he could join a long list of top Thoroughbreds who had it and then went on to become champions. Among them is Alysheba.
Early in 1987, Alysheba was a talented but puzzling 3-year-old. Then it was discovered he had an entrapped epiglottis. After the surgery to clear his breathing passage, Alysheba competed at 12 different racetracks and won two-thirds of the Triple Crown plus the Breeders' Cup Classic to retire at the time as the world's all-time leader in earnings with $6,679,242.