Graham Motion understands the complexity of what lies ahead for him and his star filly, Sharing, in Saturday's Group 1 Coronation Stakes at Royal Ascot. It's one thing to beat two of Europe's best juvenile fillies on your home turf in America. It's quite another to tangle with some of Europe's best 3-year-olds on their turf.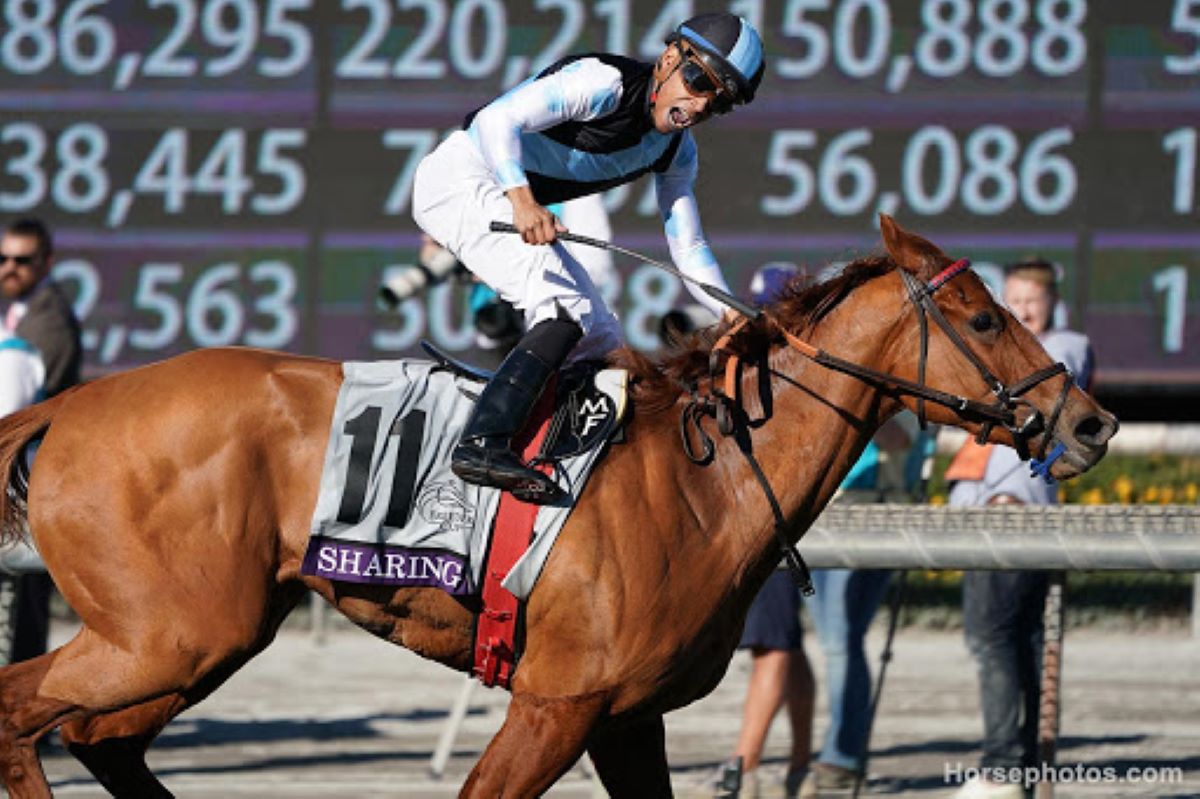 No, Daayeh and Albigna, the two Sharing vanquished in last fall's Breeders' Cup Juvenile Fillies Turf, won't be in the Royal Ascot gate seeking revenge. But no shortage of talent awaits Sharing on Royal Ascot's closing day.
The one-turn mile Coronation Stakes for 3-year-old fillies is one of three Group 1 races and five group stakes on a loaded final-day card. It moved to Saturday to allow horses such as Quadrilateral recovery time from the June 7 1000 Guineas. The favorite in that race, Quadrilateral finished third – a status that didn't affect her 11/4 favorite status for the Coronation Stakes.
Listed at 13/2, Sharing stares up the odds ladder at not only Quadrilateral, but two Irish horses: Alpine Star (10/3) and Run Wild (9/2). None of this daunts Motion, who had no problem jumping through whatever COVID-19 hoops were in his way to get Sharing to Royal Ascot.
"To me, it's always about the challenge," he told Laurel Park. "I think sometimes in racing, we spend too much time trying to duck other horses. Racing, ultimately, is about the challenge and seeing how's got the fastest horse. I think that's why we're doing it and it's exciting."
Pinatubo Seeks Redemption in St. James's Palace Stakes
The other beaten Guineas favorite, Pinatubo, headlines the Group 1 St. James's Palace Stakes. He finds himself a tepid 7/4 favorite. Star trainer Aidan O'Brien's Wichita – who finished second to Kameko in the 2000 Guineas – isn't far back at 5/2.
Royal Ascot
Saturday, June 20
4:40 a.m. PT — The Silver Wokingham Handicap
5:15 a.m. PT — The Queen Mary Stakes (G2)
5:50 a.m. PT — The Coronation Stakes (G1)
6:25 a.m. PT — The Coventry Stakes (G2)
7 a.m. PT      — The St James's Palace Stakes (G1)
7:35 a.m. PT — The Diamond Jubilee Stakes (G1) — Breeders' Cup Challenge Series (Turf Sprint)
8:10 a.m. PT — The Wokingham Stakes (Heritage Handicap)
8:40 a.m. PT — The Queen Alexandra Stakes (Conditions)
Previously unbeaten Pinatubo was odds-on to win the 2000 Guineas in his 3-year-old debut, but gets pushed here from not only Wichita but Palace Pier (7/2). He gets the powerful trainer/jockey combo of John Gosden and Frankie Dettori.
Despite making his group stakes debut in the deep end of the pool, Sceptical (7/2) is your favorite in the other Group 1 race, the six-furlong Diamond Jubilee. Dettori rides a horse who won on turf for the first time June 8.
Sharing Not So Altruistic On The Track
As for Sharing, the Maryland-bred 3-year-old is well-versed with the deep end of the pool. She brings a four-race winning streak across the Atlantic, losing her debut race at Saratoga last July before running the current table. That includes the Selima Stakes last September in only her third start, a victory that propelled her to an upset win in the Grade 1 Breeders' Cup Juvenile Fillies Turf.
In turn, that propelled Sharing to a half-length victory in last month's Tepin Stakes at Churchill Downs, her 3-year-old debut. Her Equibase Speed Figure increased for the third consecutive race, to 105, and she hit the board in all five races: four wins and a third.
That victory brought no small measure of pride out of Motion. The British expat trained Sharing's dam, Shared Account, who won the 2010 Breeders' Cup Filly & Mare Turf at 46/1. A Royal Ascot victory has always been on Motion's bucket list, since he grew up in Newmarket. Motion came to the US in 1993 and won his first race in his new country in March at Laurel Park.
"I hope I take my own personal feelings out of it. Obviously, I'd like to do it, but I want to be doing it for the right reasons," he told Laurel Park. "We're not going for the party, because we can't go. We're going because we want to give the filly a shot against the best horses."
Motion Trying to Break His Royal Ascot Maiden
When you look at the record, it's surprising Motion remains shut out at Royal Ascot. Yet, he understands how difficult it is to win at this meet. He brought 2011 Kentucky Derby winner Animal Kingdom and standout filly Miss Temple City over. Neither brought home a trophy.
"I still have so much respect for how difficult it is to do this and I think even when Tepin won the Queen Anne, I don't think some people on the American side realized quite how difficult it is, having tried to do it myself several times," he told the Racing Post.
"It's amazing what (10-time Royal Ascot winner) Wesley (Ward) has been able to accomplish. It's not easy. I realize it's also difficult coming to us, handling the tight turns and the very fast tracks. But perhaps even more so to go over there on the undulating turf courses, when you don't know what kind of ground you're going to get."