France came from one goal down to beat Spain 2-1 in the Nations League final. The game in Milan offered some great moments of football, culminating with Spain keeper Unai Simon threatening the opposite goal in the dying moments of the encounter as Spain pushed for an equalizer.
Mikel Oyarzabal opened the scoring after 64 minutes, but Spain's advantage didn't last for long. Benzema netted in the 66th minute to make it 1-1. Kylian Mbappe then set the final score with 10 minutes left in the game. His goal was controversial, to say the least. Replays showed the Frenchman behind the Spanish defense in what appears to be an obvious offside position.
Marca: 'They are destroying football'
Spain captain Sergio Busquets revealed how the referees decided to validate the goal. "Mbappe was offside, but the referee said that Eric Garcia went for the ball and that this started a new phase," Busquets lamented talking to RTVE.
"That makes no sense, though. He went to try to cut the ball out because Mbappe was there and he assumed Mbappe was onside, so he did what any defender would have done in trying to cut it out," Busquets said.
Are my eyes playing tricks on me or is Mbappé about a yard offside here? pic.twitter.com/C6PYeWWbb1

— FootballJOE (@FootballJOE) October 10, 2021
"What's incredible is that they didn't trace a line when he seems to be in a clear offside position," Alfonso Perez Burrull, a former high-level referee turned analyst, explained during his live commentary for Radio Marca. "Mbappe interferes with play and is offside. That's true even with a touch from Garcia," Perez Burrull added.
FRANCE WIN THE NATIONS LEAGUE! 🏆🇫🇷 pic.twitter.com/N3KrkZTzOA

— ESPN FC (@ESPNFC) October 10, 2021
Marca put a strong title on its first page on Monday. "They are destroying football," the Spanish journalists wrote, criticizing the decision that settled the match.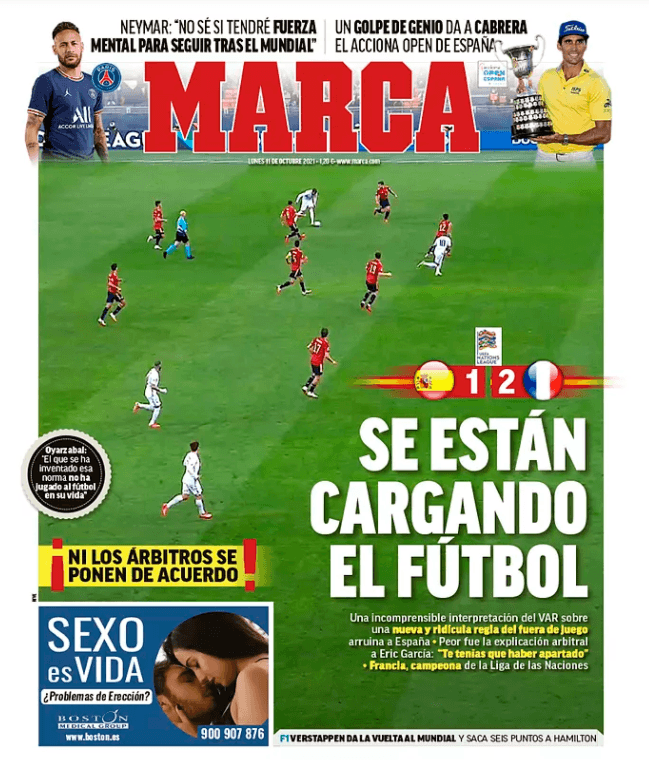 France becomes the second team to win the Nations League, a competition created by UEFA to put value into the international games, which don't count as qualifiers for the Euros or the World Cup. In 2019, in the first edition of the Nations League, Portugal won.
Despite the defeat in the final, Busquets won the Player of the Tournament award. Karim Benzema, for whom the Nations League trophy is the first at the national team level, won the prize for the Best Player in the final.
Italy finished in third place in the Nations League after beating Belgium 2-1 in Turin earlier on Sunday.