So which moment will we see from Dennis' Moment at Saturday's Fountain of Youth Stakes? Will we see the horse who broke his maiden by 19¼ lengths, then won the Grade 3 Iroquois Stakes at Churchill Downs?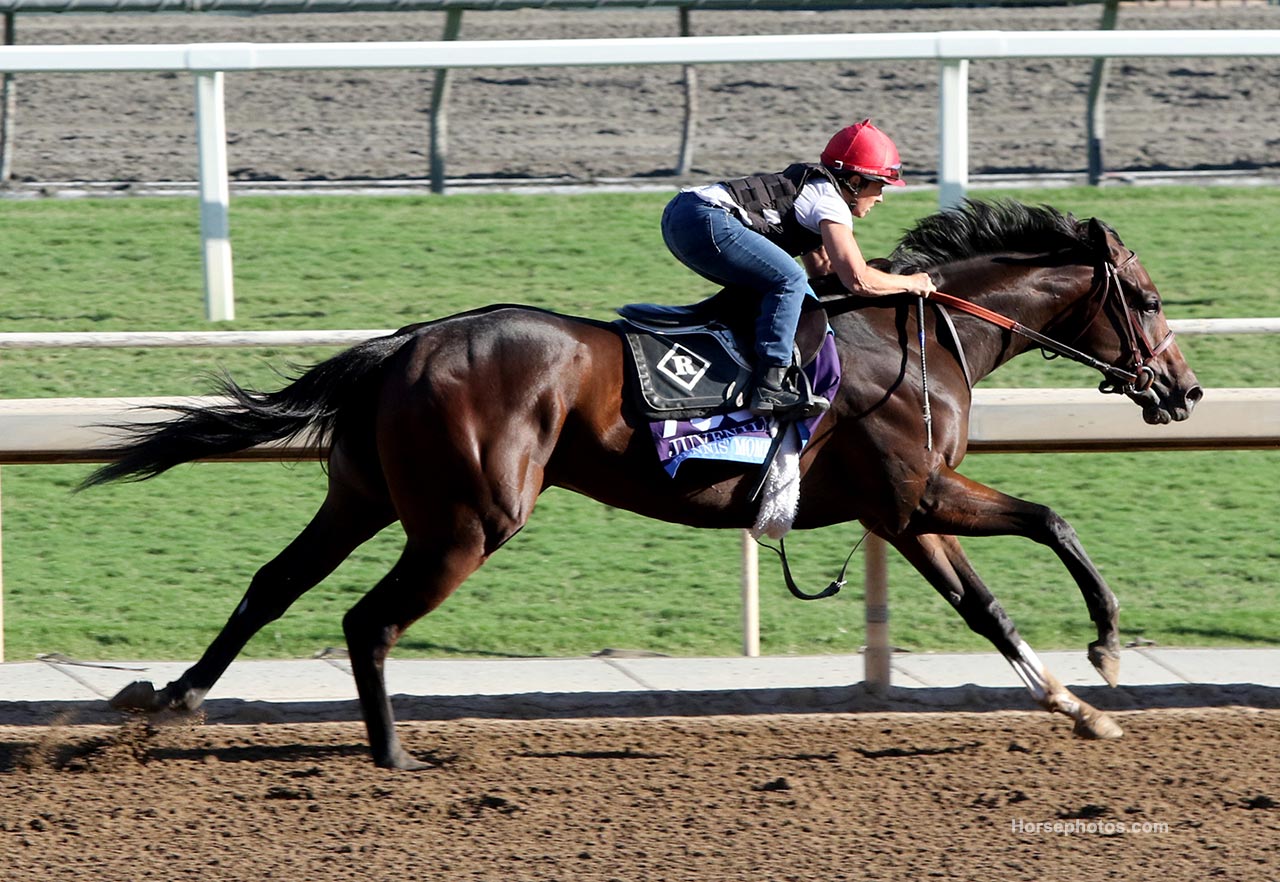 Or will we see the horse who threw his jockey when he clipped heels during his first race? Will we see the horse who went off as the favorite in the Breeders' Cup Juvenile last fall, only to fall out of the gate and stumble home in last place?
The moments have been just right for the Dale Romans trainee, who makes his 3-year-old debut at Gulfstream Park Saturday in the day's biggest Derby prep. And the moments have been too big for a colt who is considered one of the favorites to win the May 2 Kentucky Derby. Currently, Dennis' Moment is the third-favorite at 12/1 on Bovada's Kentucky Derby Futures Board.
Fountain of Youth Favorite
Dennis' Moment is the 2/1 morning-line favorite for the Fountain of Youth, which offers 50-20-15-5 Derby Qualifying Points to the top-four finishers. Waiting for him in the gates for the 1 1/16-mile race will be Mucho Macho Man winner Chance It, the runner-up, As Seen on Tv, Breeders' Cup Juvenile Turf winner Structor, Remsen Stakes winner Shotski, and Holy Bull runner-up Ete Indien.
Waiting to see how his prized charge will respond in his first start since that Breeders' Cup misadventure nearly four months ago is a cautiously optimistic Romans.
"I want him to come out and show that he's as good as I think he is," Romans told reporters. "But I think it's going to be a good day for him."
Romans said he's felt anxiety "every day since the Breeders' Cup" about Dennis' Moment's next moment. He called the colt "a superstar." But like many superstars across the artistic and sporting pantheon, Dennis' Moment comes with a temperamental side.
Dennis' Moment's Good and Bad Moments
June 23, 2019, Churchill Downs: Clips heels early in the race, unseats his jockey and finishes last in a 5-furlong, Maiden Special Weight race.
July 27, 2019, Ellis Park: Destroys the field by 19 ¼ lengths in this 7-furlong Maiden Special Weight, covering the distance in 1:21.95.
Sept. 14, 2019, Churchill Downs: Wins the 1 1/16-mile Iroquois Stakes by two lengths with a textbook trip.
Nov. 1, 2019, Santa Anita: Stumbles out of the gate of the Breeders' Cup Juvenile and was never a factor, finishing in last place.
"He's had four races. Fifty percent have been perfect, but the other 50% terrible. The first time out when he stumbled and lost his rider and the Breeders' Cup, when he stumbled to his knees and had no chance. Those are the highs and lows of sports."
Romans said he sent Dennis' Moment to gate training several times since that Breeders' Cup blooper, but said that's normal. Romans was pleased with the colt's last workout Sunday when he breezed a half-mile in 47 3/5 seconds.
Another variable to Dennis' Moment's latest moment is a jockey change. Flavien Prat, one of the top riders on the West Coast, comes out for the ride. Romans' normal rider, Irad Ortiz Jr., is in Saudi Arabia for the Saudi Cup. Ortiz piloted Dennis' Moment in both his Iroquois and Breeders' Cup starts.
The elements are there for Dennis' Moment to have another moment to remember. The question is, what kind of moment will it be?