Christian Eriksen returned to Milan for the first time since leaving for Denmark's training camp ahead of the Euros at the end of last season. Eriksen suffered a cardiac arrest on the pitch in Denmark's Euro 2020 opener against Finland, on July 12, and it appeared his professional career was over at that point.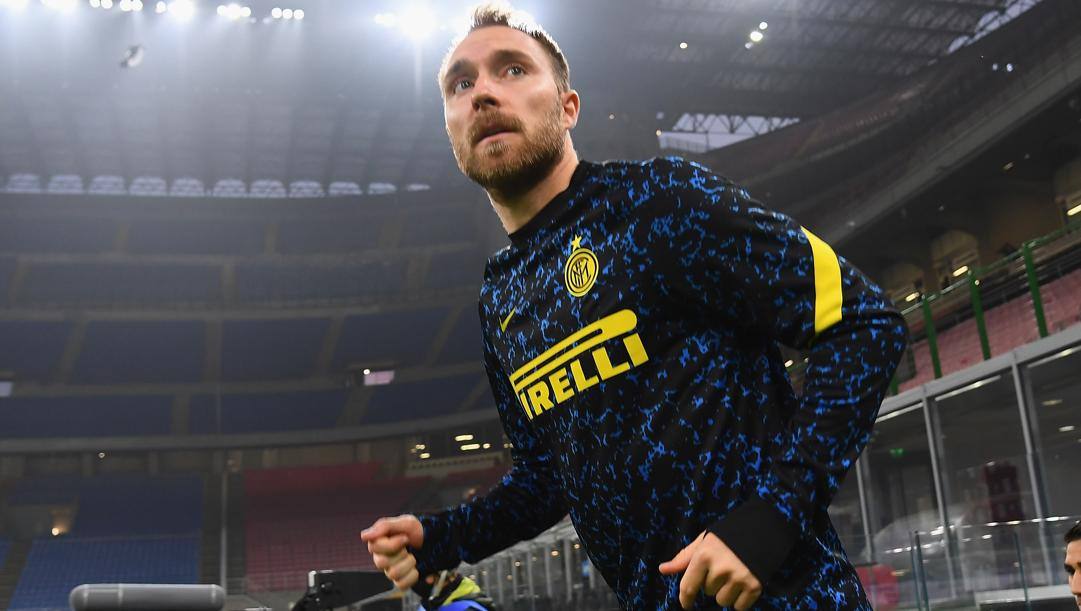 Eriksen landed in Milan on Wednesday morning and had a meeting with Beppe Marotta, Inter's sporting director. The midfielder will undergo further medical tests at Inter's request. Eriksen is forced to take a break for a few months, at least, following last month's medical emergency. He's expected to greet his colleagues on Thursday or Friday, then continue his recovery at home in Denmark while awaiting the results of his most recent tests.
Will Eriksen ever play in Italy again?
After his cardiac arrest on the pitch, doctors decided Eriksen should have a defibrillator implanted to make sure he's under permanent monitoring and that his heart would be "restarted" should he suffer another decrease in his heart rate. The 29-year-old could be back playing in six to eight months, according to Gazzetta dello Sport, but only if the device doesn't need to be permanently implanted.
If the implant needs to remain, Eriksen could play in leagues that work under different medical protocols, such as the English Premier League or the Dutch Eredivisie. There is also a possibility that the results of the tests performed in Milan aren't conclusive, so a decision on Eriksen's future might not be made until the fall.
Eriksen left Tottenham in January 2020, six months before his contract in North London was about to expire. The Dane cost Inter around $30 million. Eriksen still has three years left in his deal with the Serie A champions.
Referee Anthony Taylor: 'I was actually looking directly at him when he fell over'
For the first time since that dramatic afternoon at the Parken Stadium in Copenhagen, referee Anthony Taylor, who was in charge of the game, spoke about the scene that put the entire football planet on hold.
"I could tell straight away [that it was serious]," Taylor told the BBC. "Christian was on his own. The only thing that was close to him was a bouncing ball that hit his knee. I was actually looking directly at him when he fell over and could see his face as he fell. I knew straight away something was wrong because of how his face looked and how he fell to the floor," Taylor revealed.
Taylor instantly called for medical assistance and takes no credit for anything he did in the seconds after Eriksen fell to the ground. "The real heroes on that night were the Danish captain and the medics who performed the initial CPR and defibrillation," Taylor said.
Taylor hasn't spoken to Eriksen since July 12, but did say that he sent him a message in the days after the incident. "I did speak to [Denmark goalkeeper] Kasper Schmeichel before we left the stadium after the game. The Danish players had spoken to Christian. Kasper came to see me and we had a brief discussion about how Christian was," Taylor explained.
📄 | STATEMENT

Christian Eriksen in Appiano: meeting with team-mates and update on condition 👇https://t.co/RtYU5OatHU

— Inter 🏆🇮🇹 (@Inter_en) August 4, 2021