The El Camino Real Derby is one of those Kentucky Derby Trail detours. Like December's Springboard Mile at Remington Park, the John Battaglia Memorial and Jeff Ruby Steaks at Turfway Park and the Sunland Derby at Sunland Park, it's not on the beaten Derby trail path.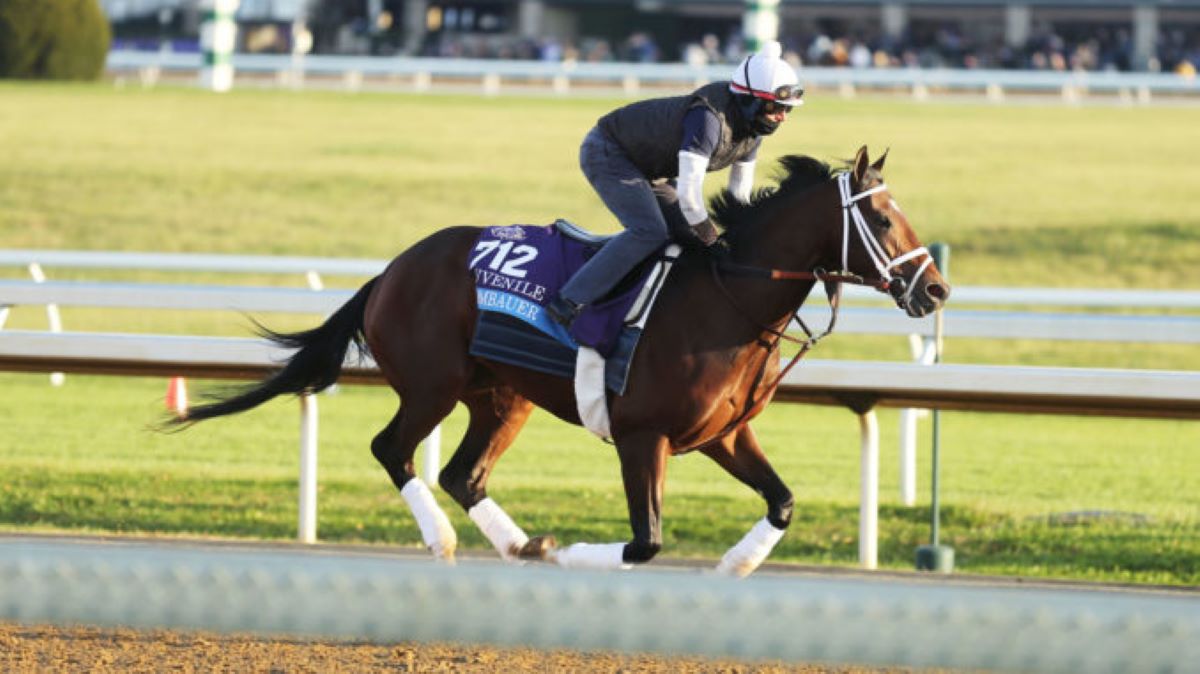 Once upon a time, Saturday's Listed Stakes El Camino Real Derby at Golden Gate Fields did hold prominence on the Derby trail. That came in the 1980s and 1990s, when the race went off at Bay Meadows, south of San Francisco. During that era, the 1 1/16-mile El Camino Real sent winners such as Prospect (1985), Snow Chief (1986) and Tabasco Cat (1994) to the Preakness Stakes winner's circle. Tabasco Cat also won the 1994 Belmont.
It also sent 1999 runner-up Charismatic to the Kentucky Derby winner's circle, along with sending Casual Lies (1992) and Cavonnier (1996) to exacta spots on the Kentucky Derby board. The El Camino Real ran on dirt, carried Grade 3 status and boasted purses as large as $300,000.
Bay Meadows closed in 2008 and the race migrated north of San Francisco to Golden Gate Fields. Now, it sends its Derby hopefuls 1 1/8 miles on a synthetic Tapeta track. And it does so without graded status, which it surrendered in 2019. That came largely because the El Camino Real sent just four runners to Churchill Downs between 2009 and 2019.
Six Horses Migrate North From Southern California
This year, the $100,000 El Camino Real offers its usual 10-4-2-1 qualifying points to the top four finishers. It offers its usual spot in the Preakness starting gate to the winner. And it offers an intriguing, nine-horse mix of runners: some who could – given the right opportunities – make their way to the Derby.
That list starts with one of six Southern California shippers — 8/5 favorite Rombauer, who easily brings in the most impressive resume. First off, he broke his maiden on turf at Del Mar last summer. Turf runners usually make an easier transition to synthetics than dirt runners. Second, he finished second in the Grade 1 American Pharoah at Santa Anita Park last September – by a half-length to Get Her Number.
Listed Stakes El Camino Real Derby/Golden Gate Fields
Morning Line (Jockey/Trainer)
Positivity, 12/1 (Julien Couton/Paddy Gallagher)
Waspirant, 8/1 (Assael Espinoza/John Shirreffs)
Tesoro, 20/1 (Catalino Martinez/O.J. Jauregui)
It's My House 20/1 (William Antongeorgi III/Jamey Thomas)
Petruchio, 3/1 (Irvin Orozco/Richard Mandella)
Play Chicken, 12/1 (Evin Roman/Doug O'Neill)
Javanica, 5/2 (Frank Alvarado/Eoin Harty)
Governor's Party, 50/1 (Dan Franko, Cristobal Herrera)
Rombauer, 8/5 (Kyle Frey/Michael McCarthy)
Third, Rombauer finished a strong fifth in the Breeders' Cup Juvenile, running against a field vastly superior to this one. His closing style and speed figures should factor heavily here, since closers have dominated this race since it moved to Golden Gate Fields. Not to mention, his bullet 59.4-second five-furlong workout last weekend at Santa Anita.
Filly Javanica Could Win El Camino Real
Should you want to beat Rombauer and odds that probably will decline to the even-money neighborhood, two other solid choices await. The first is Javanica (5/2), who is bidding to be the second filly to win the El Camino Real. A daughter of stamina-rich Medaglia d'Oro, Javanica finished second on Woodbine's synthetic surface at the Glorious Song Stakes last fall.
She finished second in the Grade 3 Jimmy Durante Stakes at Del Mar to standout Fluffy Socks. Then, Javanica fell by less than a length to Quattroelle in the Blue Norther Stakes at Santa Anita. There is little difference between her speed figures and Rombauer's. And there is little reason she can't join Paved (2017) as the only two fillies to win the El Camino Real.
Interestingly, Rombauer's trainer, Michael McCarthy, trained Paved.
Petruchio Provides Exotic Ticket Depth
The other selection provides a perfect capper to your exotics: Petruchio (3/1). He too, broke his maiden on grass last fall at Del Mar. While that's Petruchio's lone victory, he hasn't missed the board in five races (1-1-3).
We last saw the Into Mischief gelding finish a solid third to Spielberg and The Great One in the Grade 2 Los Alamitos Futurity. That came with a career-high 96 Equibase Speed Figure, the highest in this field. If first-time rider Irving Orozco produces a clean trip for Petruchio's off-the-pace style, he could easily steal this race.
The pick: Javanica. Like Rombauer, her pedigree and late running style fit this race perfectly. But you'll get a price for her you won't get for Rombauer. Regardless, this is a race begging for exotics, so including those two and Petruchio in exactas and trifectas should be the ticket.