Duke is the favorite to win the NCAA Men's basketball championship in 2019, according to the Westgate Las Vegas SuperBook, even though the Blue Devils will be losing several starters. They're listed at 5/1 to triumph in next year's March Madness.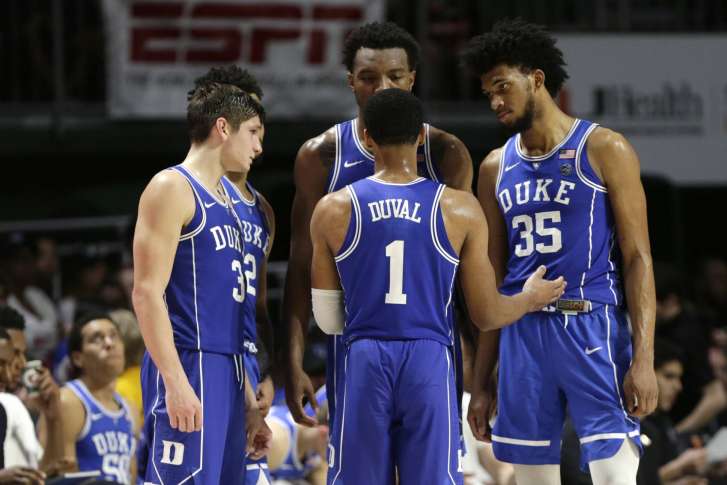 Defending champs Villanova opened as 8/1 picks, the same odds given for Kansas and Kentucky. North Carolina is listed at 12/1, and Michigan State is at 15/1. Michigan, this year's tournament runner-up, is only at 25/1.
Bovada also released their NCAA futures and has Duke as the top pick at 5/1. They have Kansas as the second choice at 7/1. Villanova and Kentucky follow at 8/1.
Blue Devils Reloading
Coach Mike Krzyzewski's team was eliminated in this year's tournament by Kansas in the Elite Eight. Shortly after their loss, freshmen forwards Marvin Bagley III and Wendell Carter Jr. declared themselves eligible for the NBA Draft, effectively ending their collegiate careers. With senior guard Grayson Allen departing as well, that left only two starters remaining — guards Trevon Duval and Gary Trent Jr..
Krzyzewski defended his players' choice to turn pro after only one season. He told reporters two weeks ago that athletes have that right to decide to attend a university for only one year.
"It's not like we changed to go one and done," Krzyzewski said. "The world changed, we didn't change."
With the culture of college basketball moving towards star players playing one year and then leaving, Duke has adapted. They have reloaded their rosters to make up for the early departures with McDonald's All-American High School graduates who will probably follow the same path.
The Blue Devils landed the top-ranked recruiting class for next year, according to several websites that monitor and rank college basketball recruits.
Four of the top 10 high school prospects have signed letters of intent with Duke. Small forward RJ Barrett, small forward Cameron Reddish, power forward Zion Williamson, and point guard Tre Jones will be attending school in Durham, North Carolina, next year. Krzyzewski believes they will fill the void left by Bagley, Carter, and Allen.
Line Shifts Expected
How good the team will be is up for debate. The fact that they are the early picks to win the national championship doesn't mean they are a lock for the title. Last season, the odds changed throughout the year for who would ultimately cut down the nets.
Soon after the 2017 tournament, sportsbooks made Kentucky the favorite at 10/1. By November, though, the Wildcats stayed at 10/1 while other teams jumped over them.
Michigan State became the new top selection to win the 2018 title at 9/2. Duke and Arizona were second at 8/1. (None of the three teams made it to the Final Four.)
By January, the lines had shifted again, and Villanova and Duke were the new favorites at 5/1. A month later, Virginia replaced Duke and joined Villanova as the top pick.
The odds stayed that way heading into March Madness, and Villanova ended up not only being the favorite but also the No. 1 ranked team in the AP Top 25. It was the second time they pulled off that achievement. Since 1985, only three other teams have ended the regular season at No. 1 while also winning the NCAA Champions.