Get in on the last betting action of the 2022 NFL season with a DraftKings promo code available only for new users. If you bet $5 on the Super Bowl or any sport, you will receive $200 in bet credits for use on the DraftKings sportsbook. We explain below how to get this promo.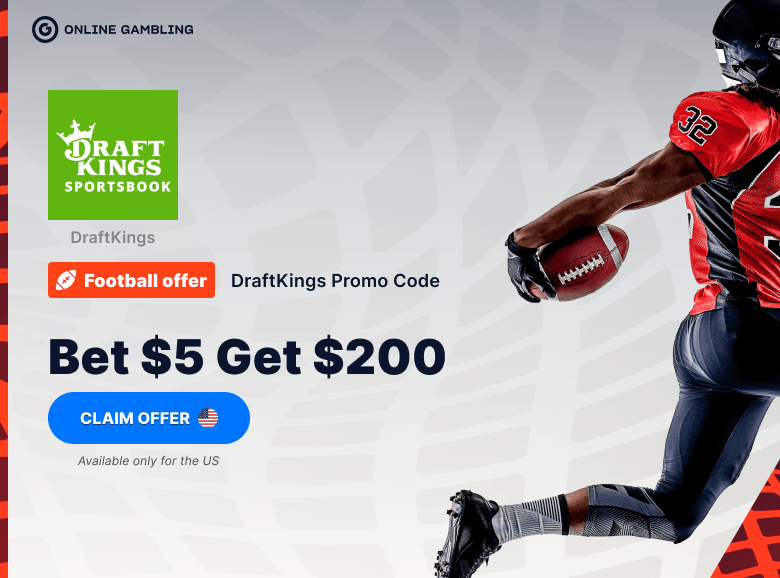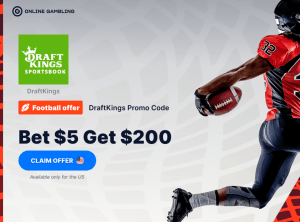 Super Bowl LVII features the Kansas City Chiefs taking on the Philadelphia Eagles. Both teams have won a Super Bowl in the previous five seasons, which is something that has not been true for any Super Bowl matchup since the Raiders and Redskins met in the 1983 season. This should be an exciting matchup with plenty of betting markets available at DraftKings. 
To claim this promo, click here to start creating your DraftKings account. You just have to deposit and bet at least $5 on the sportsbook before midnight on February 12, 2023. Once your bet settles, you will receive $200 in bet credits for use on the sportsbook.  
DraftKings promo code for Super Bowl LVII
There is no specific code to enter at DraftKings for the promo. Just be a new user and fund your account with at least $5 before making your first $5 bet on the sportsbook. Once that bet settles, win or lose, you will receive $200 in bet credits paid out in eight $25 free bets.  
DraftKings has plenty of markets available for this Super Bowl from the MVP award to sides and totals, and they also have many player props that can be played on a one game parlay to maximize profit. If you bet your $5 on the Super Bowl to get the $200 in bet credits, those could be used on plenty of exciting NBA games going forward. They also have plenty of other sports leagues from around the world to bet on, making this DraftKings promo a timely one to use. 
How to claim the DraftKings promo code for Super Bowl Sunday
New users just have to follow this simple process to claim the promo today.  
Go to the DraftKings site to make your account.
Deposit at least $5 into your account.
Place a $5 bet (or more) on the sportsbook.
Once your bet settles (win or lose), you will soon receive $200 in bonus bets paid out as eight $25 bets. 
How to use the DraftKings NFL promo code 
The only requirement for this DraftKings promo is to be a new user placing their first deposit and bet of at least $5. Once that bet is made, you have to wait for it to settle, then you will receive the $200 in bet credits. These credits will be split into eight $25 free bets, which must be used within 7 days or they will expire from your account. The bets must be played as $25 lump sums on the sportsbook, and the bet credits are not redeemable for cash. Also keep in mind that the bet credits are not paid out in a winning bet using them as the stake. You only receive the winning portion of the bet in that case.  
Betting on Super Bowl LVII with DraftKings
Like other sportsbooks, DraftKings has a wide assortment of game props and novelty props available for Super Bowl LVII. 
For Philadelphia fans who loved the Philly Special in Super Bowl LII, it would be hard to bypass the odds (+3500) on any quarterback to have a receiving touchdown in this game Jalen Hurts can certainly do it on a trick play. Patrick Mahomes is less likely on the ankle injury, but you never know what the Chiefs will scheme up in the red zone. 
Another unique market at DraftKings is the ability to bet on the game's fastest ball carrier as measured by Next Gen Stats we presume. Isiah Pacheco (+400) and DeVonta Smith (+600) lead the pack on those odds.  
At the end of the day, you cannot go wrong with simply trusting your gut and placing a moneyline pick on the team you think is going to win the Super Bowl. No matter what you bet, all it takes is a $5 bet to get $200 in free bets, a great way to close out this NFL season at DraftKings.  
Who is eligible for the DraftKings Sportsbook promo code?
The DraftKings Sportsbook promo code is available to new customers in the following states:
Coming soon
Online Massachusetts sports betting is expected soon. Keep up to date with the latest Massachusetts sports betting promos at Online Gambling.