Novak Djokovic defeated Roger Federer in a historic final that may well go down as one of the greatest tennis matches ever played to win the men's Wimbledon championship on Sunday.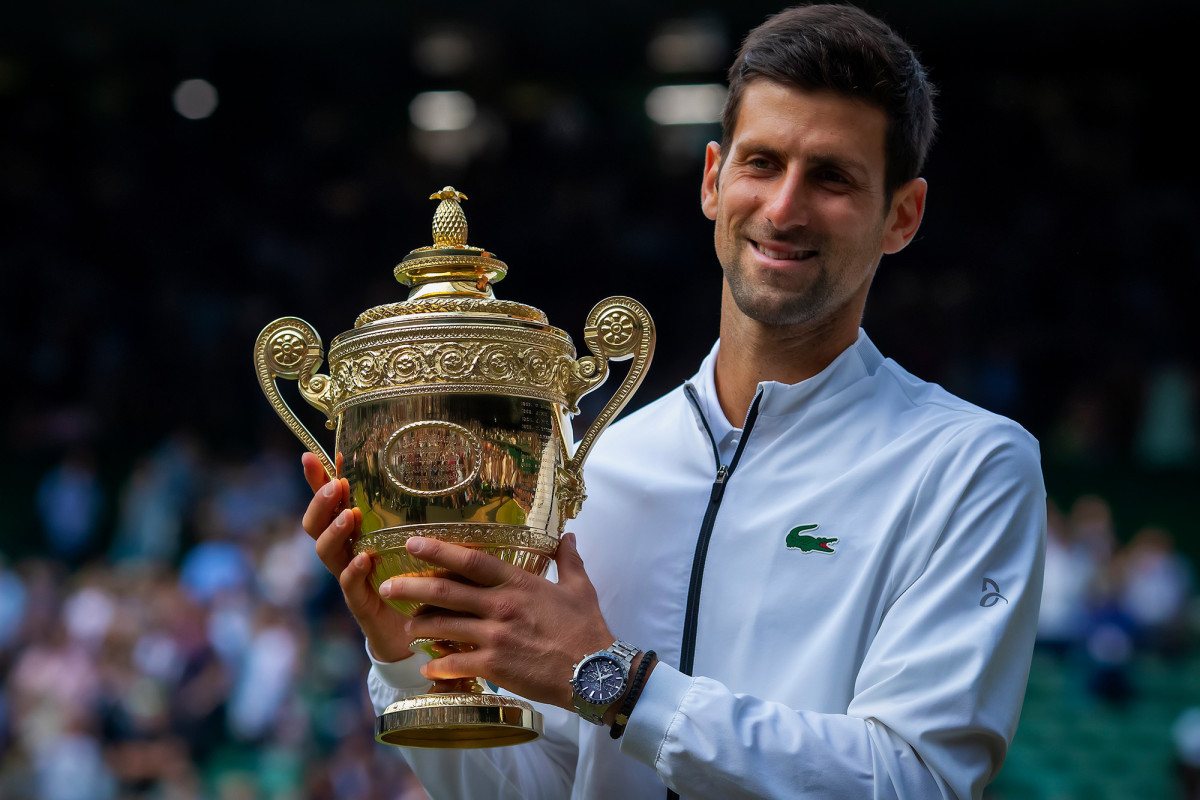 Djokovic needed to beat Federer in the first ever fifth-set tiebreaker ever held at Wimbledon, escaping with a 7-6 (7-5), 1-6, 7-6 (7-4), 4-6, 13-12 (7-3) triumph.
Djokovic Saves Match Points Before Winning
The win marked Djokovic's fifth Wimbledon title, and his 16th overall Grand Slam victory. The Serbian world No. 1 has now won back-to-back titles at the All England Club.
The fifth set provided incredible drama for fans, with both players seemingly in control at one point only to see their opponent find a way back into the match.
Djokovic scored the first break to go up 4-2 in the fifth. That led to understandable speculation that fatigue might be catching up with the 37-year-old Federer. But the 20-time Grand Slam winning broke back immediately to get the match back on serve.
That led to a marathon in which both players seemed determine to hold their ground as the tiebreak – scheduled to happen if the final set reached 12 games apiece – approached. But at 7-7, Federer found a break to go up a game and have the chance to serve out the championship.
Federer even took a 40-15 lead to give himself two championship points. But Djokovic saved both and sent on to break back, leveling the score at 8-8. That would eventually make Djokovic the first man to save championship points in the final and still win the match.
Federer had one more break point at 11-11, but couldn't convert. After he safely held his final service game, the tiebreak began. Djokovic found an early mini-break and never looked in danger after that.
"I'm just obviously thrilled and overjoyed with emotions to be sitting here in front of you as a winner," Djokovic said after the match. "This match had everything. It could have gone easily his way. He was serving extremely well, I thought, the entire match."
Federer arguably outplayed Djokovic: he won more games (36-32) and more points (218-204), and was a handful of shots from winning the match in straight sets. But in the end, Djokovic was a deserving winner, while Federer had to be content with showing that age still hasn't slowed him down.
"I hope I give some people a chance to believe that at 37 it's not over yet," Federer said afterwards. "I gave it all I had and I still feel alright."
Serena: Halep 'Played Out of Her Mind'
The women's final wasn't nearly as dramatic, as Simona Halep raced past Serena Williams 6-2, 6-2 on Saturday to earn her first Wimbledon title and second Grand Slam. Halep easily dealt with Williams' signature power game, and used her superior speed and court coverage to dominate the match.
"She literally played out of her mind," Williams said during the trophy ceremony. "It was a little bit 'a deer in the headlights' for me."
The loss left Williams looking for her first Grand Slam win since returning from giving birth to her daughter Olympia in September 2017. She has made three finals since then, including the last two at Wimbledon.
Bookmakers think Serena's breakthrough could be coming soon, however. Williams (+430) is the favorite to win the US Open according to FanDuel Sportsbook, ahead of Halep (+750), defending champion Naomi Osaka (+850), and Ashleigh Barty (+1000). On the men's side, Djokovic (+125) is a heavy favorite over his two main rivals, Rafael Nadal (+470) and Federer (+650).