Novak Djokovic's run at the 2020 US Open came to a stunning end on Sunday after officials defaulted him from his fourth-round match for accidentally striking a line judge in the neck with a tennis ball.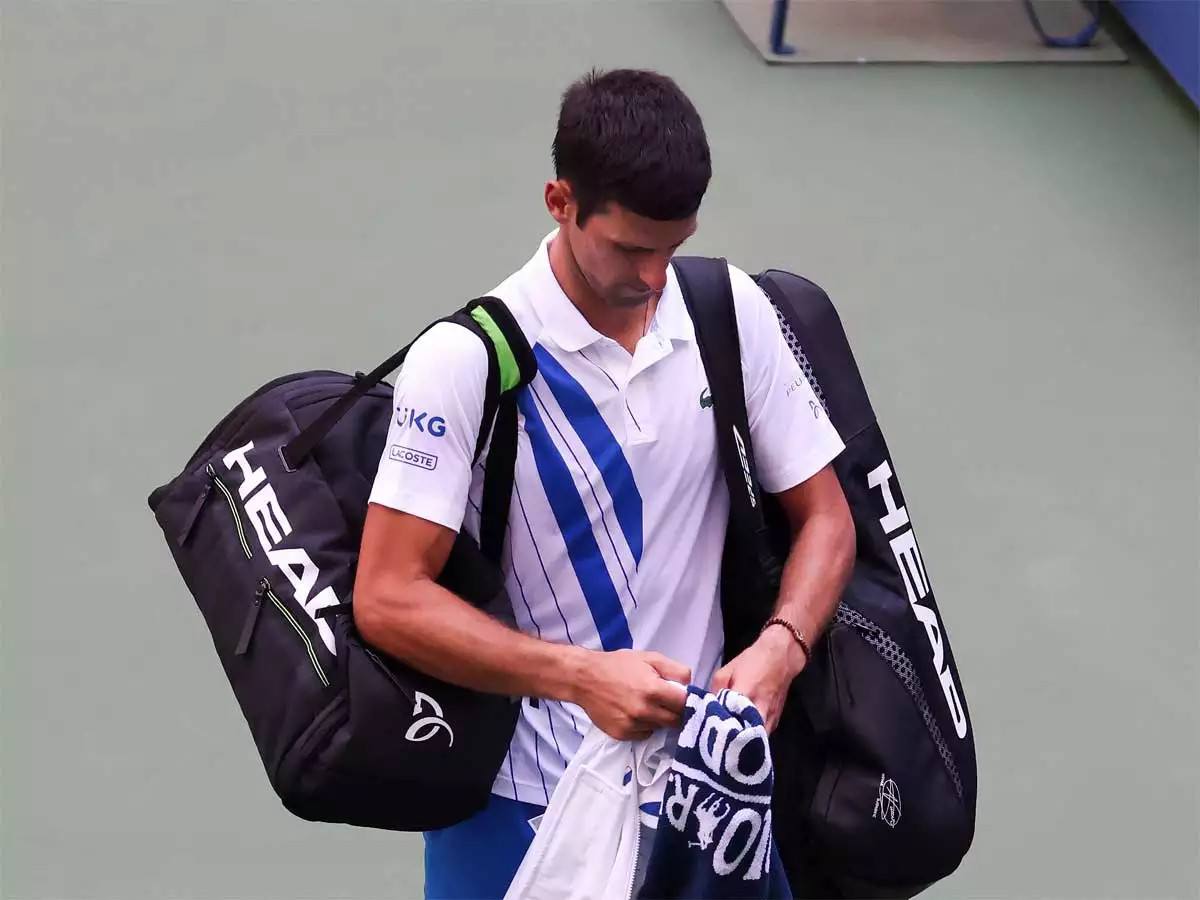 Djokovic hit the ball in anger after dropping a break to go down 6-5 in the first set to Pablo Carreno Busta.
Djokovic Apologizes for Reckless Swing
While he didn't intentionally aim for the line judge, the fact that he hit the ball recklessly was enough to merit a disqualification. The ball judge dropped to the ground and grabbed her neck. Djokovic immediately apologized for the accident and walked over to the judge to check on her.
Oops! #Djokovic pic.twitter.com/OouwJUCDno

— Juliet Bawuah (@julietbawuah) September 6, 2020
US Open officials discussed the situation for about 10 minutes, and Djokovic appeared to plead his case with them before chair umpire Aurelie Tourte ultimately announced the default. Djokovic shook hands with Carreno Busta, then left the grounds without speaking to reporters.
Djokovic later posted a message on Instagram in which he took responsibility for the incident.
"I checked on the lines person and the tournament told me that thank God she is feeling ok. I'm extremely sorry to have caused her such stress. So unintended. So wrong," Djokovic wrote. "As for the disqualification, I need to go back within and work on my disappointment and turn this all into a lesson for my growth and evolution as a player and human being. I apologize to the US Open tournament and everyone associated for my behavior."
While Djokovic's position as the world's No. 1 player makes this situation unique in some ways, it is not unprecedented. In the most recent similar incident, officials defaulted Denis Shapovalov from a 2017 Davis Cup match after he accidentally hit the chair umpire in the face with a ball he swatted away in anger.
"I've been through that myself," Shapovalov told reporters after his fourth-round win over No. 7 seed David Goffin. "Honestly, I feel awful for him. I feel terrible for everybody. Nobody wants to be in this situation.
Medvedev, Osaka Favored to Win Titles
Djokovic's disqualification opens the men's draw tremendously as he stood as a clear favorite over the field. FanDuel Sportsbook now lists Daniil Medvedev (+200) as the top choice to win the men's US Open title, ahead of Dominic Thiem (+330), Alexander Zverev (+430), and Shapovalov (+850).
Four more seeded women dropped from the US Open on Sunday, including No. 6 Petra Kvitova, No. 7 Petra Martic, and No. 17 Angelique Kerber. No. 4 Naomi Osaka continued to impress, beating 14th-seeded Anett Kontaveit 6-3, 6-4 to move on to the quarterfinals. Osaka will play unseeded American Shelby Rogers next.
"I haven't played her in a while, she is a great player," Osaka said after her match. "I feel like I would be the underdog having never beaten her."
Despite her claim of underdog status, Osaka stands as the +200 favorite to win the US Open women's championship ahead of Serena Williams (+500), Jennifer Brady (+600), and Victoria Azarenka (+600).
---
US Open Odds (Monday Matches)
No. 3 Serena Williams (-230) vs. No. 15 Maria Sakkari (+184)
No. 2 Dominic Thiem (-250) vs. No. 15 Felix Auger-Aliassime (+198)
No. 3 Daniil Medvedev (-1100) vs. Frances Tiafoe (+650)
No. 2 Sofia Kenin (-132) vs. No. 16 Elise Mertens (+108)
No. 6 Matteo Berrettini (-128) vs. No. 10 Andrey Rublev (+104)
Odds via FanDuel Sportsbook
---
Fourth-round play at the US Open wraps up on Monday. Notable matchups include No. 3 seed Serena Williams (-230) battling No. 15 Maria Sakkari (+184), while men's No. 3 Daniil Medvedev (-1100) takes on American Frances Tiafoe (+650).