When Sonny Leon came to the United States from his native Venezuela in 2015, the first place he put down his tack was Gulfstream Park.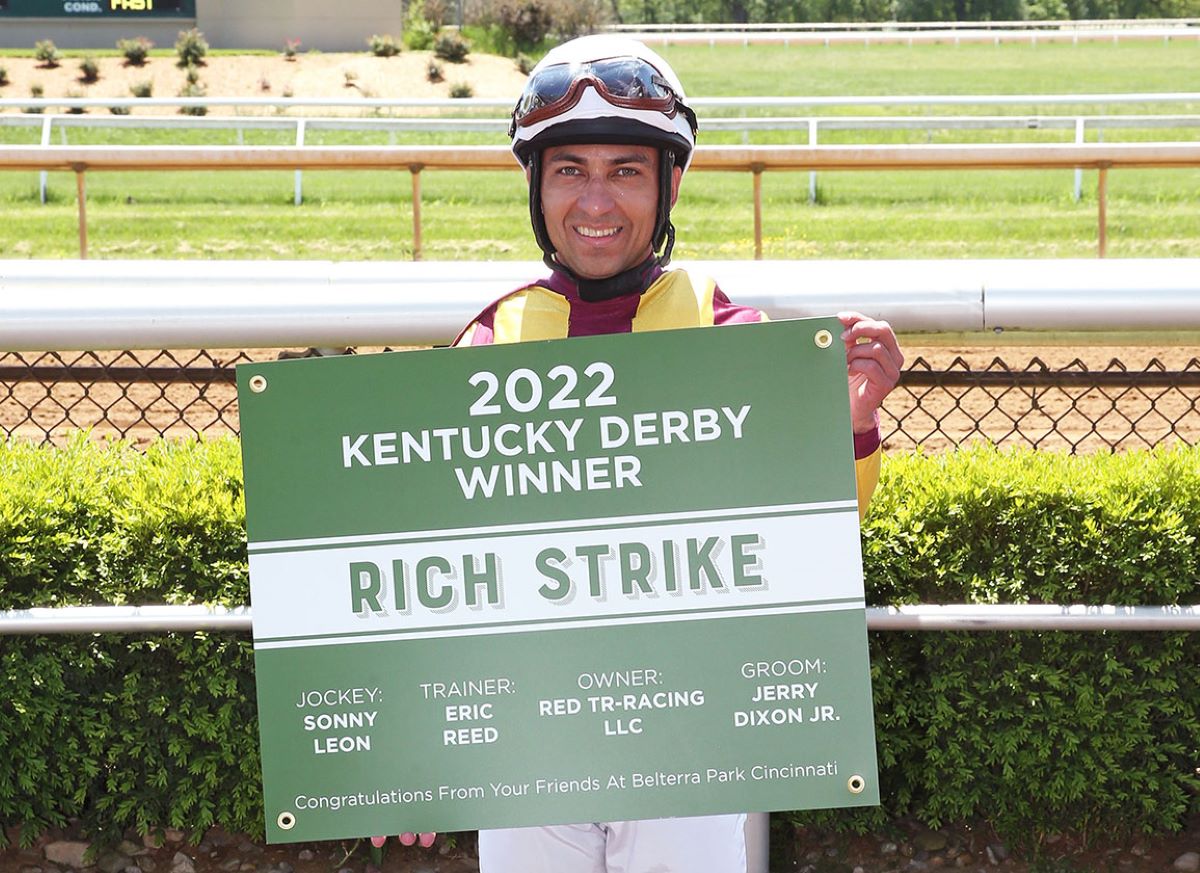 After winning his first race in only his fourth start, Leon went 3-for-his-next-67. He became an afterthought on the competitive South Florida circuit. An afterthought who migrated to Ohio and Northern Kentucky in pursuit of better opportunities.
Sometimes, you have to find your level to rise above it. And that's what Leon did: finding a level that now brings him back to Gulfstream as a full-time rider. Beginning Saturday with six mounts, Leon will ride full-time in South Florida.
Even though Leon spent the last seven years largely riding in horse racing's minor leagues, finding his level became infinitely easier due to one day in May.
'Derby winning jockey'
That day, May 7, to be precise, Leon gained the prefix "Kentucky Derby winning jockey." That day, he piloted Rich Strike — a $30,000 claimer who was 1-for-7 — to victory in America's biggest race.
Leon did that with a scintillating ride chronicled by NBC's overhead camera that was brilliant, audacious and incredible all at once. He took Rich Strike from 17th at the mile mark to first with 50 yards to go, using the rail as his GPS.
Just like that Leon became a household name. Unless you were familiar with the jockey colonies of Belterra Park or Mahoning Valley, you couldn't pick Leon out of a lineup before May 7.
Leon won riding titles — at Belterra and Mahoning Valley
That, even though Leon owns multiple riding titles at Belterra and Mahoning Valley. The 32-year-old journeyman was ranked 11th in wins among North American jockeys in 2021. That he was 66th in earnings tells you the level of races he ran. You didn't see Leon in big stakes races on the biggest racing days.
Not until the 2022 Derby or Belmont Stakes, where Rich Strike finished sixth.
But you'll see a lot more of Leon at Gulfstream this time around. He's getting mounts from the likes of Hall of Famer Mark Casse and the respected Mike Maker. Leon has two mounts for each trainer Saturday, opening for Casse with Carlin Clan in a $35,000 maiden claimer.
Later, he'll ride Maker's Over Calendared in a $12,500 maiden claimer. Leon takes Casse's first-time starter Luka Grazis in the seventh race and wraps up for Maker on Nepoti in the eighth.
Plenty of mounts await
In between, Jose D'Angelo's She's Classy awaits in a $12,500 claimer. Leon's lone stakes mount comes from trainer David Braddy. That's Easy Come Easy Go in the $75,000 Azalea.
A good day — or several — means Leon's name could eventually be mentioned in the same breath as fellow Venezuelans Javier Castellano, Junior Alvarado, Leonel Reyes and Emisael Jaramillo.
When it comes to one fact, however, Leon already stands above his more heralded countrymen. None of them — not even a four-time Eclipse Award-winner and Hall of Famer like Castellano — can call themselves a Kentucky Derby winning jockey.