Ousmane Dembele missed Barcelona's two previous games because of the turmoil created around his contract issue.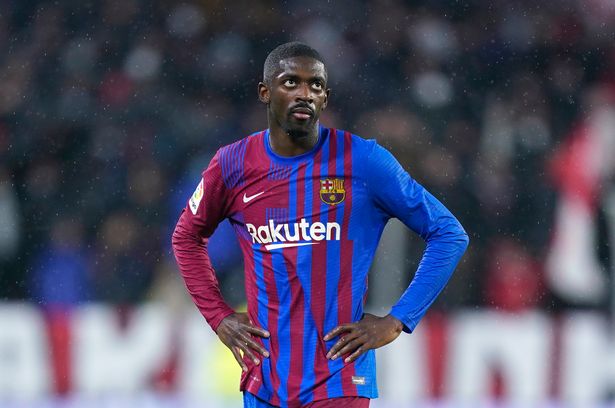 The Frenchman is out of contract in the summer and has refused all of Barcelona's renewal attempts. President Joan Laporta would like to see the winger banned from first-team activity, but manager Xavi believes Barcelona "can't shoot itself in the foot" and keep Dembele out of the squad.
Dembele turned down all offers to leave before the Jan. transfer window closed, irritating Barcelona's hierarchy. Laporta said he suspects the player and his entourage of coming to terms with another club over a free transfer in July. There is also strong info suggesting Barcelona tried to release Dembele following his contract saga, with the player firmly refusing the plan.
"We made him a very good renewal offer. The player said no, first alleging that it was not a money issue, but then he focused on the economic aspect," Laporta revealed during a press conference on Tuesday.
"I am very surprised that he did not accept a proposal he had from an English club. He did not want to. It did not make sense, because it was not good for him or for the club. He would have allowed us to work with more tranquillity in the market," Laporta disclosed.
"We think that Dembele already has a contract with another club, they have insinuated that to us. What we will do is defend the interests of the club," the Barcelona president stressed.
Xavi: 'We can't shoot ourselves in the foot'
According to French media sources, Dembele has a deal in place to sign Paris Saint-Germain after the season concludes.
But despite all that, Xavi still sees him contributing for Barcelona as a first-team player.
"We couldn't find a solution to Dembele's situation. The circumstances were what they were a month ago and now they are different. He's part of the club and the squad and he has a contract," Xavi said.
"We met with the president, the board and sporting director and we have decided that he is part of the squad and we can't shoot ourselves in the foot," the Barcelona manager revealed.
"We have to use him and he can help us. He has been a good professional and the club has taken its decision and I'll use him whenever it's convenient. He's just like any other player," Xavi explained.
A $120 million buy from Borussia Dortmund in 2017, Dembele only played 129 games in the Barcelona shirt, scoring 31 goals. His playing time was also limited by injuries. Talking about the attitude the Blaugrana fans might have towards Dembele on Sunday, when Barcelona hosts Atletico Madrid in a vital clash at Camp Nou, Xavi said:
'We have to think about ourselves, he can help us achieve our goals. We are a family and we decided together what is best for the club and for the team."
FC Barcelona is only fifth in La Liga, with 35 points from 21 games. They sit one point behind Atletico in fourth.
Barca is at +125 to beat Atletico, with a draw at +220 and an away win at +230. Do you fancy Dembele scoring? He's at +280. A bet on a brace from the 24-year-old returns +1900, while a hat-trick +25000.