In this coronavirus era, you expect to read about the health protocols for Del Mar's impending summer meet. But officials from the seaside track north of San Diego unveiled further guidelines addressing horse safety along with human safety.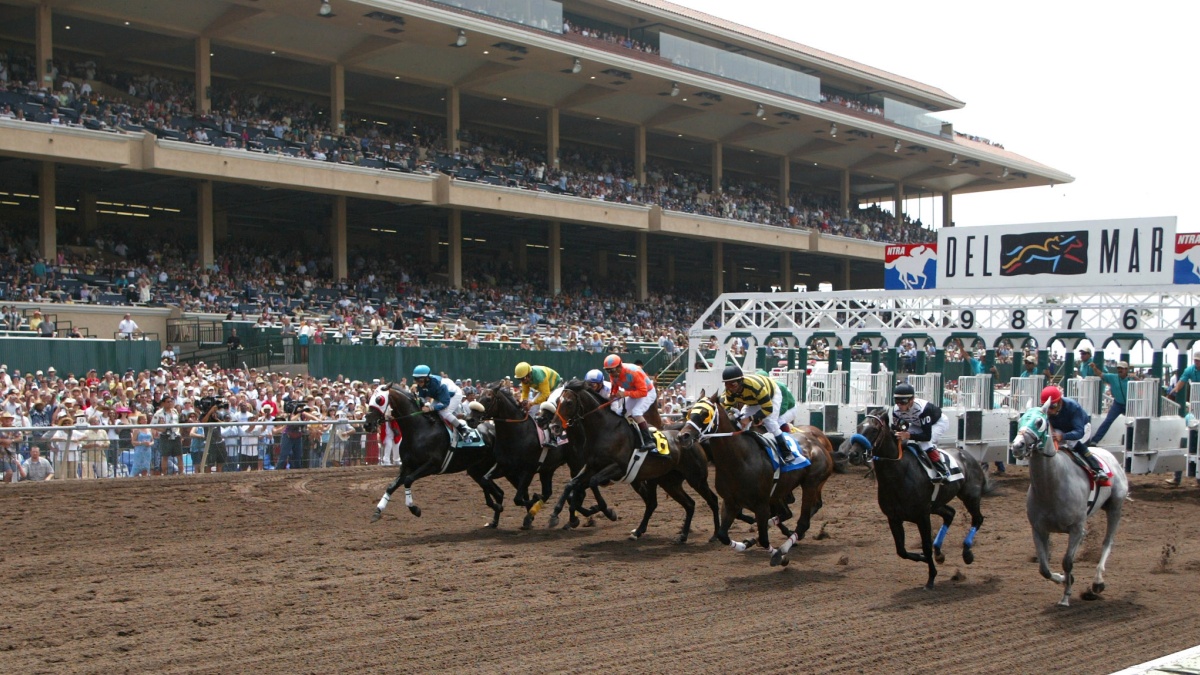 The Del Mar Thoroughbred Club (DMTC), which operates the track, announced the protocols less than a week before its summer meet opens July 10. It does so understanding where the turf meets the surf, as the famous slogan goes, meets without fans this year.
That, in turn, will cost the track upwards of $17 million, not only in lost revenue from fans betting, buying food and drink and parking cars, but from no concerts or fair events.
"We're all about safety here," DMTC CEO Joe Harper said in a statement the track put out illustrating the changes. "Safety and health will be our focus for the people involved with putting on this year's extraordinary race meet, but we'll also be continuing with our safety reforms for the well-being of our riders and horses."
Toward that end, Del Mar President Josh Rubinstein told the San Diego Union-Tribune the track invested $250,000 to fight the coronavirus. This includes adding more than 50 hand washing and sanitizing stations throughout the grandstand and stable areas and beefing up janitorial services to daily disinfect what the track calls "common areas."
The Mask and Social Distancing Police are Out and About
It also includes the services of a COVID-19 response team that prowls the premises ensuring social distancing and mask-wearing is in order. And all of this happens after workers navigate a health screening tent on the backside just to enter. That involves daily temperature-taking, inquiry about symptoms and – finally – issuing a daily color-coded wristband that limits access to certain areas, based on the color.
An additional health-screening tent sits by the racing office. That won't get much use, because entries and daily draws are done over the phone.
Everyone but the horses wear masks. Due to the proximity, jockeys and starting-gate crew must wear additional PPE.
One of the Region's Best Hospitals Provided Blueprint
To build this plan, Del Mar leaned heavily on nearby Scripps Memorial Hospital medical personnel, along with county health officials. County health officials will be the only ones administering tests and delivering results.
That accounts for the humans. As for the horses, Del Mar continues such steps as having on-site veterinarians perched on elevated observation posts overseeing morning workouts. They can remove horses for impromptu soundness exams, along with removing any horse from competition.
Much of that falls on a newly created Entry Review Panel, consisting of regulatory veterinarians who serve as a review backstop on every horse's medical, training and competition history. Every horse on race day goes under scrutiny of at least four different veterinarians.
No Riding Crops During Morning Workouts
Other new procedures include increased random testing, including after morning workouts. Speaking of morning workouts, riding crops are forbidden for use then. And again, only horses running at race speed – not joggers or gallopers – are allowed on the track the first 10 minutes following the two morning breaks.
Taking that one step further, Del Mar reduced its horse population from around 2,100 to 1,800 over the last several meets. That reduces track demand during morning workouts, the busiest and often most-dangerous time for horses.
Lastly, medication reform continues. Del Mar said it enhanced and strengthened rules surrounding NSAIDs, the non-steroid anti-inflammatories often administered to horses. It didn't specify what those extended and enhanced rules are, but did say it modeled its medication policies on International Federation Horseracing Association requirements.
Last year, nine horses died at Del Mar, but the track still has one of the safest records among America's major racetracks. According to the Jockey Club Equine Injury Database, Del Mar's fatality rate is 0.79 per 1,000 starts. That's less than the national average of 1.68 for reporting tracks and a 73% drop from its nightmarish 2016 season, when the track endured 3.01 deaths per 1,000 races.
Del Mar's meet begins one week earlier than planned. It runs Friday, Saturday and Sunday through Labor Day. The Grade 1 Pacific Classic, Del Mar's marquee race, runs Aug. 22.