A pall remains over Thoroughbred racing in Southern California and is continuing to intensify. This, in the aftermath of a 22nd fatal breakdown early Thursday at Santa Anita Park.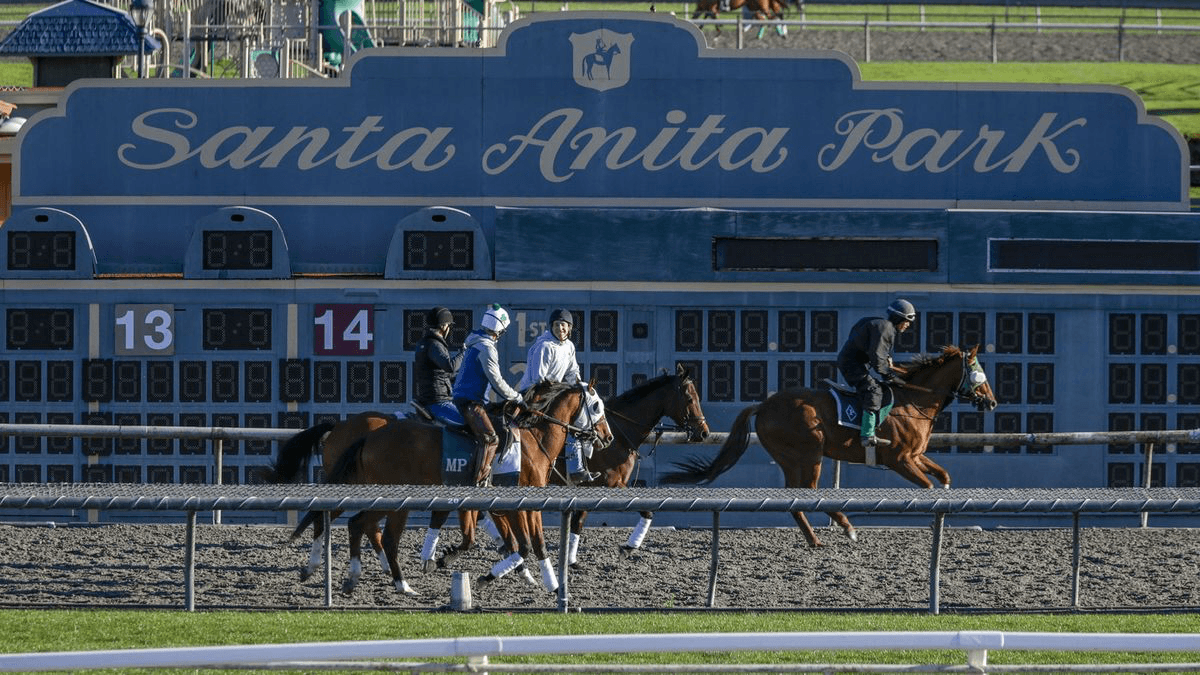 Princess Lili B, a lightly raced, 3-year-old maiden filly, snapped both front legs at the end of a half-mile workout on the recently renovated main track. Upon being euthanized, she added to the mounting death toll since the track began its winter/spring season Dec. 26.
"She was perfect," breeder, trainer, and owner David Bernstein said to the Daily Racing Form. "The work was slow because she never works fast. She didn't have a lot of talent, she was just kind of a horse. But she was my horse."
Racing has been suspended at Santa Anita since March 7 to allow the track surface to undergo a complete restoration. A commonality for the equine fatalities has yet to be discovered. New protocols for training, including increased veterinary oversight, are now in place.
Santa Anita owner The Stronach Group (TSG) says pari-mutuel racing will still resume on March 22, as previously scheduled.
Zero Tolerance for Race-Day Medication
The most recent death is now inducing further training and racing revisions at Santa Anita and at Golden Gate Fields, another TSG track near San Francisco.
TSG Chairman and President Belinda Stronach late Thursday released an open letter declaring a "zero tolerance for race day medication at Santa Anita Park and Golden Gate Fields." The racetracks will be the first in North America to follow the strict International Federation of Horseracing Authorities (IFHA) standards, according to TSG.
"This mandate encompasses a complete revision of the current medication policy to improve the safety of our equine and human athletes and to raise the integrity of our sport," the letter said.
Specific changes include:
Banning the use of Lasix, a controversial loop diuretic that increases urine production
A more stringent ban on legal therapeutic nonsteroidal anti-inflammatory drugs, joint injections, shockwave therapy, and anabolic steroids
Complete transparency of all veterinary records
Significantly increasing out-of-competition testing
Increasing time required for horses to be on-site prior to a race
A substantial investment by The Stronach Group in diagnostic equipment to aid in the early detection of pre-existing conditions
Horses in training are only allowed therapeutic medication with a qualified veterinary diagnosis
The tracks will also revise whipping rules during races requiring a cushion crop, only to be used as a corrective safety measure.
International Drug Standards for Santa Anita and Golden Gate
TSG previously announced the use of outside experts to regularly review dirt, turf and synthetic courses for consistency, composition and compaction in an effort to create safer racing surfaces.
Tim Ritvo, TSG Chief Operating Offcier, said as part of the letter:
"The time has come for this industry to evolve. It must do so for the sake of the horses and the people who depend on this sport for their livelihoods. Moving to international standards will help to set the right foundation for racing and fairness. We love the sport of horse racing and want it to succeed today, tomorrow and long into the future."
The California Horse Racing Board (CHRB) is meeting March 21 and will address the rash of equine deaths at Santa Anita and the TSG response the growing crisis.
The open letter concludes:
"We are taking a step forward and saying, quite emphatically, that the current system is broken. While the cause of the injuries on the racetrack might be varied, they have one thing in common: the industry has yet to do everything that can be done to prevent them. That changes today."
Anti-Bleeding Medication in Question
The key element of the overhauling of race day medication rules is the prohibition of the use of furosemide, generally known by the trade name Lasix. Trainers use this drug to help reduce bleeding in lungs and air passages of Thoroughbreds. Such bleeding is a pervasive problem for horses during and after intense physical exertion. It's unclear if Lasix has played a part in the outbreak of equine deaths.
Critics of the drug say its use can reduce horse bone density making the animal more susceptible to breaking down. Some experts also say Lasix can conceal other illegal drugs that mask injuries and soreness.
Hall of Fame trainer Bob Baffert told the Thoroughbred Daily News:
"It's scary times. I'm always going to do what I feel is good for the horse and I don't know if running without Lasix is good for the horse, but at the same time, the rules are the rules."
Baffert is re-routing two of his top Kentucky Derby contenders to Oaklawn Park for Saturday's split divisions of the Rebel Stakes — the move forced by the cancellation of a planned Derby prep at Santa Anita.