The upcoming 1 ½ mile Belmont Stakes on June 8, the third jewel of Thoroughbred racing's Triple Crown, once again invokes recollections of what many believe is the sport's greatest training accomplishment: Woody Stephens' winning five straight Belmont Stakes.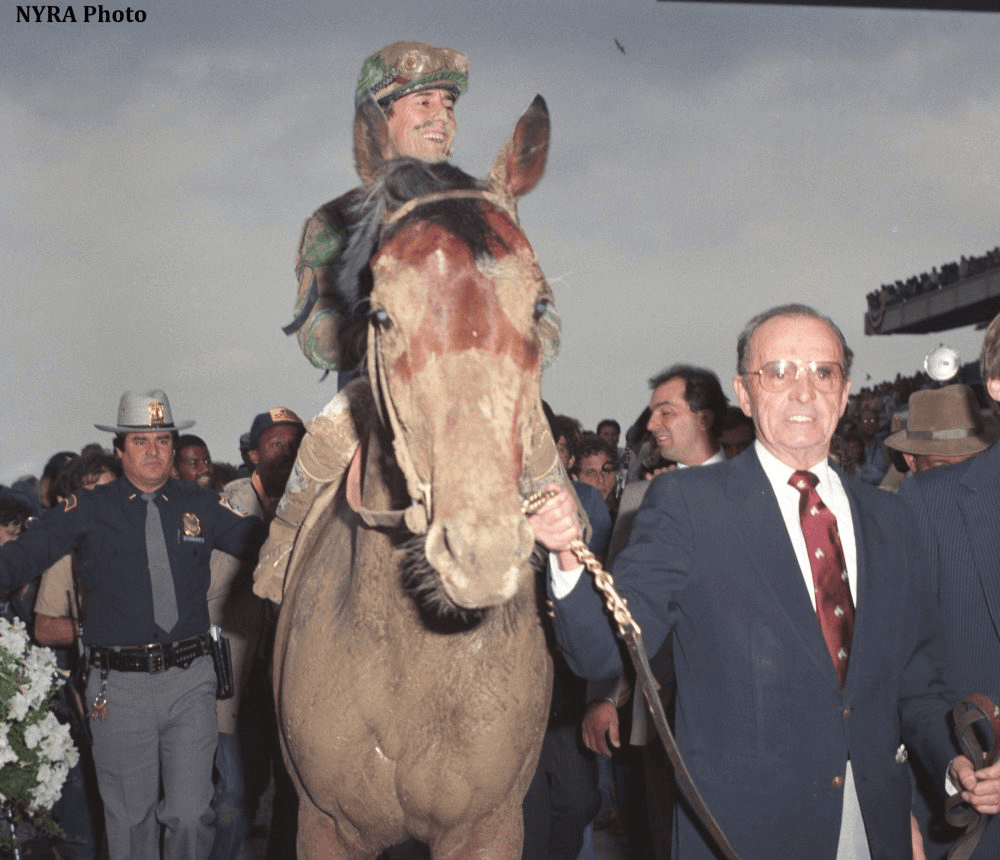 Younger horseplayers know the name, but might not recall the man and his training legacy.
Among the many high points of a seven-decades career, Stephens-trained horses winning:
Eleven Eclipse Awards
More than a hundred Grade 1 stakes races
Two Kentucky Derbies – Cannonade (1974) and Swale (1984)
Five Kentucky Oaks
One Preakness
An unprecedented five straight Belmont Stakes
Stephens was selected for membership to racing's Hall of Fame in 1976. In 1983, he won the Eclipse Award as the top trainer in the United States. Stephens, a Kentucky native, began his career in racing as a jockey at 16, but soon switched to training horses. And, what a training career it was!
Some of Stephens' students are among the best Thoroughbreds ever to look through a bridal. Among them: Blue Man, Traffic Judge, Bald Eagle, Never Bend, Bold Bidder, Danzig, Sensational, De La Rose, Devil's Bag, Conquistador Cielo, Caveat, Swale, Creme Fraiche, Danzig Connection and Forty Niner.
Woody Stephens and His 'Fab Five'
Conquistador Cielo (1982) – This speedball had won a Belmont Park mile race in track record time only six days before that year's Belmont Stakes. On Belmont day, the track was a sea of mud from overnight and all day rain, but the son of Mr. Prospector glided over the soggy surface 14 ½ lengths ahead of Gato Del Sol, the Kentucky Derby winner. Gato Del Sol controversially skipped the Preakness that year. Sheer domination is an apt description of the race. Conquistador Cielo did not contest the Derby or Preakness, laying in wait at Belmont for the other top three-year-olds to come to him.
Caveat (1983) – The 115th Belmont was projected to be a two-horse race between Caveat and Slew o' Gold. That's just what it was until the field turned for home. That's when jockey Laffit Pincay Jr. and Caveat jammed themselves through a small opening on the rail, rushing past Slew o' Gold on the inside and winning by 3 ½ widening lengths. Although, the winner was clearly best, just like as in this year's Kentucky Derby, stewards were left to decide if any foul had occurred in the tight quarters along the rail. But, unlike the 2019 Derby, the stewards decided the brushing had been negligible and let the result stand. As an ironic side note, Slew o' Gold continued his stellar career. He's remembered as part of a controversial finish with winner Wild Again and Gate Dancer in the first Breeders' Cup Classic at Hollywood Park in 1984. Caveat was injured in the brushing incident and never raced again.
Swale (1984) – This top-notch equine star had won the Kentucky Derby, flopped in the Preakness finishing seventh to Gate Dancer, but still had many backers as the 3/2 favorite when the Belmont Stakes came up on the calendar. When it did, he was a most impressive winner. The son of Seattle Slew took the lead on the first turn and never relinquished it, reporting home an easy four-length winner over Pine Circle. His Preakness debacle was never really explained. It cost the horse and his connections the Triple Crown. Sadly, Swale later succumbed after a workout to a previously undetected heart issue. Shockingly, his death was just eight days after his Belmont heroics. Preakness winner Gate Dancer is the colt who's now back in the news because of disqualified 2019 Derby winner Maximum Security. Gate Dancer is the first Derby participant to be disqualified. He finished fourth but then moved to fifth after interference in the 1984 Kentucky Derby.
Creme Fraiche (1985) – Stephens' fourth in a row is Creme Fraiche. That year his trainees finished both first and second. Creme Fraiche is notable because he's the first gelding ever to win the Belmont. The victory made Stephens the first trainer ever to win four consecutive Belmonts. Jockey Eddie Maple, was aboard and achieved some sweet vindication by winning. That's because he had been replaced as the rider of Stephens' three previous Belmont winners by Laffit Pincay Jr. In 1985, it was Maple on Creme Fraiche besting Stephan's Odyssey and Pincay to the wire. Chief's Crown, as the 2/1 favorite, was 4 ½ lengths back in third. Chief's Crown, who was second in the Kentucky Derby and third in the Preakness, thus becoming only the third horse ever to lose all three Triple Crown races as the favorite.
Danzig Connection (1986) – As the New York Times reported in it's chronicle of that year's Belmont, the railbirds began chanting "Woody! Woody! Woody!" in midstretch. That's when Danzig Connection was dispatching his foes to win the 118th Belmont Stakes. The win meant Stephens, had won the race for a fifth straight time. The candid conditioner said before and after the race that Danzig Connection was less talented than his four previous winners. However, the colt at generous 8/1 odds was good enough to splash to a 1 1/4-length victory over Johns Treasure and Ferdinand. 5/2 public choice Rampage finished a distant seventh over a very sloppy track.
Footnotes to an Untouchable Record
History records Bet Twice as the Belmont winner for 1987 in a memorable win over Alysheba. Alysheba under top rider Chris McCarron for trainer Jack Van Berg was seeking the Triple Crown after impressive Derby and Preakness victories. Bet Twice ended not only Alysheba's Triple Crown bid but also the winning streak of Woody Stephens. Stephens sent out Gone West that year, finishing a dull sixth, beaten by nearly 24 lengths.
Of interest in the 1987 race is Bet Twice's 14-length victory margin over runner-up Cryptoclearance, followed by Gulch and Alysheba. The top four represent what some regard as one of the finest group of three-year-olds ever assembled.
Most horse racing experts agree Stephens accomplishment is untouchable, never to be equaled again. Stephens died Aug. 22, 1998 just nine days short of what would have been his 85th birthday.