The chance for a better post draw brought Chance It to town for Saturday's Tampa Bay Derby. And the chance of a lifetime brought trainer Saffie Joseph, Jr. to the cusp of qualifying for the Kentucky Derby — something he's angled for since arriving in the US from Barbados in 2011.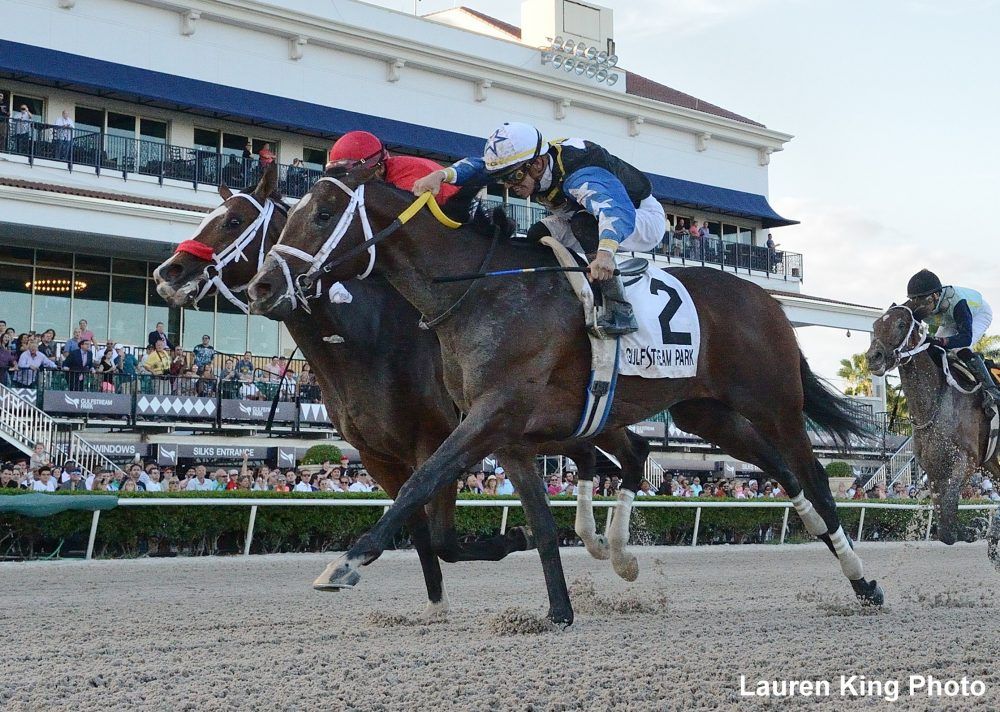 Joseph trains Chance It, one of the horses to watch at the Tampa Bay Derby. With 50-20-15-5 qualifying points on the line, he and favorite Sole Volante will renew a rivalry that began in January at Gulfstream Park at the Grade 3 Mucho Macho Man Stakes.
As a 3/5 favorite, Chance It turned in a strong stretch kick to overtake As Seen on Tv by a nose. Sole Volante was a distant third. The one-turn, mile-long race was noteworthy not only for the initial duel with Sole Volante, but also because Chance It was returning from nearly three months between races.
"He's a special horse, Most horses would lay down there, especially after a layoff," Joseph told reporters after the race. "Chance It is just special. He's the best horse I've ever had in my life."
Coming to America
Joseph is a third-generation trainer who came to the US from his native Barbados for opportunities such as this one. An emotional trainer who was seen crying after the Mucho Macho Man victory, he built the convictions on display with Chance It from the ground up. Training 2019 Pennsylvania Derby winner Math Wizard taught him plenty about the demands that come with training horses at the top of the class.
Coming into the Tampa Bay Derby, Chance It is the beneficiary.
Under Joseph's tutelage, Chance It is 4-for-6, with a stakes win and three decisive victories in the three-race Florida Sire Series. He won the finale for Florida-bred 2-year-olds – the $400,000 In Reality Stakes — by 7¼ lengths.
The signs were already there. After finishing second in his June 1 debut, Chance It hit the track 28 days later in a maiden special weight race at Gulfstream Park. The result: the fastest speed figure in the country by a 2-year-old at the time (110 Equibase) and a 9½-length victory.
"Each time, he keeps wowing you and wowing you with everything he does. He's always shown he has a special ability," Joseph told Thoroughbred Racing News. "Since I've been to America, he's the best horse that we've ever had. I don't think we've ever had a horse close to him in ability."
Derby Points Detour
In turn, Chance It has given Joseph a boost in confidence and conviction. It's only because of Joseph's budding confidence and faith in his strategy that we're seeing Chance It this week and not last week. He originally had Chance It entered in the Fountain of Youth, where he was a 7/2 second choice. But Joseph decided to scratch the day before the race after Chance It drew the unfavorable 12 post on the outside.
The move raised a few eyebrows until Joseph called an audible and moved Chance It into the Tampa Bay Derby, which offers the same number of Derby points as Fountain of Youth. Now, Chance It gets another chance to break away from a crowded Derby trail of contenders.
"We thought about it long and hard," Joseph told Gulfstream Park after the decision. "It's a tough post to overcome. I've never had a horse like this. I want to respect him and do what's right. I want to give him a fair chance."
At this early point in his career, that chance seems to be all Chance It needs.