The first draw for the Champions League Round of 16 was marked by an unprecedented event, which saw it voided and redone hours later.
Following the redraw, Paris Saint-Germain will play Real Madrid for a place in the quarterfinals, while Liverpool will have to pass the Inter Milano test for a place in the last eight. Manchester United will also be up against strong opposition, playing Atletico Madrid.
---
Champions League Round of 16 draw results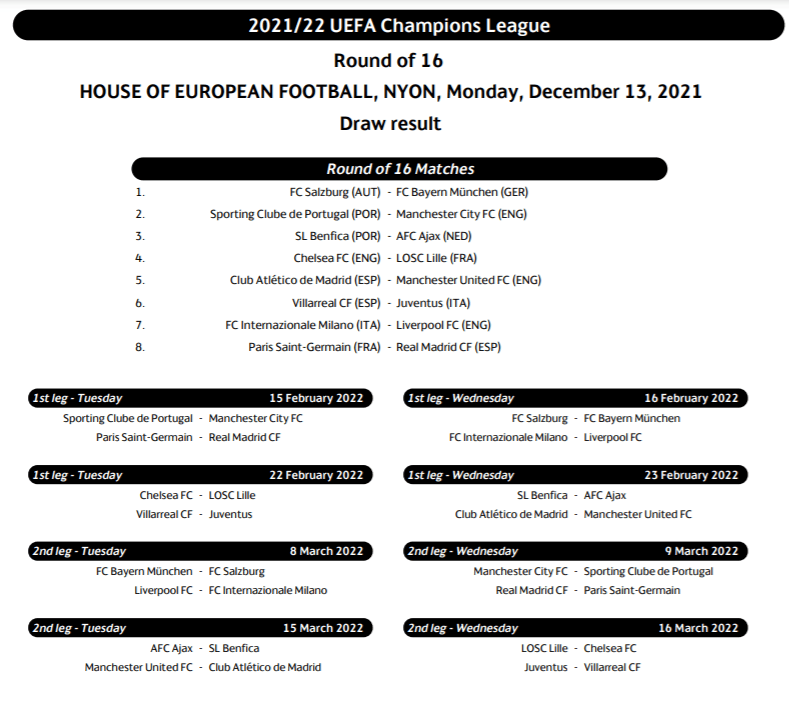 ---
The first legs are scheduled to be played on Feb. 16-16 and Feb. 22-34, with the second legs being played on March 8-9 and March 15-16. The seeded teams will play the second legs at home.
UEFA was forced to declare the initial Champions League Round of 16 drawing to be null and void following a series of errors during the process in Nyon. In the event which started at noon, Manchester United was paired with Paris Saint-Germain, but only after being drawn erroneously against Villarreal, and also being mistakenly left off the list of possible teams to face Atletico Madrid. Many clubs asked for clarification, with UEFA deciding to void the initial draw and start over again.
According to UEFA's rules, United wouldn't have been able to play Villarreal because of the protection system in place. Clubs that are part of the same group can't meet in the Round of 16.
Real Madrid was unhappy with the decision to restart the entire process, as they got PSG instead of Benfica in the redraw. The La Liga leaders asked UEFA to only restart the draw from the moment when the first draw went wrong, but with no favorable result. Manchester City is scheduled to play Sporting instead of Villarreal, while Chelsea will play Lille, a tie that had been drawn the first time around in Switzerland.
What went wrong at UEFA's HQ?
Each of the several pots on the stage was filled with balls containing the name of a qualified team. Balls were then extracted and added to a central pot to ensure that only possible ties could be drawn. That's because seeded teams could only play unseeded teams. There was also a protection system in place for clubs in the same national association, and for teams who previously met in the group stage.
The confusion started when Manchester United was drawn against Villarreal, a side they previously met in Group F. The tie was redrawn, with Manchester City picked to play Villarreal. United was then left out of the pot of potential opponents for Atletico Madrid, who got Bayern Munich. Instead, Liverpool was placed in the pot despite having played Atletico Madrid in the group stage.
"For Atletico Madrid, the possibility is to play everyone except for Liverpool, who were in the same group, and Manchester United, as they were already drawn," Giorgio Marchetti, UEFA deputy general secretary said.
But United coming out of the pot was a mistake in the first place, so they should have been potential opponents for Atletico. The draw continued, with United being drawn against PSG to offer Cristiano Ronaldo and Messi another high-intensity clash.
"Following a technical problem with the software of an external service provider that instructs the officials as to which teams are eligible to play each other, a material error occurred in the draw for the UEFA Champions League Round of 16," UEFA said in a statement. "As a result of this, the draw has been declared void and will be entirely redone," the message seen by Online Gambling added.
At +125, Manchester City is the favorite to triumph this year in the Champions League. Bayern Munich sits second at +163, with Liverpool at +275. Defending champions Chelsea are now at +300, while PSG, who was a joint-favorite with City a few months ago, dropped to fifth and is at +333. Ajax follows at +550. Red Bull Salzburg, Lille, and Sporting Lisbon are regarded as the outsiders and are all at +10000.