Justin Bieber has a goal to make a "Bielieber" out of St. Louis Blues net-minder, Jordan Binnington, at NHL All-Star Weekend on Jan. 25. Binnington issued a challenge to the pop singer and recreational hockey player on Instagram that he couldn't score a goal against him in 10 attempts.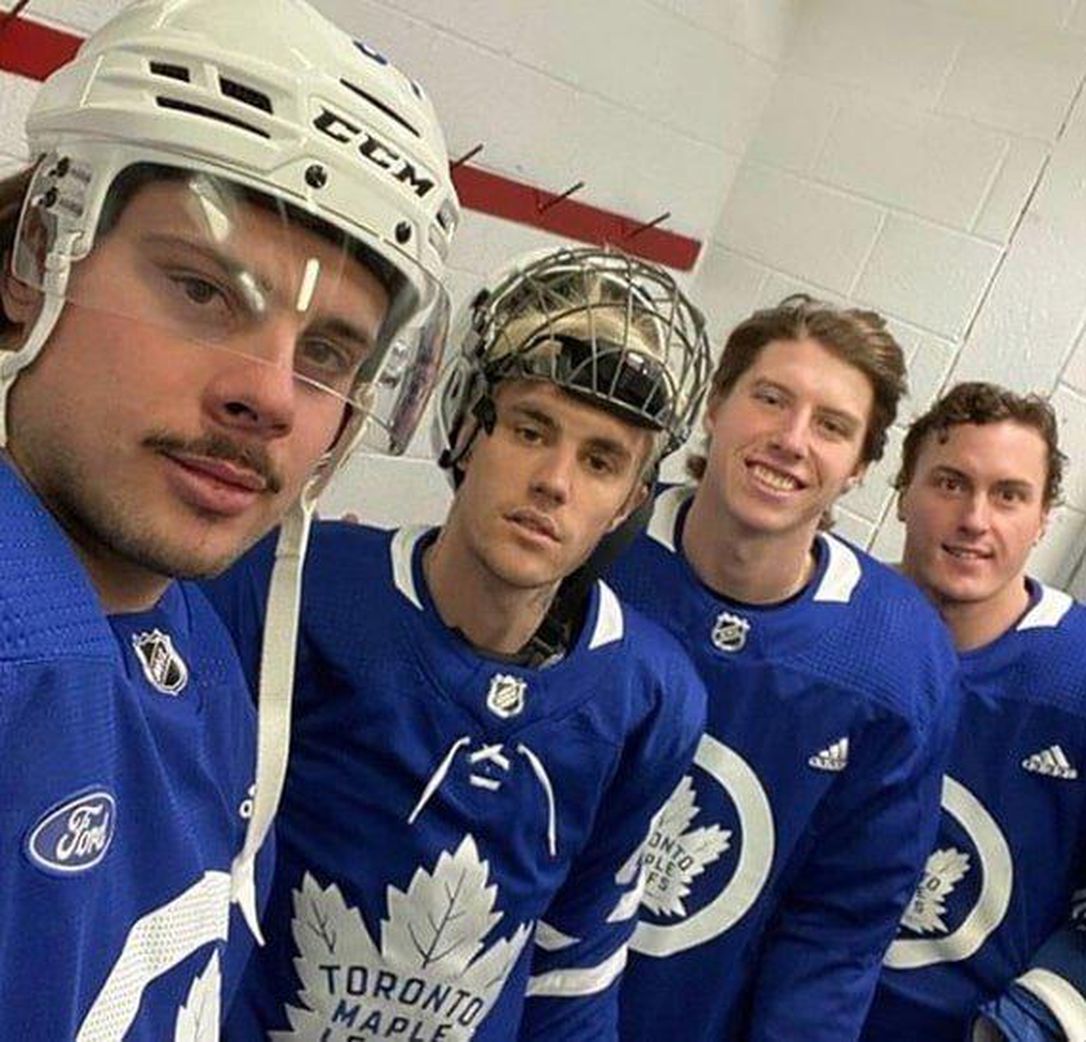 Binnington, whose team is hosting this year's NHL All-Star Game at the Enterprise Center in St. Louis, threw down the gauntlet after the Canadian singer posted a series of videos on Instagram last week from a pickup hockey game he played in two weeks ago. Bieber is a regular at ice rinks, playing whenever his schedule permits.
One of the videos was of Bieber scoring a nifty behind the back goal.
"Like my wife always says…. I got good hands," said Bieber, who is married to model Hailey Baldwin.
Binnington Bets Bieber
The videos got the attention of Binnington, who is a +250 favorite at Bovada to win the Vezina Trophy for the NHL's best goalie. The 2019 Stanley Cup winner challenged Beiber to a shootout at the All-Star weekend.
"10 breakaways me vs. you. You score one on me I'll dye my hair platinum blonde," Binnington wrote on Instagram.
Beiber saw the post and countered.
"How about 10 thousand dollars to charity? I score and you donate to a charity of my choice and we film it?"
Binnington has yet to respond, but oddsmakers at Bovada saw the exchange, and put up a prop bet on Bieber's chances of scoring. The "yes" is the underdog at +250, while the "no" is the solid favorite at +400.
Bieber is no stranger to the NHL All-Star Game. In 2017, he played in the NHL Celebrity All-Star Shootout. He mixed it up with retired professionals, and even got a little physical with Hall of Fame defenseman Chris Pronger.
Bieber Could Score
If the shootout challenge between Bieber and Binnington takes place, it might be worth a bet. The 25-year-old has demonstrated some skill, and over the Christmas holidays, played a pickup game with Toronto Maple Leaf players Auston Matthews, Mitch Marner, and Tyson Barrie. Marner, for one, was impressed by Bieber's play.
"He's actually better than I thought," Marner said. "He's got really good hands, and got a pretty good shot. I think he surprised me and Matts (Matthews) quite a bit, and Tyson."
Bieber grew up in Ontario, Canada, and played youth hockey. In 2012, the Bakersfield Condors of the then East Coast Hockey League offered an 18-year-old Bieber an amateur tryout contract.
Matt O'Dette, Condors head coach and director of hockey operations, said at the time he honestly thought Bieber could play professional hockey.
"Very rarely do you see this combination of skill and toughness," O'Dette said. "We share a common Canadian heritage since we both hail from Ontario. I've scouted some video of him online skating with my hometown team, the Toronto Maple Leafs, and I think he could provide some elusive speed up front for us. Plus, he's a right-handed shot, which we've been looking to add."