Eclipse Award voters tasked with deciding just who will be anointed America's 2018 Horse of the Year confront an age-old dilemma:  Should they reward special and unprecedented excellence over a short period of time in the form of Triple Crown winner Justify … or does the coast-to-coast, longer-term brilliance of Accelerate merit the prestigious award?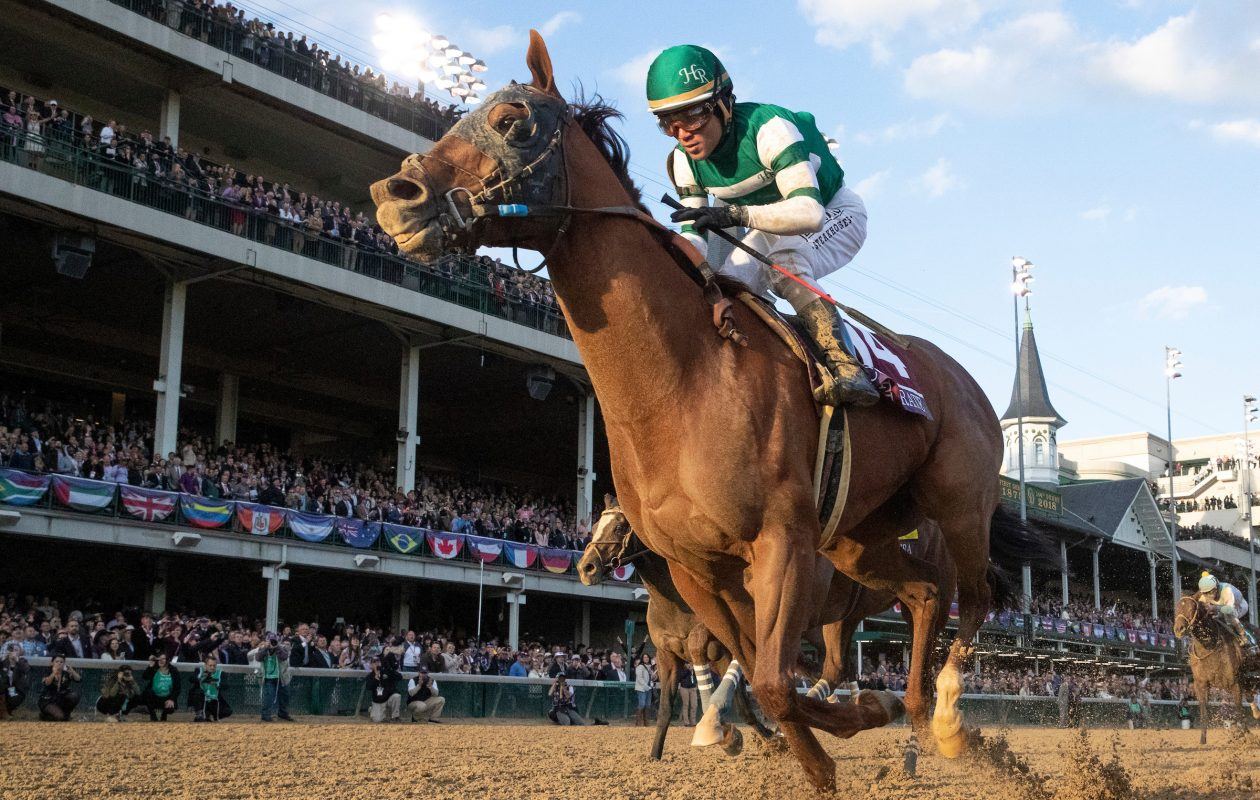 The point/counterpoint arguments seem to make deciding which horse is more deserving even more difficult to determine.
Justify, a 3-year-old, produced a 15-week string of firsts comprised of six straight dominating victories. That streak includes the Kentucky Derby, Preakness Stakes and the Belmont Stakes, the last three culminating in horse racing's second Triple Crown in the three years, and making Justify the 13th horse in 100 years to achieve the historic equine coronation.
However, Accelerate won six of seven starts from February to November facing open company, and then won the famed Breeders' Cup Classic, held this year at Churchill Downs. The only blemish on his record is a second place finish in April to City of Light in the Oaklawn Park Handicap in Hot Springs, Arkansas.
Sadler Speaks
"Accelerate hit every mark we needed him to in his training, never took a misplaced step or had a setback," trainer John Sadler told reporters earlier. Accelerate was the high-weighted/co-highweight horse in six of those races and five of those wins were at the highest level, Grade I, going one-and-a-quarter on dirt — the quintessential 'Classic' distance in US racing."
Sadler contends winning The Breeders' Cup Classic needs to carry some additional weight.
"The Breeders' Cup is the championship event of horse racing," Sadler said. "Winning the Breeders' Cup Classic is the equivalent of the Super Bowl and more times than not, the winner of that event has been named Horse of the Year."
Baffert Makes His Case
In 2015, Justify's conditioner, Bob Baffert, trained American Pharoah to the first Triple Crown in 37 years.He did it again in 2018 with the majestic Justify. He told the Paulick Report, "You've got two good horses, but there's a Breeders' Cup winner every year but not a Triple Crown winner every year, and that's so difficult to accomplish, and I know, because I've been there so many times (Cavonnier, Silver Charm, Real Quiet, Point Given, War Emblem). It takes a special horse and a superior horse."
Baffert added, "There's no timetable you can employ at will. The Triple Crown dates are set in stone: three races in five weeks, period. You can't pick and choose. Justify was an extraordinary horse.
Also part of Justify's string of firsts is the end the so-called "Curse of Apollo." That's the often-cited superstition preventing a horse from winning the Kentucky Derby that had not raced as a two-year-old. That feat was last done by Apollo in 1882.
Eclipse Awards Mean Cash
The Eclipse Awards were created by three independent entities in 1971 to honor racing's yearly champions. Widely viewed as an official standard, it's not truly regarded as a national award. That's because U.S. thoroughbred racing has no universally recognized governing body.
The Eclipse Awards in various categories are generally determined by a horse's age, sex and distance capability. The awards are sponsored by the National Thoroughbred Racing Association (NTRA), Daily Racing Form and the National Turf Writers Association who select all finalists at the end of the year. Previously designated voters, comprised of representatives of all three entities, then vote for any of the three finalists in each category.
Winning an Eclipse Award can significantly increase a horse's value at stud. For female winners, such an award can greatly enhance the sales value of her foals.
The 2018 winners will be announced on Jan. 24, 2019, at a ceremony at Gulfstream Park, near Miami.
Summary
Article Name
Horse of the Year
Description
Who will be U.S. thoroughbred racing's horse of the year?
Author
Bob Mann