Twenty-nine minutes after kickoff on Sunday, the game between Cadiz and Valencia was stopped when French defender Mouctar Diakhaby vociferously claimed Juan Cala of Cadiz directed racial abuse his way.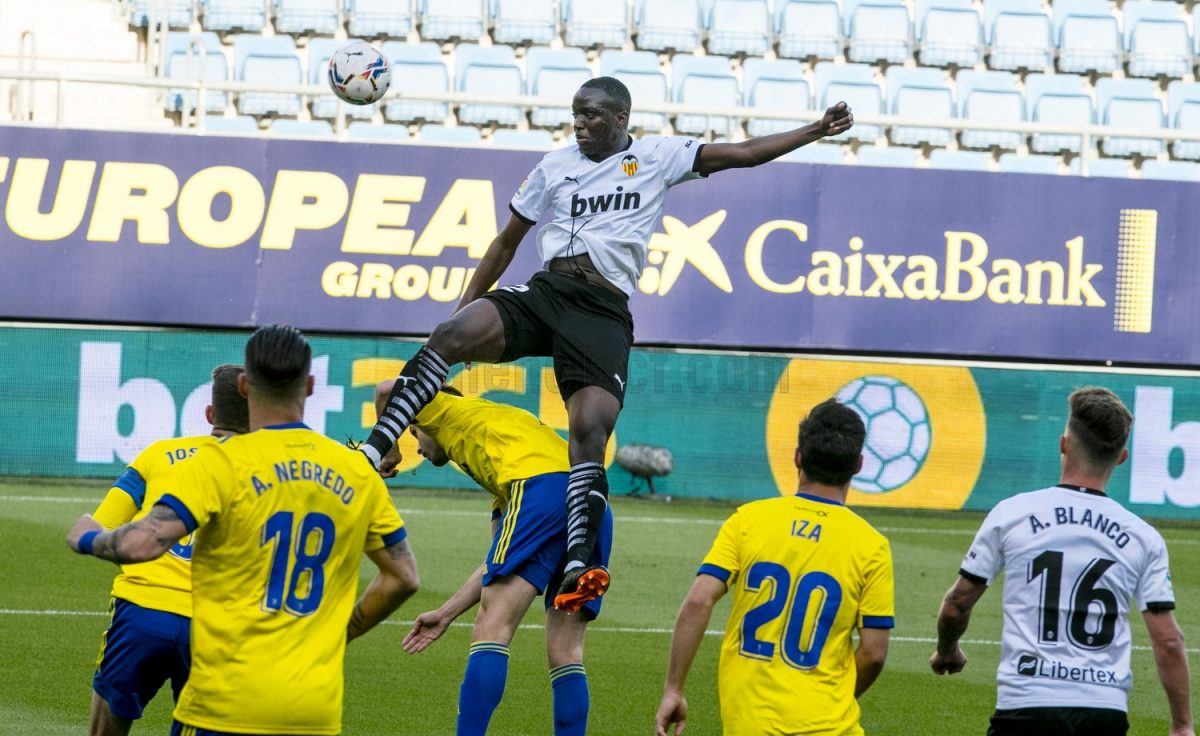 Valencia's team showed solidarity with Diakhaby and marched off the pitch. Match officials told players that they not only risked losing the game 3-0, but also three points in the standings if they didn't finish play. Diakhaby insisted that his colleagues return to the playing field.
The Frenchman was substituted and watched the rest of the game from the stands. His alleged abuser, Cadiz defender Juan Cala, played the whole 90 minutes as his team came out the eventual winners of the match (2-1). Cala also scored a goal before the game was paused.
Cala claims he's innocent
Valencia was in full support of Diakhaby from the first minute after the incident, while Cadiz sent a message to support the fight against racism, but at the same time, confirmed their 'full trust in all the members of the team."
On Monday, Cala told Gol that he was "very calm" and was "not going to hide." On Tuesday afternoon, Cala held a press conference where he made some strong statements.
The 31-year-old denies any wrongdoing and says Diakhaby either got the incident wrong or made it up.
"I don't know what has happened to the presumption of innocence," Cala said. "Nobody deserves this public lynching. Here's my phone number to at least apologize. I don't know if Diakhaby made it up or he misinterpreted it. I don't know. I've lived with Chinese, South Africans, I've been in Guinea [to help]. It's incredible what's happening, I'm in a state of shock."
Cala said he was ready to talk to the media when Cadiz's game was over, but the club's president stopped him by saying, "you've already been sentenced." Cala and his lawyers are now considering legal action, though the Spanish defender says he would be open to a meeting with Diakhaby. Cala says he believes the aftermath of Sunday's events have developed "into a circus."
Valencia: 'We don't believe you'
Minutes after Cala's press conference ended, Valencia issued a statement titled "JUAN CALA, WE DON'T BELIEVE YOU," with emphasis added in all caps.
The team coupled their declaration in English with a hashtag in Spanish, #YoCreoAMouctarDiakhaby (I believe Mouctar Diakhaby).
"Cala missed a great opportunity to accept his mistake and apologize to the player affected. Instead of doing this, he attacked both Diakhaby and other members of Valencia CF. We believe in our player and back him completely," the press release read, adding that "president Anil Murthy and Mouctar Diakhaby himself remain firm in the belief to fight until the end, wherever necessary, on the matter for the good of football and society."
OFFICIAL STATEMENT |
JUAN CALA, WE DON'T BELIEVE YOU #YoCreoAMouctarDiakhaby

— Valencia CF 🦇🍊🌊 (@valenciacf_en) April 6, 2021
Cadiz says Diakhaby should be punished if Cala proven not guilty
The Spanish Football Association has started an inquiry into Sunday's madness. Cadiz supports the investigation and is asking for a thorough hearing of all those involved. The Spanish club is also asking for those who made accusations to be "sanctioned" if Cala is proven not guilty.
"We are entirely in agreement and applaud the RFEF [Spanish FA] for opening an investigation into the accusations that have been made against our player Juan Cala. We expect and trust that, for the good of football, the investigation will be completed in its entirety," Cadiz wrote on their website on Wednesday.
In the event that "an unfair accusation was made against our player Juan Cala," Cadiz says it expect that the same investigating body "must take those measures necessary such that those who have made accusations without any proof are sanctioned."
Official statement: Juan Cala disciplinary proceedingshttps://t.co/pKTciHpcLB

— Cádiz CF 🇬🇧🇺🇸 (@Cadiz_CFEN) April 7, 2021
Diakhaby: 'He called me s****y black!'

Diakhaby didn't hold a press conference of his own, but addressed the matter in a video posted on Valencia's Twitter account. The 24-year-old claims Cala was ready to apologize so the game would go on. Diakhaby, who says he was "hurt" by the incident is asking for punishment on Cala.
"I am very calm and I want to speak. A player insulted me in Cadiz. His words were 'S****y black!' That can't be tolerated. You all saw my reaction. Something like that can't happen in normal life and above all in football, a sport based on respect," Diakhaby said.
After the alleged insult, Diakhaby described what happened once Valencia's players walked off the pitch.
"I and my colleagues decided to go to the dressing room. It was a good decision. Later, one of their players asked us whether we were willing to come out if Cala asked for an apology. We said 'No!' That's not how things are done. I am fine today, but it hurt me a lot. That's life, things like these happen. I hope La Liga is going to impose sanctions based on the evidence they are going to gather."
#YoCreoAMouctarDiakhaby pic.twitter.com/MC6GnXzjUN

— Valencia CF 🦇🍊🌊 (@valenciacf_en) April 6, 2021