The three main contenders for the English Premier League title are all favored to pick up wins on Wednesday, as almost the entire league is in action as part of the traditional Boxing Day slate of matches.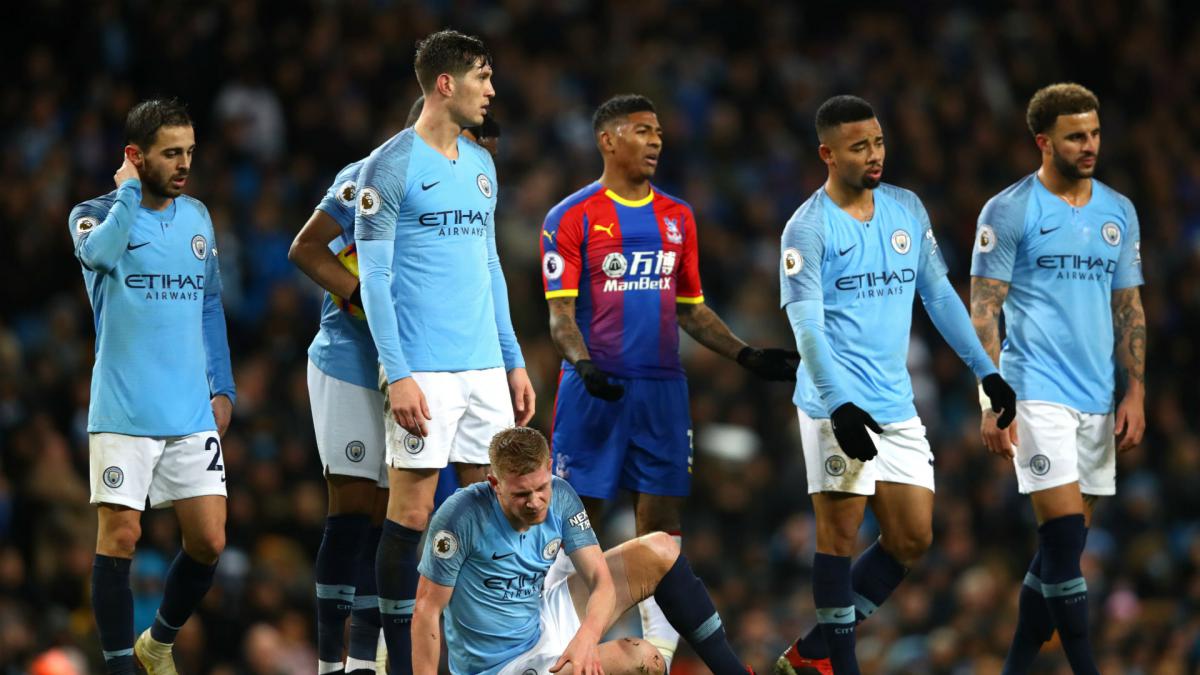 Liverpool and Manchester City have established themselves as the clear favorites to win the EPL crown this year, with Tottenham hanging around in a close third position. The Boxing Day schedule doesn't present clear challenges for any of the leaders, but that also means that none of them can afford to drop any points on the holiday.
Manchester City Falling Behind in Title Chase
All three contenders will be in action at 10 am ET (3 pm GMT), with each expected to get the full three points against relatively weaker sides.
The team in the most critical position might just be Manchester City. The consensus favorites heading into the EPL season, City have now lost two of their last three games, first losing at Chelsea earlier in the month before suffering a shock 3-2 loss at home to Crystal Palace on Saturday.
Those results have dropped Manchester City into second place, four points back of Liverpool. While it's too early for City to panic, they can scarcely afford to drop more points this weekend at Leicester City, as Liverpool is playing too well for the Citizens to count on overtaking them if they fall any further behind.
"We're going to Leicester needing to win," City manager Pep Guardiola told reporters. "Last season we dropped points and immediately won again. That's what we have to do. We have two games away before New Year and we have to do that."
The good news is that City is heavily favored over Leicester. Even on the road, Ladbrokes has Manchester City as a 1/3 pick to win the game outright, with 4/1 odds on a draw and a Leicester upset win posted at 8/1.
Klopp: History Means Nothing for Liverpool
Meanwhile, Liverpool is riding high in first place with a four-point advantage that gives them a small margin for error over the rest of the season. Eight of the last ten teams to be on top of the EPL table on Christmas Day have gone on to win the title.
But the two teams that didn't get the job done were both Liverpool sides, first in 2008-09, and then again in the 2013-14 season. That said, manager Jurgen Klopp says that the past doesn't mean anything for his current squad.
"It's a different team, a different time, everything was different," Klopp said during a press conference. "If it wasn't the case and Liverpool went on to become champions [in those two seasons], would I think now halfway through the season that the job is done? Of course not. Nothing has happened so far; we don't have to think about May."
Instead, Klopp wants his squad focused on their home match against Newcastle on Boxing Day. Liverpool is an overwhelming favorite in the game, with William Hill giving them 1/7 odds of winning, with 7/1 odds on a draw and Newcastle an 18/1 underdog to grab all three points.
Tottenham Refuses to Go Away
Manchester City and Liverpool are the consensus favorites to win the EPL title: William Hill has the two clubs in a virtual dead heat, with City (4/5) still a slight pick over the Reds (11/10). But there is a third team stubbornly hanging around in the title picture: Tottenham Hotspur (16/1), which sits just six points back of Manchester City in the standings.
While few expect Tottenham to stay in the race until the end of the year, their record so far has given them legitimacy, and manager Mauricio Pochettino says his team is up for the challenge.
"We are competing with big, big sides and of course we believe in our quality," Pochettino told reporters. "We believe a lot in the way that we play, but, again, when you compete in the Premier League you compete with big clubs, with big sides and always it's difficult."
Tottenham will look to keep pace with the leaders on Boxing Day as they host Bournemouth. The hosts are a 1/3 pick to defeat a Bournemouth side that currently sites in eighth place in the EPL table.