With the NFL done for the season, sharpen your NHL skills this Thursday night with a Bet365 promo code available to new users. By simply betting $1, you will receive $200 in bonus bets. Continue reading below to see just how easy this promo is to claim.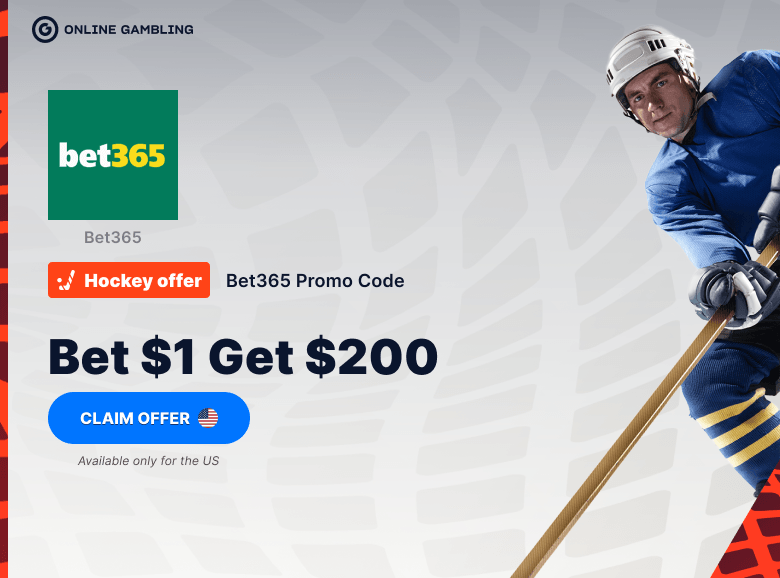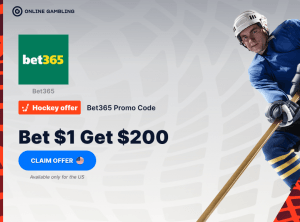 There are eight NHL games this Thursday evening with ESPN getting the national game between the Devils and Blues. The Devils lost 5-3 in the only meeting so far this season back in January, but New Jersey is an incredible 20-3-3 on the road this season.  
To claim this promo, click here to make a new account at Bet365. Deposit at least $10 and then claim the offer. With those deposited funds, bet at least $1 on a qualified market and when your bet settles, your account will be credited with $200 in bonus bets. 
Bet365 Promo Code for NHL Thursday
If you have never checked out Bet365 before, then this is a great time as new users just have to deposit $10, bet $1, and win or lose, you will get back $200 in bet credits to use for further bets on the sportsbook.  
The best thing about the Bet365 promo code is that you are guaranteed the bet credits no matter what happens to your qualifying bet. With your credits, you will find a variety of NHL betting markets available, including total goal props, period scoring props, puck line bets, and three-way bets on when the game will end (regulation, overtime, or shootout).   
How to Claim the Bet365 Promo Code for NHL Thursday
New customers, just complete these few steps to claim the Bet365 promo today: 
Visit the Bet365 site to begin creating your new account.
Click on "Bet now" and then "Join" to type in your details to make your account.
Make a deposit of at least $10.
Make a $1 sportsbook bet on a pick with odds -500 or higher to qualify (i.e., a bet on -450 would qualify but a bet on -550 would not).
Once settled, your account will be credited with $200 in bet credits to use on the sportsbook. 
How to Use the Bet365 NHL Promo Code
Only new users at Bet365 can take advantage of this promo. Once you deposit at least $10, you have 7 days to claim the offer, which must be claimed within 30 days of opening your account. For a bet to qualify, it must be placed with cash from your account and on a sports bet with odds of -500 or higher. If you are betting a parlay, at least one of the legs must be -500 or greater.  
Once your bet is settled, there will be $200 in bet credits in your account. These funds expire if your account remains inactive for 90 straight days. Bonus funds are non-withdrawable until you play them one time. Remember, any bets placed with bonus funds will return the winnings only and not the stake.  
Betting on NHL Thursday
The NHL has eight games this Thursday evening. The Boston Bruins (40-8-5) take the best record in the league into Nashville for the first meeting between those teams this season. The Predators beat the Flyers 2-1 in overtime over the weekend, though that is the team's only overtime game in its last 16 games. After a 12-13-4 start, the Predators are on a 13-7-2 run. But Boston has accumulated three of its eight regulation losses in the last four games, so the Predators will have a chance in this one at home where they are 14-9-3 this season.  
The late game is Philadelphia against Seattle in a rematch from Sunday when the Flyers lost 4-3 at home. Now they must travel to take on a Kraken team that is 13-10-3 at home. Sunday's game was noteworthy in that it had just 39 combined shots, the fewest in any Kraken game this season. While there were still seven goals scored, perhaps this one has more aggressive offense.  
Regardless of which NHL games you focus on this Thursday, you can make a bet as low as $1 and get $200 in bonus bets as a new user at Bet365. This is a fine time to take advantage of this offer while it lasts.