Super Bowl LVII between the Kansas City Chiefs and the Philadelphia Eagles is coming up on February 12th, and you will certainly want to claim your Bet365 Super Bowl promo code ahead of the showpiece event in Arizona.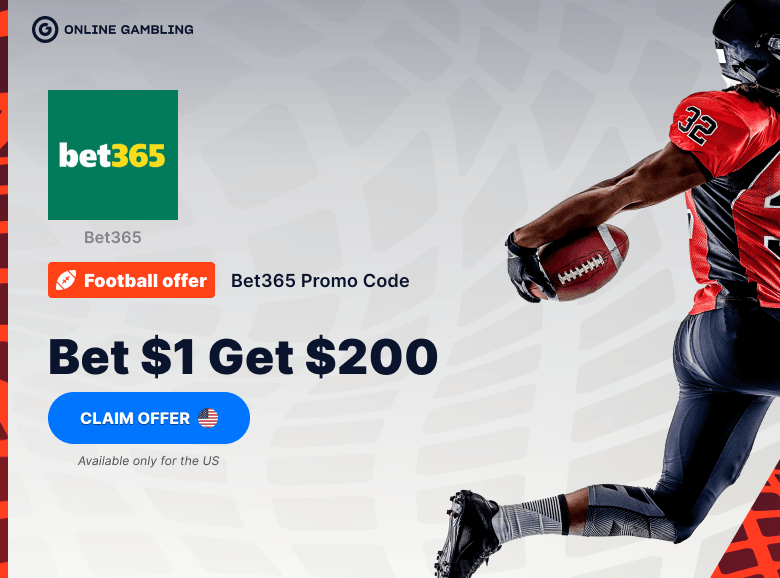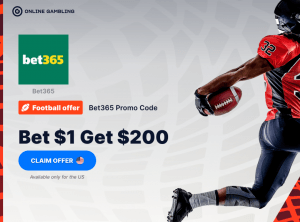 Among all the offers we've seen prior to the Super Bowl, Bet365 Sportsbook's 'Bet $1, Get $200' promo is among the more generous. Sign up for a Bet365 account, make a deposit of $10 or more, and the offer is yours. You will need to place a qualifying bet of at least $1, and once the wager settles, you will be afforded $200 in free bets. The Eagles appear unbeatable heading into the Super Bowl, yet are only favored by -1.5 against the formidable Chiefs, meaning it is a pretty even matchup based on the odds – giving you plenty of options when it comes to using your bonus bets. 
Bet365 promo code for Super Bowl LVII
The Super Bowl is the biggest betting event of the year in the US by a considerable margin, and a large portion of the country will be looking to get action down on the big game. The current Bet365 promo code is only available for a limited time and is a no-brainer for Super Bowl bettors looking to pad their bankroll. This Bet365 welcome bonus is simple to claim: sign up, deposit $10, bet at least $1, and receive your $200 in bet credits.  
Since there are many reputable sportsbook options for betting on the Super Bowl, informed bettors have choices. Bet365 is one of the best in the industry for competitive odds, a large selection of sports and bet types, ongoing promotions, and a user-friendly web and mobile app experience. With this in mind, you will find the Bet365 platform among the best for betting beyond the Super Bowl. Deposit $10 and take advantage of this Bet365 Sportsbook offer, and you'll get a chance to try the operator out for as little as a $1 wager.  
How to claim Bet365 Super Bowl LVII promo code
It is super simple to claim your Bet365 Sportsbook bonus code offer for the Super Bowl. Sign-up for Bet365, deposit at least $10, place an initial wager of at least $1, and $200 in bet credits will be added to your account. You do not have to enter a Bet365 promo code, as the bet credits will be applied automatically, and you will receive the bonus as soon as your first bet settles. Follow our step-by-step sign-up process and learn how to claim your Bet365 welcome bonus: 
Click here to be taken to the Bet365 welcome page. Select 'Bet Now' and 'Join' from the top right of the main betting page.  
Enter details like your name, address, phone number, date of birth, and the last four digits of your Social Security number.  
Deposit at least $10.  
Wager at least $1 on a sporting event of your choice. Wait for the bet to clear.  
Your bonus offer will now be activated, and $200 in bet credits will be added to your account.  
How to use the Bet365 promo code
After placing your qualifying wager of $1 or more and claiming your Bet365 promo code offer, you'll see that $200 in bet credits have been added to your account (once the bet settles). Now you can use them by selecting 'Use Free Bet Credits' in your bet slip when placing your wagers. You will not be able to withdraw the bet credits; they must be used for betting, and only winnings on the free bets are withdrawable, not the amount bet.  
Betting on Super Bowl LVII
There is no more extraordinary extravaganza in US betting than the Super Bowl, both in terms of excitement and quantity of betting options. Sportsbooks like Bet365 ramp up their betting offerings every year, including a more comprehensive selection of prop bets than you'll see on any other event.  
The game looks very close, with the Philadelphia Eagles coming in as -1.5/-125 favorites over the Kansas City Chiefs. The total is set at a lofty 51, so scoring is expected from these offensive juggernauts. Considering the top form that the Eagles come into the game with, they are a solid choice as such minimal favorites. The under on this very high total also looks like a sharp play since Philadelphia and Kansas City both have top-five-ranked defenses in DVOA.  
Super Bowl LVII looks to be one for the ages, and it's more fun when you have some skin in the game. The Bet365 promo code offer ahead of the big game is one of the best in the industry since it requires little investment for a big bonus. We recommend heading over to Bet365 and claiming your $200 in bet credits now.   
Who is eligible for the Bet365 promo code?