NBA fans, get a deal for All-Star Weekend with a Bet365 promo code exclusively available to new customers. Just a $1 bet will lead to $200 in bet credits in your account. Keep reading to see how easy it is for you to claim this promo today.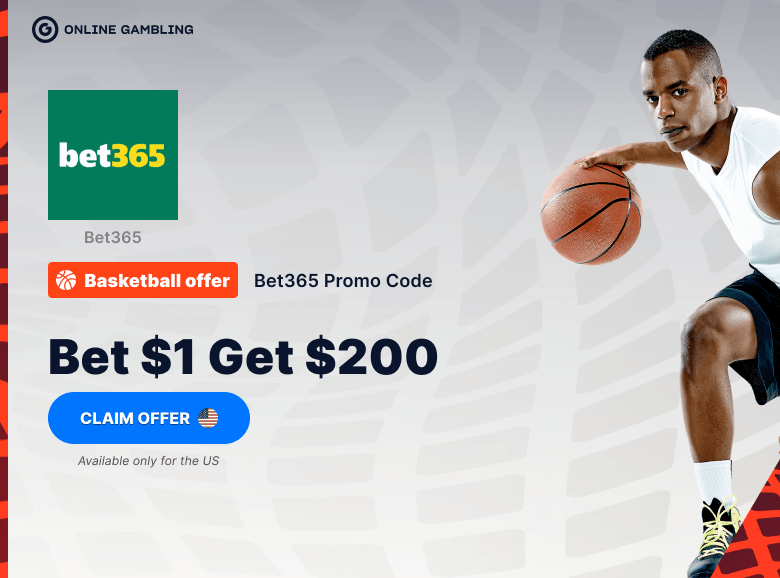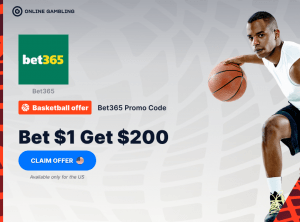 The NBA always likes to make a three-day weekend out of its All-Star game. Friday has an all-celebrity game and Rising Stars game. Saturday brings the fan favorites in the Skills Challenge, Dunk Contest, and 3-Point Contest. Sunday evening is the actual All-Star Game in Utah this year between the stars of the Eastern and Western Conferences.  
To claim this promo, click here to make your account at Bet365. Just make a deposit of at least $10 to claim the offer. Using your deposited money, place a bet of at least $1 on a qualifying market, and once your bet settles, your account will be credited with $200 in bonus bets. 
Bet365 promo code for NBA
February really is a great time for sports as the Super Bowl just ended, and this weekend brings the NBA All-Star Game, the Daytona 500, the XFL kicks off its 2023 season, and we still have the NHL going strong as well as college basketball. There are plenty of bets to be made at Bet365, and one qualifying bet of $1 can earn you $200 in bet credits.  
What you need to know about this Bet365 promo code is that it works even if your qualifying bet does not win. You get the $200in bonus bets either way, and then you can use them however you'd like on the sportsbook. 
How to claim the Bet365 promo code for NBA All-Star Weekend
New users just have to follow a simple process to claim this Bet365 promo: 
Visit the Bet365 site to begin signing up for your new account.
Locate the "Bet now" link and then click "Join" to start entering your info to create your account.
Make a minimum deposit of $10.
Make a minimum $1 sportsbook bet on anything with odds -500 or higher to qualify (i.e., a bet on -250 would qualify but a bet on -550 would not).
After your bet settles, your account will receive $200 in bet credits to be used on the sportsbook. 
How to use the Bet365 NBA promo code
The only requirements to get this promo are to be a new user at Bet365 who makes a $10 deposit and $1 bet on the sportsbook for a pick with odds -500 or higher. Once that bet settles, you will receive the $200 in bonus bets.  
Bonus bets will expire if your account is deemed inactive for 90 straight days. The bonus bets must be used in the sportsbook, and they are not refundable, redeemable for cash, or withdrawable for cash until you play through them at least once on the Bet365 sportsbook. If you place a bet with bonus bets, you will only receive the winnings of that bet and none of the stake.  
Betting on the NBA All-Star Weekend
Superstars Giannis Antetokounmpo and LeBron James will serve as captains of the two teams this Sunday. In the Eastern Conference, Giannis is paired with fellow starters Jayson Tatum, Donovan Mitchell, and Kyrie Irving. Kevin Durant is out injured. In the Western Conference, LeBron is joined by Nikola Jokic and Luka Doncic as Steph Curry and Zion Williamson were originally chosen as starters but will miss the game with injuries. 
There will be a draft held just before the game where Giannis and LeBron will choose their lineups. They can pick from a group of stellar reserves, including Joel Embiid, Lauri Markkanen, Jrue Holiday, Julius Randle, Damian Lillard, Shai Gilgeous-Alexander, and Ja Morant. 
This is the sixth season in which the NBA has used this All-Star format with captains, and Team LeBron is 5-0. We will find out if he can make it six in a row this Sunday, but you can bet on the game and anything else at Bet365 to take advantage of this promo worth $200 in bet credits.  
Who is eligible for the Bet365 promo code?