Bobby Flay knows a good dish when he sees one, makes one or – in the Thoroughbred horse world — buys one. And the celebrity chef/horse owner is nothing, if not quick on the uptake.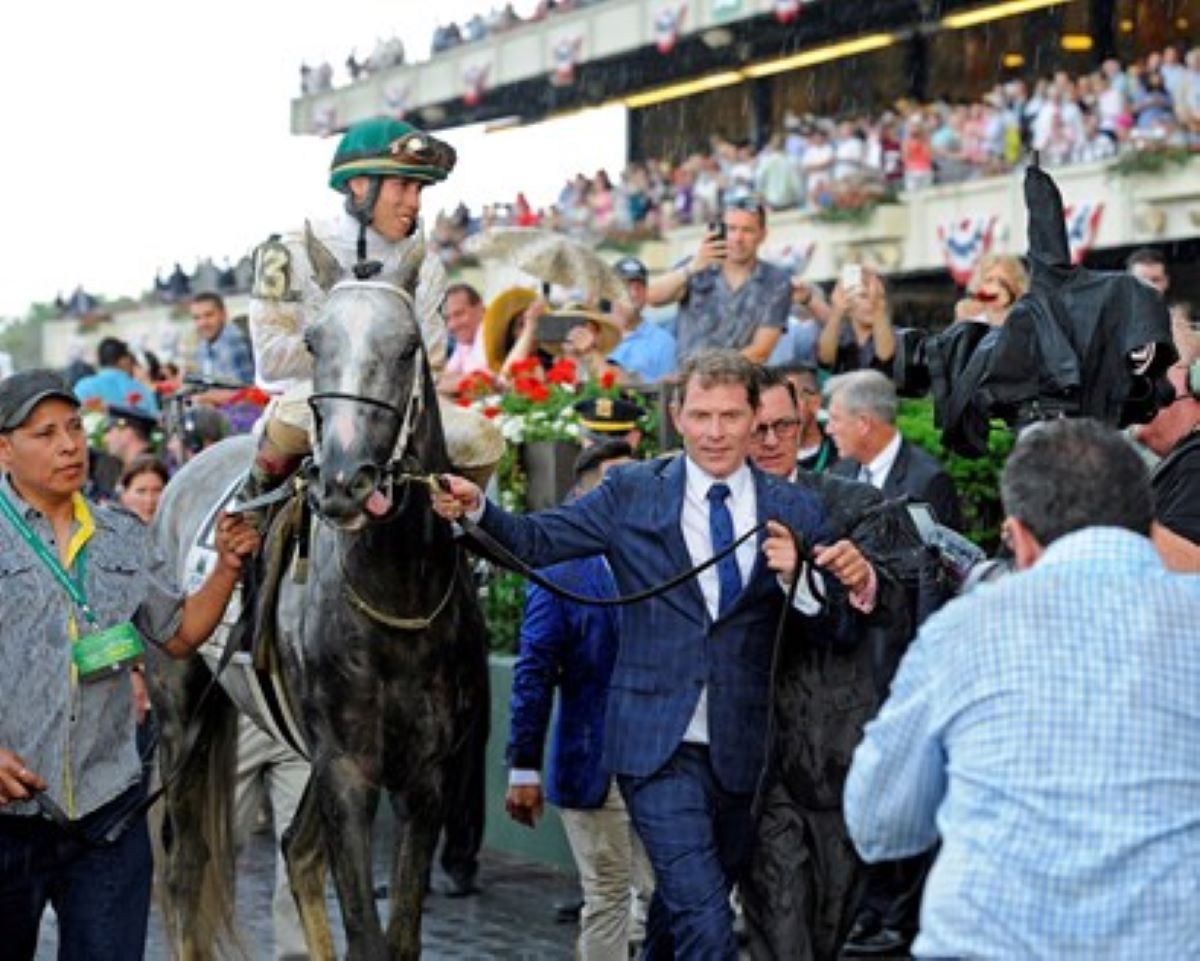 Five years ago, Flay bought into the colt Creator five days before the 2016 Belmont Stakes. Creator repaid his celebrity owner, winning the Belmont for his third and final career victory in a $1.6-plus million career.
Now, Flay is jumping in on Caravel, who makes her Saratoga and graded-stakes debut in Saturday's Grade 3 Caress Stakes. He bought a majority interest in Caravel right after she won the Black-Type Goldwood Stakes at Monmouth Park on June 25.
The Caress sends its older fillies and mares 5 ½ furlongs on the Mellon Turf Track, a distance Caravel is quite familiar with. The Pennsylvania-bred 4-year-old daughter of Mizzen Mast comes in off a career-best 99 Beyer Speed Figure for that Goldwood victory. Before that, Caravel captured the Listed The Very One Stakes at Pimlico on the Black-Eye Susan undercard on May 14.
"She's a lot more mature. She's stouter and stronger, but I don't know if she's improved that much or if she's just been tested more, so her numbers have gone up," breeder/trainer Elizabeth Merryman told the New York Racing Association.
Caravel opens her career 3-for-3
Caravel passed just about every test she's faced. She won her first three races; the first two at Penn National and the third a black-type stakes at Presque Isle Downs. Her Equibase Speed Figures jumped from a 69 to an 83 to a 94. Merryman said that second start in a state-bred allowance race was the most startling.
"I was pretty impressed with her second start," Merryman said. "I told the jock not to rush her, but he did. She ran so fast that day, she could barely corner and was just off an 18-year-old track record. I knew then she was the real deal."
Flay thinks so, too. Little misses the chef's eye, either in the kitchen, in one of his numerous restaurants, on any of his Food Network shows, or on the track. Flay is one of the most recognizable faces in the culinary world, thanks to his numerous Food Network and Cooking Channel shows and specials. and that's not factoring in his restaurants.
Flay is a regular at the Derby, Breeders' Cup
Since the early 2000s, when he bought his first Thoroughbred – Sophie's Salad, named after his daughter — Flay's been a recognizable face around the racetrack. He's currently a member of the NYRA's board of directors and has raised millions for Thoroughbred aftercare.
In 2010, Flay's More Than Real won the Breeders' Cup Juvenile Fillies Turf, his biggest trophy to date. Five years later, Flay's most successful horse in terms of earnings, Dame Dorothy, won the Humana Distaff on the Kentucky Derby undercard.
That Grade 1 win is one of two on Flay's majority-ownership menu, along with Her Smile capturing the 2011 Prioress Stakes at Belmont Park. Dame Dorothy went on to win nearly $750,000 of Flay's more than $4.3 million of on-track earnings. Flay's horses hit the board nearly 44% of the time. He's won 48 races in 282 starts.
'Iron Chef' Flay sees an iron-willed sprinter
With Caravel, Flay climbed aboard a filly who comes into her graded-stakes debut 6-for-8 with a pair of thirds. One of those came when Merryman stretched her out to a mile in the Black-Type Hilltop Stakes on spongy Pimlico turf.
"That turf was so bottomless, and it was first time long, and she was really rank going down the backside," Merryman said. "Usually, when a horse gets a trip like that, they completely pack it in down the lane and she didn't at all. She's always acted like she could go farther, but I've kept her sprinting because she's very good at it."
Indeed Caravel's six victories came at distances from five to 6 ½ furlongs. Three of those were black-type races and one listed, so Saturday's Caress is a litmus test for where Caravel is. She'll face a couple of respected local sprinters in Robin Sparkles and Jakarta.
But Caravel's speed figures are tasty enough to contend with both. And this edition of Beating Bobby Flay may not go down easy.