When he was 6 – or two years ago – Channel Maker was the 2020 Champion Turf Male. At 8, he is a nine-time stakes winner, after capturing Friday's $150,000 Grand Couturier at Belmont Park.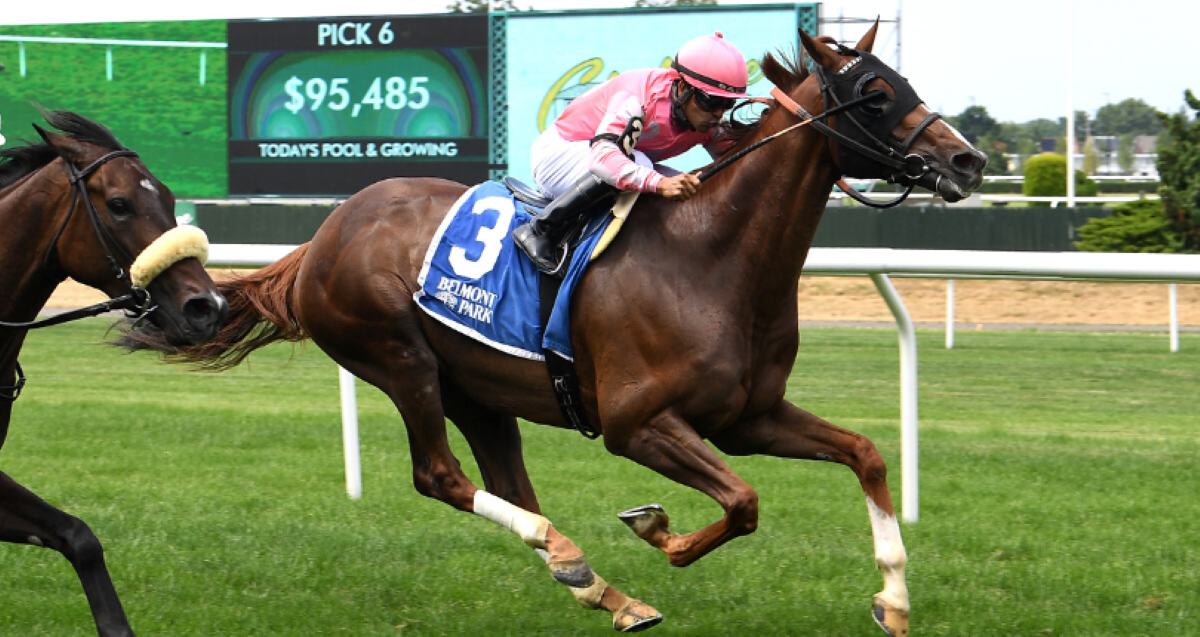 Even at 8, Channel Maker had no trouble covering 12 furlongs. Nor did he have much trouble turning aside the younger Highest Honors and Soldier Rising, who led at the stretch call. But Channel Maker played the crafty veteran at the end, overcoming his rival and winning by a neck as the 6/5 favorite.
"He always tries – that's him. He's always waiting on other horses, and today, he came to the top of the stretch and was fighting," jockey Luis Saez told the New York Racing Association's Ryan Martin. "He finally bot the jump in the last bit. He fights and he doesn't win that impressively, but he can run in a little stake or a big stake the same. He just wants to be there first and he doesn't want to give into anyone."
Saez was the sixth rider to win a race aboard Channel Maker. Earlier this year, the pair teamed to win the Grade 2 Elkhorn April 23 at Keeneland.
Owners, jockeys alike left impressed
And Saez wasn't the only one left in awe. All Dean Reeves, who co-owns the English Channel progeny with R.A. Hill Stable, Gary Barber and Wachtel Stable, could do was marvel at the wizardry of Hall of Fame trainer Bill Mott.
"To keep an 8-year-old at this level – a horse that's come back from overseas – and has won so many Grade 1s is impressive. He's got the horse to work with, who has tremendous heart. He wants to be on the lead and you've got to come beat him," Reeves said after the race. "He showed today his tenacity and heart. If they were all like that, we'd be having blanket finishes. He's a fan favorite and it's great that he's stayed around for this long, so the fans really get to where they know Channel Maker."
It's easy to know Channel Maker because he's been around long enough to know. That an 8-year-old full horse is still winning stakes races at major tracks is unicorn-esque in today's world of win-and-get-to-the-breeding-shed-ASAP. Last year was the only year Channel Maker didn't win a stakes race in his seven years on the track. That's because Channel Maker went an uncharacteristic 0-for-6 in 2021.
Channel Maker made up for lost time
He rectified that oversight right out of the 2022 gate, winning that Elkhorn for his first victory in eight races and 18 months. The last time Channel Maker found the winner's circle came in October 2020 in the Grade 1 Joe Hirsch Turf Classic. That, in turn, came on the heels of Channel Maker's score in the Grade 1 Sword Dancer at Saratoga.
Channel Maker owns nine career victories in 46 starts (9-6-5). Four of the nine came in Grade 1s: the 2019 Man o' War, 2020 Sword Dancer and the 2018 and 2020 Joe Hirsch Turf Classics. All nine of his victories came in stakes, starting with the 2016 Black-Type Vandal at Woodbine. That came in his second career race as a juvenile.
Add it all up and Channel Maker – a $57,000 purchase as a yearling – banked $3,678,076 in career earnings.
"He runs in Grade 1s, and he's been all over the world and he just gets it done," Reeves said. "He brings his best game every time."