Last week, Inter celebrated their first Serie A title in 11 years. Manager Antonio Conte decided to give playing time to a few of those who didn't enjoy too many outings this season. Among them: Andrei Ionut Radu, the Romanian keeper who didn't stand a chance to start in goal in front of Inter's captain Samir Handanovic.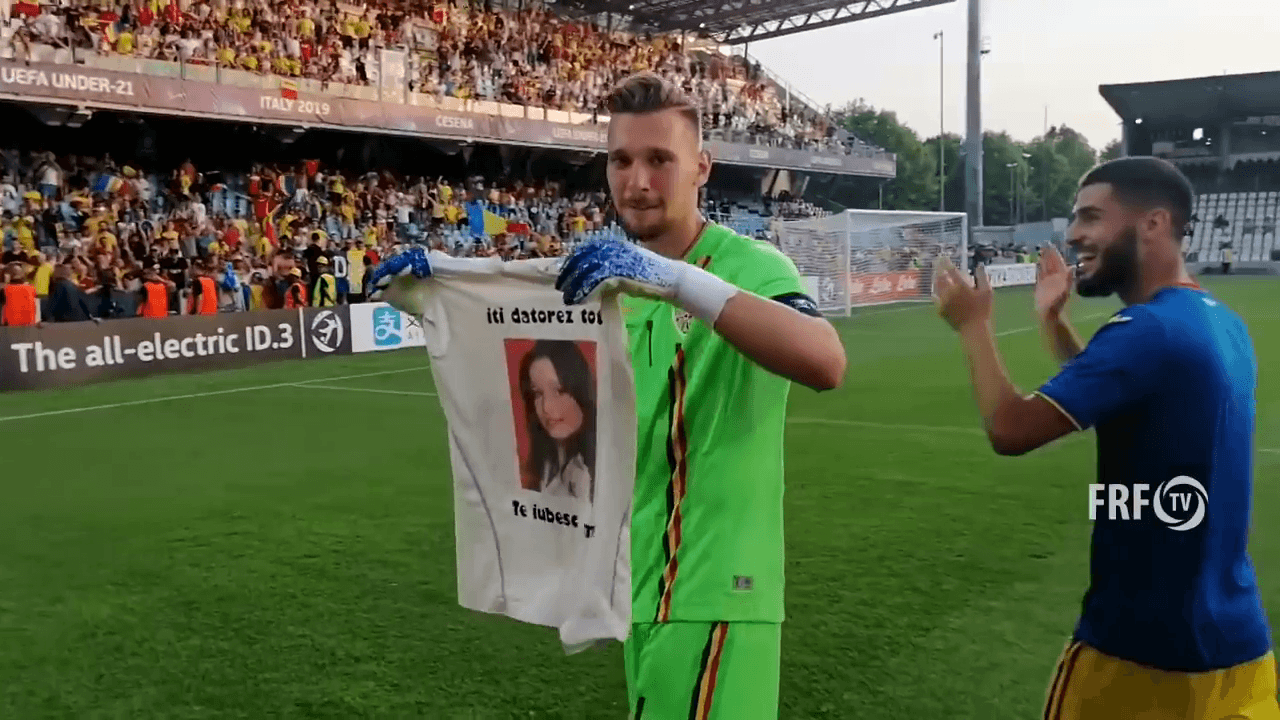 Against Sampdoria on Sunday, Radu was on the bench for the start of the game. At half-time, Conte told him he's going in to replace Handanovic. Radu played in the second half, logging his first minutes this season. It was his first game at Inter in 1,820 days.
But this story is not just about a 23-year-old keeper who enjoyed his 45-minutes clean sheet. It's about what — and who — he was playing for.
Ionut Radu and the tragedy behind his rise
When Romania beat England 4-2 at the 2019 U21 Euros in Italy, all eyes went to one man in particular. And it wasn't just because of the great day he had in Cesena. Romania's goalkeeper, Ionut Radu, started crying in front of a section of the stands packed with Romanian fans. The saves he put up against Man City's Phil Foden, Chelsea's Tammy Abraham, and Mason Mount — or Leicester's James Maddison — didn't have that effect on him.
Radu's outburst was way more profound and came from the bottom of his heart. He was showing a white shirt with a little girl's face printed on it. "I owe you everything. I love you, Ema!" – was the message framing the angelic face on the white piece of material. Ema was his sister.
Radu wanted the whole world to know about the little girl and cheer for her. His day of glory should have been hers as well. Instead, on that torrid evening in Cesena, the infinite round of applause coming from the thousands of Romanian fans only served as commemoration. Ema lost her life in 2006, aged just 14. Radu was 9. The girl fought an autoimmune disease with bravery for 55 days in the hospital. Unfortunately, her body couldn't resist.
"When he saw me coming home from the hospital after almost two months, he jumped for joy, thinking I brought his sister back too. His face turned dark when he realized Ema wasn't with me, holding my hand, as he expected," Radu's mother revealed during an interview with the Romanian media.
The goalkeeper's connection with his sister never went away. He kept honoring her memory, bringing the lucky shirt dedicated to Ema to every game he played.
"When he was in the youth teams, he always saved penalties," Radu's mother remembers. "One time, he had [Glasgow Rangers star] Ianis Hagi in front of him. I was behind his goal. He turned to me and said he's going to save it because Ema is with him and she'll help. That's exactly what happened: he stopped the ball with a fantastic save. Then, he turned and said he felt there was another finger that pushed the ball out of goal."
Ionut plans to keep a promise he made to Ema when he started playing football.
"The printed shirt is dedicated to her memory. I have it with me in goal all the time. When we were kids, I promised her I'll take her to all the stadiums around the world. Now I'm doing what I said I will," Radu confessed. "I put the shirt next to my right post during every match. That way I know she's with me."
'I felt something in the air before the game…'
In January last year, following an impressive year-and-a-half stint while on loan at Genoa, his parent club, Inter, directed him to Parma for six months. Arsenal was also rumored to have an interest in Radu, but Inter saw his future at Meazza and called him back in 2020.
Radu grew up at Inter since he was 15, having played in Romania earlier for both Steaua and Dinamo, the most important clubs in the country. In March, Radu missed out on starting his first game at Inter after the match against Sassuolo got postponed.
Handanovic tested positive for coronavirus, so Inter's boss Antonio Conte was getting Radu ready to play. A Covid outbreak inside the Serie A leaders' locker room changed the course of events, with the Italian health authorities putting football on hold at Inter for 10 days.
On Saturday, after finally playing his first game this season, Radu said he was thrilled with the experience.
"I'm here surrounded by champions and I want to learn and be like them," he told Inter TV. "Did I expect to play? Yes and no. I should say I felt there was something in the air," he joked.