Credit Card Online Casinos & Betting Sites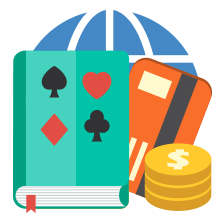 In the world of online gambling, credit cards are one of the most popular forms of payment, and they are accepted at nearly every online gambling site around. Because so many different sites accept cards, it can be tough to work out which is the best for you, but that's where we come in. We've looked at all of the top credit card online casinos, sportsbooks and poker rooms, and have written detailed reviews on them, so you'll be able to easily find the perfect credit card online gambling site for you.
How We Rate Casinos, Poker Sites & Sportsbooks
How to Deposit Using a Credit Card

The depositing process when using a card really couldn't be simpler, which is why so many people use credit cards every day at online gambling sites. Once you've chosen which of your cards to use, you simply have to click on the banking section and input your details. These details will be kept very safe when you play at a casino recommended by us, as we only ever recommend casinos that use the best security tools, including SSL encryption. You then won't have to wait long before the money is in your account, as the vast majority of credit card deposits are instant.
Withdrawing using a credit card is also possible, however some sites don't allow withdrawals to be made using MasterCard or American Express. VISA is nearly always offered as a withdrawal option though. There are not usually any fees attached to receiving money using this method, and most withdrawals take around a couple of days. This delay is because the online gambling sites take a bit of time to process the request. If you have deposited using a MasterCard or AMEX and then can't withdraw using the same method, there will be many other withdrawal options open to you.
Credit cards are one of the most popular forms of payment, and they are accepted at nearly every online gambling site around.
The Types of Credit Cards You Can Use
When it comes to the types of credit cards online gambling sites accept on real cash games, the most popular are VISA, MasterCard and American Express. VISA is accepted at the vast majority of online casinos and is known for being one of the safest ways to make payments online. The same can be said for MasterCard, which is also one of the world's most trusted payment methods. AMEX isn't offered at quite as many online casinos, however those looking to deposit using this credit card will still find many great casinos to play at when they read our dedicated American Express page.
It should be noted that some players will not be able to use credit cards for online gambling account transactions, though. This is because card companies have blocked payments to online gambling sites in some countries that have banned online gambling. If this is the case for you, you can still use credit cards to fund an e-wallet, such as Neteller or Skrill, and this e-wallet can then usually be used to deposit and withdraw at an online casino, sportsbook or poker site.
Why Using a Credit Card is a Great Choice

There are many reasons why so many people choose to use a credit card to deposit and withdraw at online casinos, however the biggest is the fact that they are accepted pretty much everywhere. You'll struggle to find an online casino – aside from some dedicated Bitcoin casinos – that don't accept payments from VISA and MasterCard, and this means that card users can choose from the full range of different casinos on offer. To find the best ones, simply read through the reviews on this site.
Online casino players are also often keen to use the safest banking methods, and credit cards certainly come in this category. VISA, MasterCard and American Express all spend lots of money on security every year, and the chances of fraud occurring are very slim indeed. What's more, those depositing using credit aren't usually restricted when it comes to the bonuses that they can claim, unlike those using some other depositing methods.
Play at a Great Credit Card Online Gambling Site Today!
If you're keen to get gamblng online, credit card desposits are available at all of the top real cash gaming venues on the web. This means that those looking to deposit using VISA, MasterCard or AMEX will be able to play at the top real money sites around. You'll be able to find the best credit card online gambling sites by looking through the reviews here though, all of which have been created by experienced online gamblers.
There are so many reasons why you should use a credit card for your next deposit at an online casino, poker site or sportsbook, ranging from the ease-of-use through to the fantastic security features offered. So, why not deposit using a credit card the next time you visit your favorite online casino?
Frequently Asked Questions