As a result of COVID-19 cases leaving Washington State with a shortage of scholarship players, their Saturday game vs. Stanford has been canceled. The matchup is the 17th postponed or canceled game this week, which is the most this season, and a new benchmark for the sport.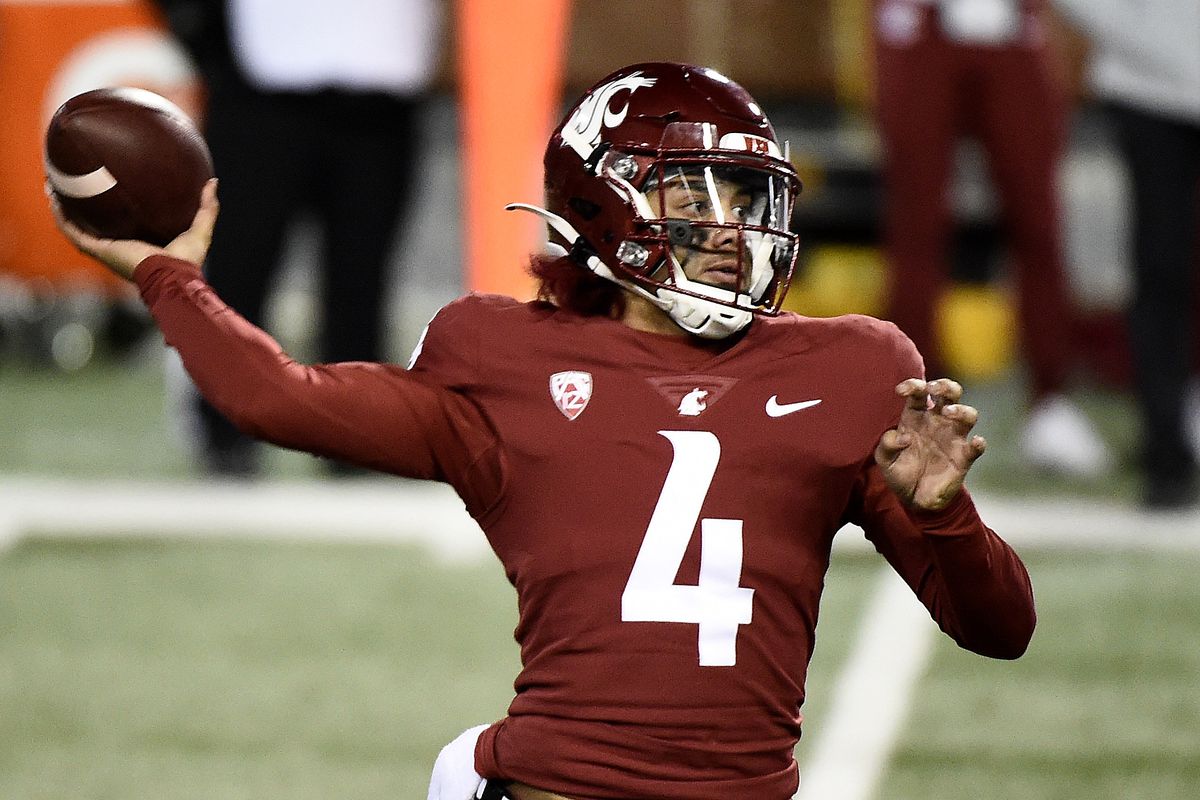 Cougars head coach Nick Rolovich said Friday he is "disappointed" in the wake of the announcement made by the Pac-12 Friday evening.
"[The players] have battled through so much this year," Rolovich said. "I recognize the pain they feel with this lost opportunity, but this 2020 football team is a resilient group."
Wazzu Has 9 Test Positive, Stanford Out of Time To Find a Replacement
Washington State athletic director Pat Chun reported the program currently has nine football players in COVID-19 protocols. Four of those individuals—including starting quarterback Jayden de Laura—tested positive Friday, leaving the school no choice but to cancel.
"[I am] saddened for not only our student-athletes, coaches and staff, but those within the Stanford program who have worked so hard preparing for this weekend," Chun said in a statement.
There won't be a makeup, and the game is a no-contest with time running out in the season. Stanford officials said they tried to find a replacement this week as Cal and UCLA did last week, but the cancellation news came too late.
ASU vs. Colorado also Kaput, Sun Devil's Season May Be Over
Elsewhere in the conference, ASU vs. Colorado was called off earlier in the week. ASU's ongoing outbreak prohibited them from having the minimum number of scholarship players available for the game. This is ASU's second cancellation in a row, and the 0-1 Sun Devils, uncertain to return next week, may be looking at the end of their season.
Uncertainty is rolling through the rest of the conference as well. Washington State's Chun said he doesn't know whether the Cougars will be able to go for next Friday's Apple Cup against rival Washington, noting the team will begin to reassess on Sunday.
The Pac-12 isn't the only conference facing tough decisions on whether to continue as COVID-19 rages through the college football ranks and burns uncontrolled through the nation.
COVID Cases Increase By 1 Million this Week
The US reported 187,800 new Covid-19 cases on Thursday, and 132,700 cases on Friday. Alarmingly, the US jumped from 11  million to 12 million reported Covid-19 cases in less than a week.
---
Complete List of Week 12 Postponements and Cancellations (as of Saturday)
Ohio at Miami, Ohio—Canceled
UAB at UTEP—Canceled
Arizona State at Colorado—Canceled
Stanford at Washington State—Canceled
UL Monroe at Louisiana Tech—Canceled
Central Arkansas at Louisiana-Lafayette—Canceled
Utah State at Wyoming—Canceled
San Jose State at Fresno State—Canceled
Maryland at Michigan State—Canceled
Ole Miss at No. 5 Texas A&M—Postponed
Georgia Tech at No. 12 Miami—Postponed
Charlotte at No. 15 Marshall—Postponed
Texas at Kansas—Postponed
UNLV at Colorado State—Postponed
Navy at University of South Florida—Postponed
Wake Forest at Duke—Postponed
Houston at SMU—Postponed