While Preakness Stakes favorite Authentic was wrapping up his final pre-race workout, the 9/5 favorite for Saturday's 145th Preakness drew post 9 at Monday morning's post draw in Baltimore.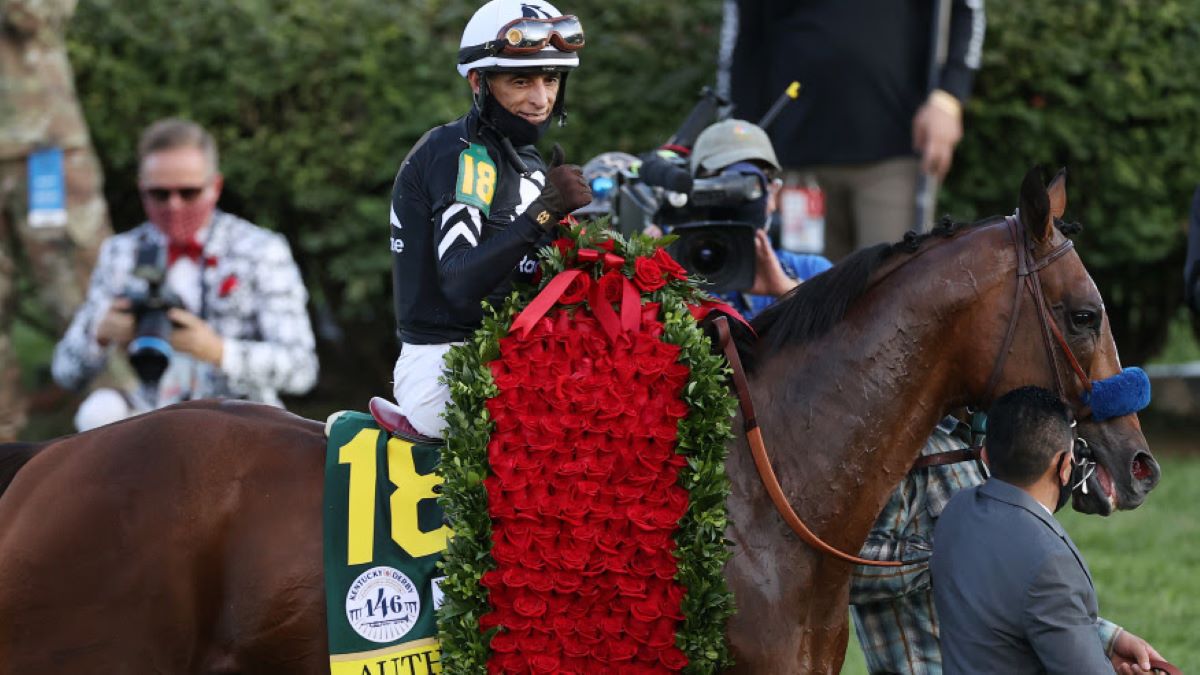 In what's already been a wild and unpredictable Triple Crown season, at least one reliable standby remains true. The Kentucky Derby winner is the Preakness Stakes favorite. Whether another truism holds up remains to be seen. That truism is Hall of Fame trainer Bob Baffert's perfect Preakness record with Derby champions. He's seven for seven bringing Derby winners into the Pimlico Race Course winner's circle.
As for Authentic keeping that streak alive, like he did en route to winning the Kentucky Derby, the Into Mischief colt finds himself on the outside looking in. But unlike his 18 post for the Derby, Authentic has two horses to his outside in the 11-horse field: long shots Pneumatic (20/1) and Liveyourbeastlife (30/1).
"Nine hole, that's not too bad. They have a long run to the turn here," Baffert told OG News by phone from Kentucky. "The horse outside of him (Pneumatic) has speed, the three horse – Art Collector – he has speed. If Authentic gets beat, it won't be because of his draw. I just didn't want the 1 or the 11."
Leaving an Authentic Statement on the Track
With Baffert and co-owner Spendthrift Farm staff watching, Authentic put in a solid Monday morning workout at Churchill Downs. He covered his furlong, two-furlong, and three-furlong splits in 12:2 seconds, 24 seconds, and 36 seconds, respectively. He capped his work galloping six furlongs in 1:13.4.
"He does it so easy. He's very light on his feet, he just glides on the ground," Baffert said. "He came out of it well and he's worked well. We're looking forward to it."
Baffert's other contender for his eighth Preakness title, Thousand Words (6/1), drew post 5. Baffert said the horse who scratched from the Derby after flipping in the paddock is working well and "should be right up there." Baffert plans on adding blinkers to Thousand Words to keep him focused.
"He drew well. He always draws well. He always gets a choice spot," Baffert said.
Plenty of Early Speed in the Middle of the Track
Speaking of Derby scratches, Art Collector drew post 3, along with second favorite status at 5/2. After scratching on the Monday of Derby week with a minor hoof injury, he's expected to give Authentic the early speed challenge he didn't face in the Derby.
Right next door to Art Collector is the 55th filly to run the Preakness — Swiss Skydiver. The first filly entering the Preakness since Ria Antonia finished last in 2014, Swiss Skydiver drew post 4. With Robby Albarado replacing Tyler Gaffalione in the irons, Swiss Skydiver shares the same 6/1, third-favorite odds as Thousand Words, who flanks her on her right. That 3-4-5 post combination should provide enough early speed to keep Authentic honest.
Other notable draws concern Derby third-place finisher Mr. Big News, who drew post 2. Pimlico track oddsmaker Keith Fuestle hung 12/1 odds on Mr. Big News. That's quite the drop from the 46/1 odds he brought into the Derby and into his marquee win at the Oaklawn Stakes in April.
---
145th Preakness Stakes
Post Positions and Morning Line (Jockey)
Excession, 30/1, (Sheldon Russell)
Big News, 12/1 (Gabriel Saez)
Art Collector, 5/2 (Brian Hernandez Jr.)
Swiss Skydiver, 6/1 (Robby Albarado)
Thousand Words, 6/1 (Florent Geroux)
Jesus' Team, 30/1 (Jevian Toledo)
Ny Traffic, 15/1 (Horacio Karamanos)
Max Player, 15/1, (Paco Lopez)
Authentic, 9/5 (John Velazquez)
Pneumatic, 20/1, (Joe Bravo)
Liveyourbeastlife, 30/1 (Trevor McCarthy)
---
And deep closer Max Player, the only horse to run all three 2020 Triple Crown events, brings his 15/1 odds into post 8. That's a much more conducive post for his running style than was the No. 2 post in the Derby, where Max Player finished a gutsy fifth. He finished third in the Belmont Stakes.
The Chad Brown-trained Country Grammer was a late scratch Monday morning.