The PogChamps 3 online chess tournament begins Sunday, Feb. 14 with a whole new lineup of players, but a format that will be somewhat familiar to those who followed the first two versions of the streaming sensation.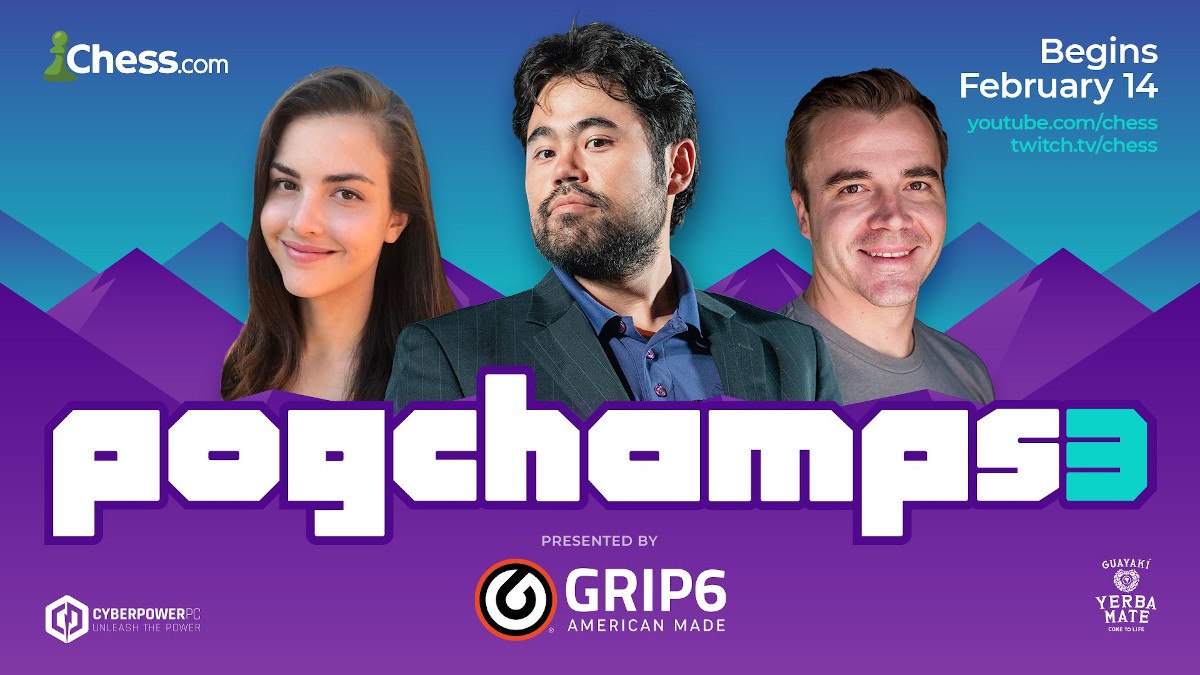 This time around, the prize money has grown significantly, and a few mainstream stars have joined the fray. Let's take a closer look at what you can expect from PogChamps 3.
Meet the Players
PogChamps 3 will begin with 16 players divided into four groups. Popular streamers like xQc, Myth, and Pokimane will play against celebrities like actor Rainn Wilson, rapper Logic, and poker pro Daniel Negreanu.
In the preliminary rounds, the players will compete in groups of four, playing against each opponent in their group. Each match consists of two games at a 10-minute time control with five seconds added after every move.
---
PogChamps 3 Groups
Group A
Group B
Group C
Group D
Sardoche
xQc
Rainn Wilson
Ludwig
Benjyfishy
Daniel Negreanu
Logic
MoistCr1tikal
Neeko
Pokimane
Tubbo
Mr. Beast
Myth
Rubius
Michelle Khare
CodeMiko
---
If a player wins the match outright, they earn three points, while the loser gets zero. In the case of a 1-1 tie, the match will go to a sudden-death Armageddon game, in which White gets an extra minute on the clock but must win, while Black can "win" even by drawing the game. If the match goes to Armageddon, the winner earns two points, while the loser walks away with one.
♔ ARE YOU READY!?
PogChamps 3 presented by @GRIP6_ starts tomorrow!

Players, Schedule, and Prizes: https://t.co/9Bf6q8hu1R pic.twitter.com/68Lqy6t1GT

— Chess.com (@chesscom) February 13, 2021
At the end of the group stage, the two players with the most points in each pool will advance to the PogChamps 3 championship bracket. The bottom two players will move to the consolation bracket. Each bracket will follow a single-elimination format, using the same two-game match structure as the preliminaries. However, if a match ends in a 1-1 tie, players will compete in sudden death three-minute games with a one-second increment, switching colors on draws until someone wins.
PogChamps 3 Increases Prize Pool
In PogChamps 3, players will begin earning money from the group stage, with each group winner pocketing $2,000. Those in the championship bracket will compete for an additional $60,000 in prize money, including $20,000 for the winner. Meanwhile, consolation bracket players will still fight over a $32,000 purse, with the winner banking $7,000 for their efforts.
In addition, Chess.com plans to match up to $100,000 in donations from viewers during the event. Players will choose nonprofit organizations to receive these funds, with the winners and runners-up in each bracket earning more money for their charities.
---
PogChamps 3 Prize Pool
Championship Bracket: $60,000
Consolation Bracket: $32,000
Winner: $20,000
Winner: $7,000
Runner-Up: $12,000
Runner-Up: $5,000
Semifinalists: $6,000
Semifinalists: $4,000
Quarterfinalists: $4,000
Quarterfinalists: $3,000
Group Stage Winners: $2,000
---
It's hard to choose favorites for PogChamps 3, as so many of the players are new to competitive chess. However, the organizers have pegged Sardoche, xQc, Rainn Wilson, and Ludwig as the top seeds, with BenjyFishy, Daniel Negreanu, Logic, and MoistCr1tikal taking the No. 2 seeds in their respective groups.
As we've seen in previous editions of PogChamps, some players are constantly training and improving even during the two weeks of the tournament, which makes the results especially unpredictable. PogChamps 3 will wrap up on Feb. 28, when both the consolation and championship finals will take place.