The first two PogChamps online chess tournaments surpassed all expectations. Featuring lineups of Twitch celebrities, they became two of the most-watched events in chess history. Now, PogChamps 3 will attempt to push the envelope even further in February.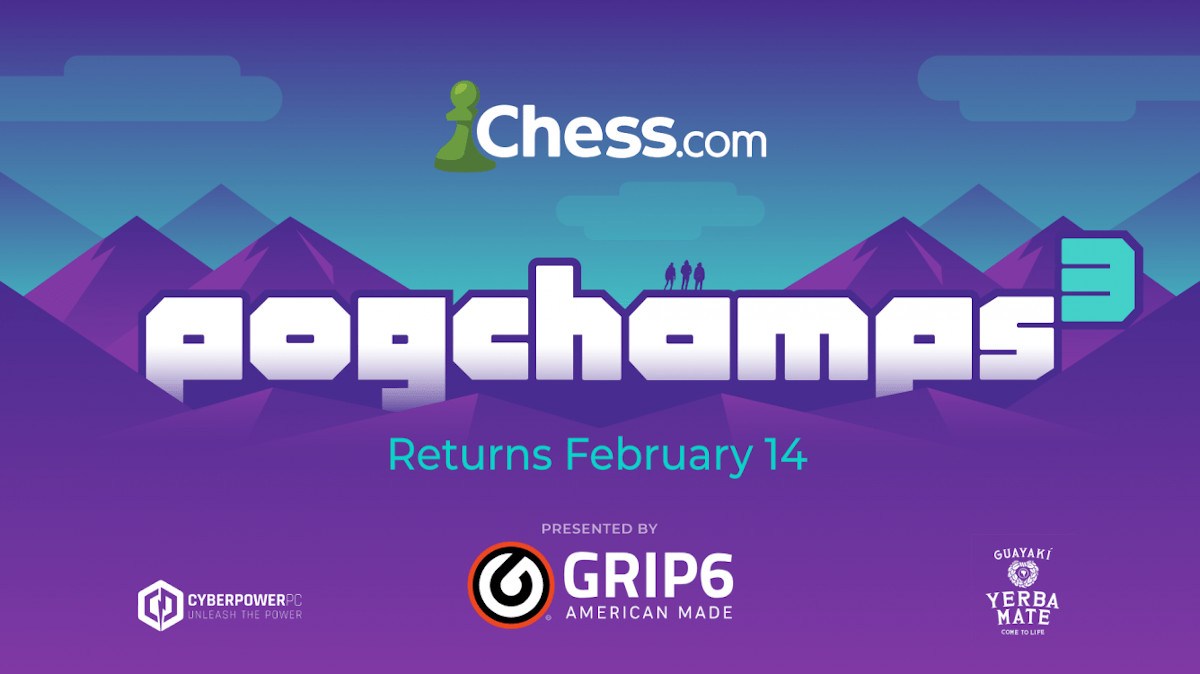 Chess.com announced on Monday that PogChamps 3 will begin on Feb. 14, and will feature not only online streaming personalities, but also well-known celebrities from other fields.
Daniel Negreanu, Rainn Wilson Make PogChamps Debuts
Gamblers and poker fans will likely be rooting for Daniel Negreanu. The six-time World Series of Poker bracelet winner tweeted that he was taking his first-ever chess lesson on Tuesday from none other than Grandmaster Hikaru Nakamura.
Looks like I'm getting my first ever chess lesson today and it comes from a guy who might be better than me at chess. No way to know for sure, but thats my educated guess on the matter 😂 https://t.co/D9xCqJPPXh

— Daniel Negreanu (@RealKidPoker) January 12, 2021
"Looks like I'm getting my first ever chess lesson today and it comes from a guy who might be better than me at chess," Negreanu wrote on Twitter. "No way to know for sure, but that's my educated guess on the matter."
Fans of the American version of The Office will recognize the name of Rainn Wilson, who played the role of Dwight Shrute, among the PogChamps 3 participants. Popular rapper Logic will also play in the tournament.
As is tradition, most of the field consists of famous Twitch streamers and YouTubers, some of whom have played in previous PogChamps iterations. MoistCritikal, xQc, and Ludwig are each back to take another shot at the crown, with MoistCritikal having already won the consolation bracket in the first edition of the tournament.
New faces include variety streamer Pokimane, YouTuber MrBeast, former Fortnite pro Myth, HBO Max host Michelle Khare, and streamer CodeMiko. Chess.com plans to announce the remainder of the 16-player field in the coming days.
Chess Boom Produces Bigger Prize Pool
The format for PogChamps 3 will mirror that of the previous events. Players will be divided into four pools for round-robin play. The top two players out of each pool will advance to the championship bracket, while the bottom two move to the consolation bracket. From there on out, it's knockout play until the overall and consolation winners are crowned.
This time around, the prize pool has doubled to $100,000 on the strength of new sponsorships. Chess.com credited this increase to both the success of the first two PogChamps events and the rise in interest in chess following the release of "The Queen's Gambit" on Netflix.
None of the players participating in Pogchamps are professional chess players, or even experienced tournament veterans. In fact, much of the entertainment comes from watching the players improve their play over the course of the two-week tournament.
A team of top chess players will help the competitors get their games in shape by providing lessons to those who want them. Along with Nakamura, players like International Master Levy Rozman, International Master Anna Rudolf, International Master Danny Rensch, and Women's FIDE Master Alexandra Botez will coach players while also commentating on the tournament.
GRIP6, a company that manufactures belts, wallets, and wool socks, has signed on as the presenting sponsor of PogChamps 3.