Despite Floyd Mayweather Jr.'s recent announcement that he plans to begin training for mixed martial arts in the near future, there's still no official word on if or when he'll fight in the octagon. But that hasn't stopped oddsmakers from giving bettors the opportunity to wager on a hypothetical Mayweather vs. McGregor MMA clash.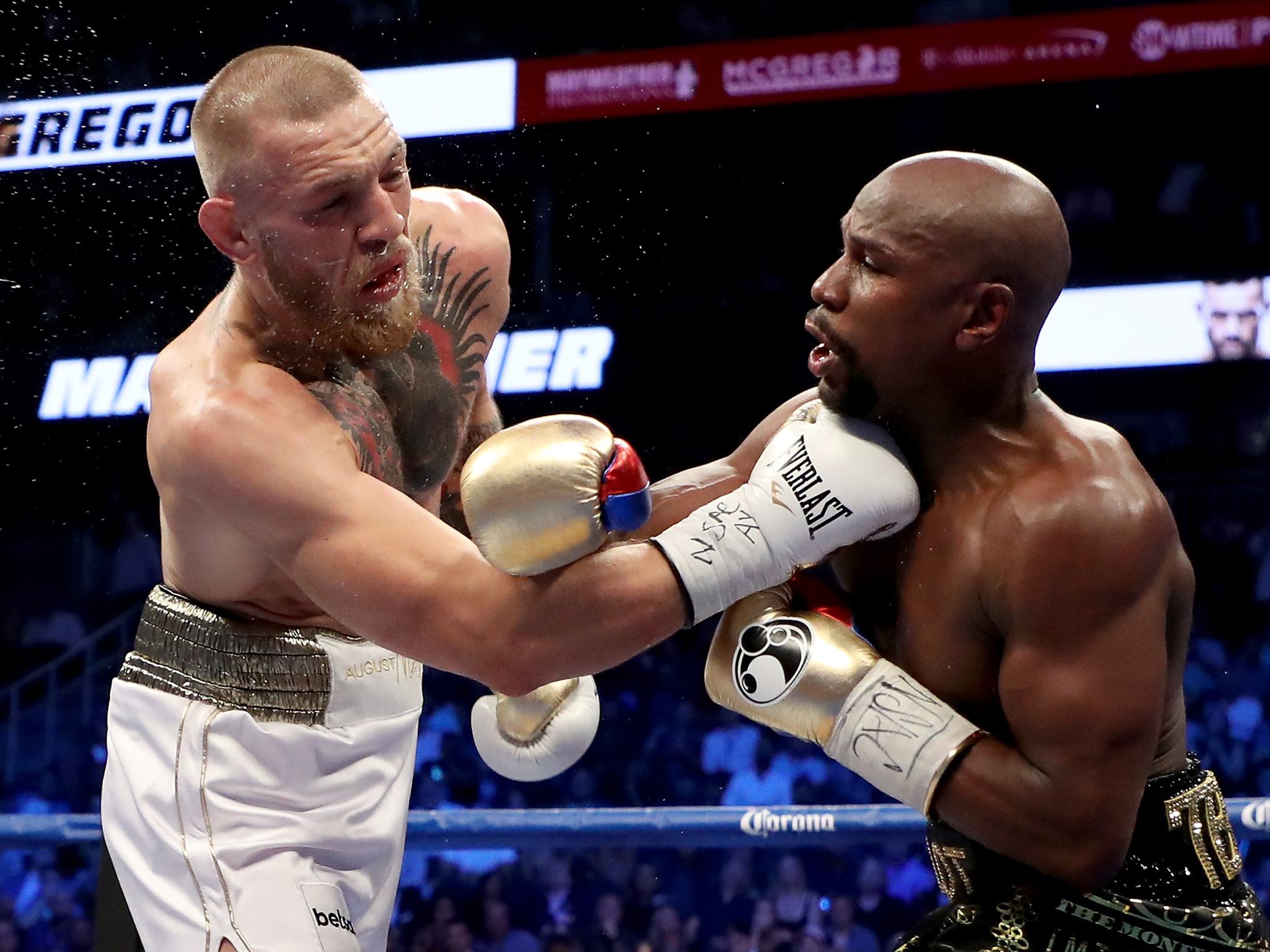 In recent days, at least two different bookmakers have posted lines for the fight, with the stipulation that the bout would have to take place by a certain date in order for any bets to have action. Unsurprisingly, McGregor is considered a heavy favorite on his home turf, though the exact odds gamblers will see depend on where they want to place their bets.
McGregor's Edge
On Monday, Ben Fawkes of ESPN reported that the Westgate Las Vegas SuperBook had put up opening odds for a potential fight between Mayweather and McGregor. At Westgate, McGregor is posted as a -1000 favorite, with bettors able to take Mayweather at +650.
The betting does come with a couple stipulations. First, the fight have to take place by Sept. 1, 2019, or else all action on these bets will be cancelled. There's also a $2,000 limit on betting.
That limitation is understandable given the number of unknowns that could impact the odds between now and then. For instance, it's reasonable to think that Mayweather's first fight wouldn't be with McGregor. If the retired boxing champion were to take a lesser bout and look impressive, the odds on an announced fight with McGregor could tighten up.
Online bookmakers have gotten into the Mayweather vs. McGregor speculation as well. At Bovada, the odds are marginally closer, with McGregor listed as a -900 favorite and Mayweather being priced at +550. The terms of the bet are also slightly different, as the fight must take place in 2018 in order for wagers to be valid.
Interestingly, Bovada also has a bet available on another crossover bout. McGregor is pegged as a -1000 favorite in a hypothetical MMA event against boxer Manny Pacquiao, with the Philippine legend listed as a +600 underdog. That may be related to talk back in December in which Pacquiao told AFP that he would be fine with fighting McGregor – albeit in the boxing ring.
Money Mayweather Moving towards MMA
Mayweather recently told TMZ that he was preparing to train for MMA with the help of UFC welterweight champion Tyron Woodley, and said that his wrestling skills were fairly solid already. He has also made comments suggesting that he is taking the necessary steps to compete in the UFC or another MMA promotion.
"Everything takes time," Mayweather told TMZ. "Eventually, we're gonna apply for the license, and hopefully we can fight."
A Mayweather vs. McGregor UFC fight would be a rematch of sorts, after the two fought in a highly-publicized boxing match last summer. In that fight, Mayweather stopped McGregor in the 10th round, after which the world champion boxer retired from the sport with a perfect 50-0 record.