The Northwestern Wildcats rewarded head coach Pat Fitzgerald with a 10-year contract extension, meaning the most successful coach in Northwestern football history will remain with the team throughout the next decade.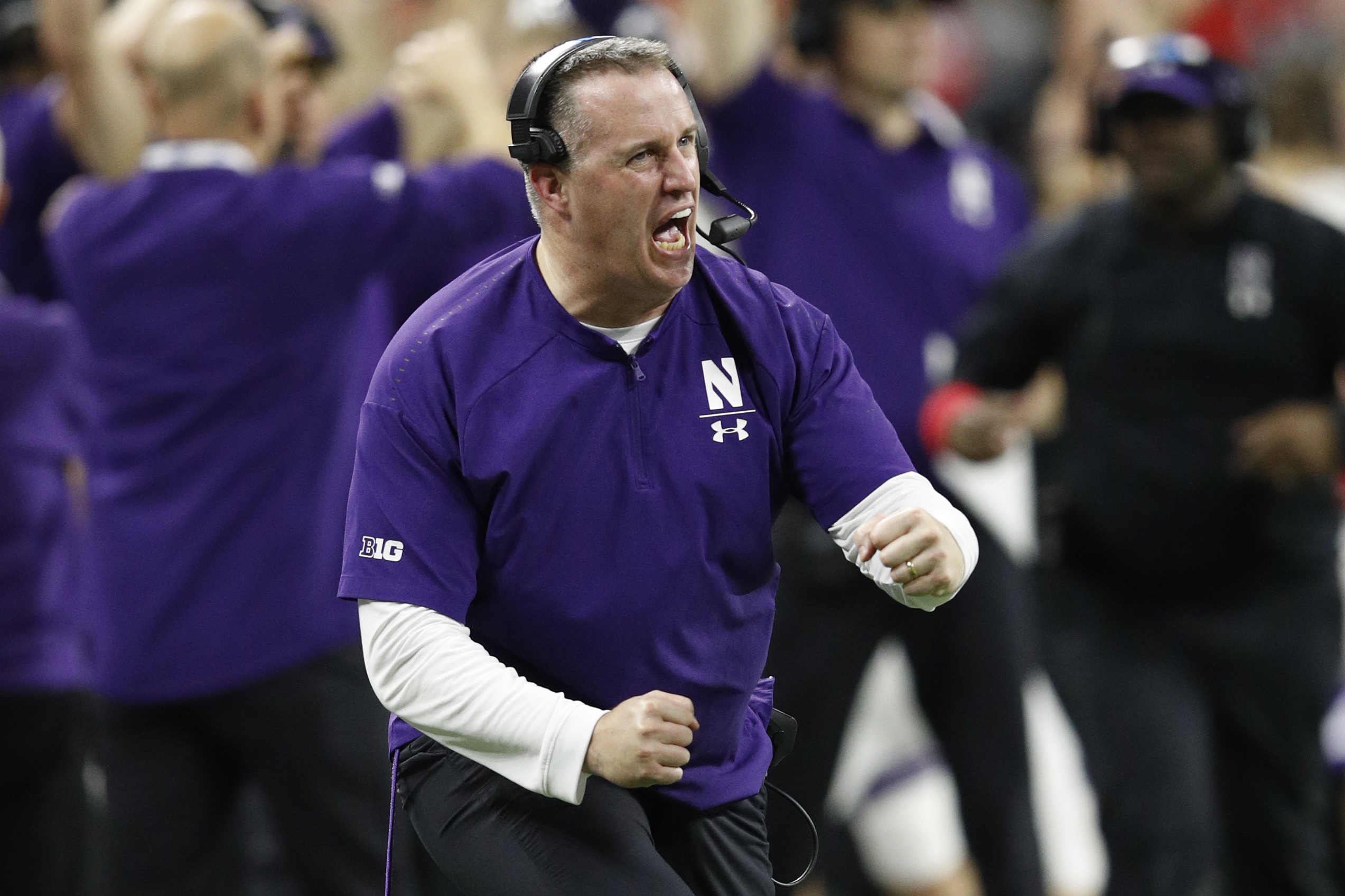 Northwestern has a record of 106-81 since Fitzgerald took over as head coach in 2006.
Fitzgerald fielded numerous job offers in the last few weeks, including some from NFL teams desperate for a hot college coach to help turn around a losing program. A couple of years ago, Fitzgerald was rumored to become the next head coach of the Green Bay Packers after they fired Mike McCarthy. However, Fitzgerald politely turned them all down. Northwestern quelled any inklings that Fitzgerald would consider leaving Evanston for the NFL by locking him up through the 2030 season.
"We have one of the best coaches in college football and, more importantly, a leader uncommonly suited to this University," said Northwestern AD Jim Phillips. "Over the course of his tenure, Coach Fitzgerald has built a culture of unwavering belief in excellence both on and off the field, and led our Wildcats to unprecedented sustained success. They boast incredible achievement in the classroom, in the community and in competition, and will for years to come."
Northwestern won the Big Ten West Division twice in the last three seasons. The Wildcats lost to Ohio State in the Big Ten Championship this season, but Fitzgerald won the 2020 Bobby Dodd National Coach of the Year. Fitz also won the 2018 Big Ten Coach of the Year.
𝐇𝐎𝐌𝐄𝐆𝐑𝐎𝐖𝐍. 𝐇𝐎𝐌𝐄 𝐅𝐎𝐑𝐄𝐕𝐄𝐑.@coachfitz51, @NorthwesternU committed through 2030.

📰: https://t.co/UPdDLee5Pv#GoCats pic.twitter.com/wpDMjunkFC

— Northwestern Football (@NUFBFamily) January 27, 2021
Fitz is Mr. Northwestern
Fitzgerald is widely regarded as one of the greatest players in the history of Northwestern football. He either played for — or coached — Northwestern in 14 out of their 16 appearances in bowl games.
You can make a strong argument that Northwestern instilled a winning culture from the moment Fitzgerald first stepped onto Ryan Field in 1993.
During his time in Evanston as a player, Northwestern rose up from the Big Ten cellar to become a legitimate threat to win a Big Ten title.
During the 1995 season, Fitz led Northwestern to a 10-2 record, including a perfect 8-0 conference record in the Big Ten. Northwestern posted its first winning season in 24 years and qualified for a bowl game for the first time since the 1948 Rose Bowl. The 1995 team lost to USC in the Rose Bowl and finished the season ranked #8 by the AP College Football Poll.
During Fitzgerald's final season as a player in 1996, Northwestern went tied for first place in the Big Ten. The Wildcats lost in the Citrus Bowl to Tennessee and finished the season ranked #15.
Fitzgerald won the Bronko Nagurski Trophy and the Chuck Bednarik Award in back-to-back years. Despite his prowess on the college gridiron, scouts considered Fitz too small for the NFL. He went undrafted, but joined the Dallas Cowboys in training camp. He appeared in two preseason games before the Cowboys cut him.
Fitz then pivoted to coaching. He returned to Northwestern in 2001 as the defensive backs coach. He became the linebackers coach before he took over as head coach when Randy Walker died unexpectedly in the summer of 2006.
Big Cat in the Big Ten
It took three seasons before Fitzgerald and Northwestern finished above .500. He went 10-14 in his first two seasons before rattling off a 24-15 record over the next three seasons.
Since 2008, Fitzgerald has led Northwestern to eight winning seasons. The Wildcats reached 10 wins three times since 2012.
With his 100th victory at the start of the 2020 season, Fitzgerald secured the record for most wins by a Northwestern head coach. Under Fitz, Northwestern has won 106 games.
---
NORTHWESTERN FOOTBALL RECORD (Since 2006)
2006: 4-8
2007: 6-6
2008: 9-4
2009: 8-5
2010: 7-6
2011: 6-7
2012: 10-3
2013: 5-7
2014: 5-7
2015: 10-3
2016: 7-6
2017: 10-3
2018: 9-5
2019: 3-9
2020: 7-2
---
Since 2015, Northwestern has gone 46-28 with two division titles.
Northwestern is 5-5 in 10 bowl games under Fitzgerald, and has qualified for bowl games in four out of the past five seasons. Fitzgerald guided the Wildcats to four consecutive bowl victories, including a 35-19 victory over Auburn in the VBRO Citrus Bowl.
"We have built the foundation to compete for championships in tandem with the best academic and personal development opportunity anywhere in college football," said Fitzgerald. "We all have a lot to be proud of, but our best is yet to come."
Northwestern has the highest graduation rate out of all FBS football teams. They also have nine former Northwestern players in the NFL, including Justin Jackson from the LA Chargers.
According to DraftKings, Northwestern is a long shot at +25000 odds to win next season's college football national championship.