The LA Chargers lost running back Austin Ekeler to a hamstring injury in Week 4, which is why you should add his backup if you have a thin bench. You might also consider adding TE Robert Tonyan, RB Justin Jackson, TE Dalton Schultz, WR Tre'quan Smith, or QB Justin Herbert as a waiver wire pickup in Week 5.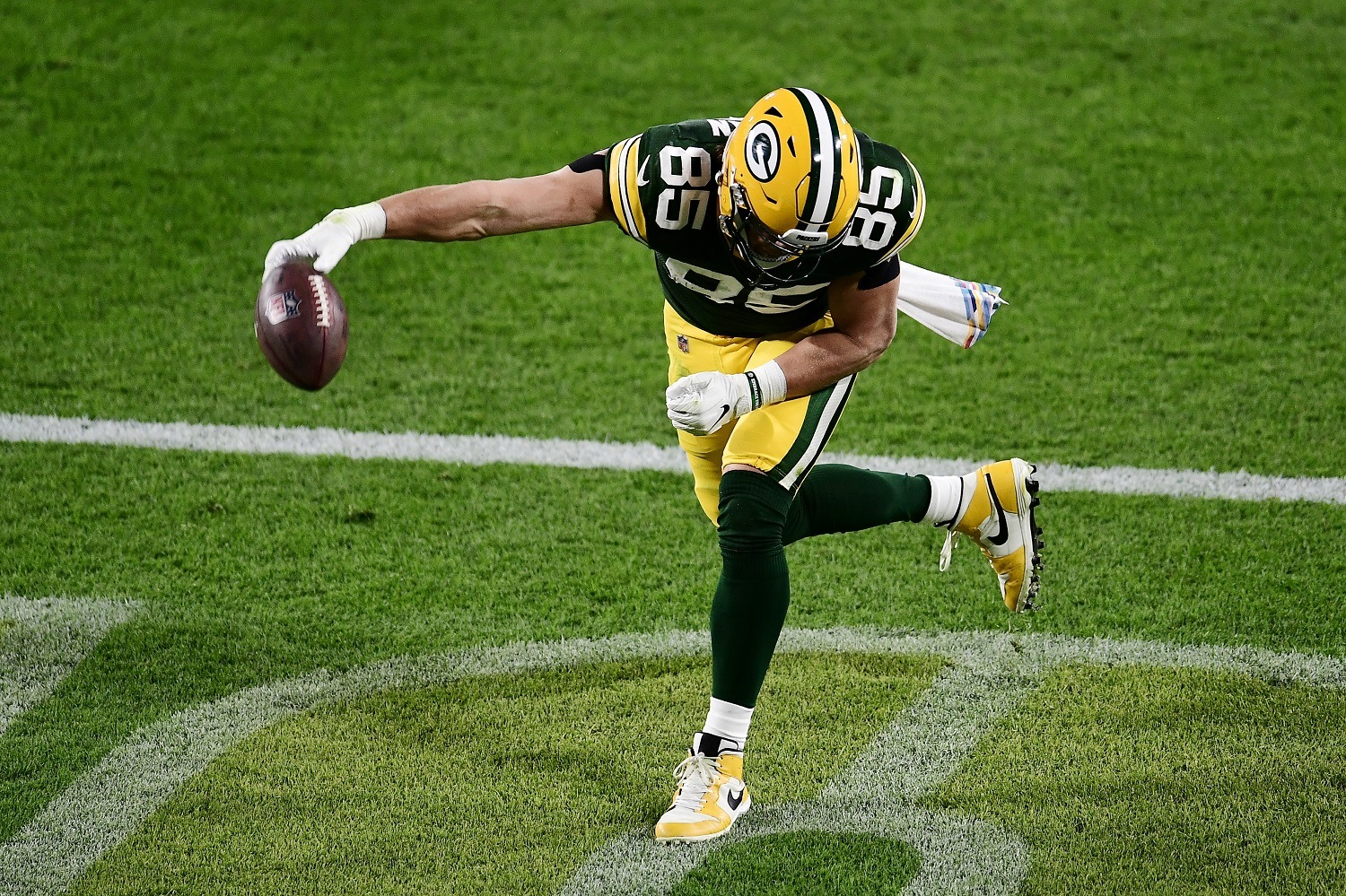 After four weeks of fantasy football, there's not much out there on the waiver wire, but luckily we're paying attention to a few guys for you.
---
WEEK 5 WAIVER WIRE PICKUPS
Justin Jackson (RB, LA Chargers)
Dalton Schultz (TE, Dallas Cowboys)
Tre'Quan Smith (WR, New Orleans)
Justin Herbert (QB, LA Chargers)
Robert Tonyan (TE, Green Bay Packers)
---
Cam Newton is out for an indefinite amount of time with coronavirus, but proceed with caution if you intend to stream one of his backups. Brian Hoyer got the start on Monday Night Football against the Kansas City Chiefs before being benched for his ineffectiveness in the second half. Jarrett Stidham came off the bench in the second half and breathed some life into their offense, but the Pats' comeback fell short. If Belichick rolls with Stidham in Week 5, then he's worth a waiver wire pickup.
Ekeler Down, Justin Jackson Up
When Melvin Gordon bounced to the Denver Broncos, the LA Chargers were confident that Austin Ekeler could fill the hole in their backfield as a dual-threat back. Then, Ekeler went down with a hamstring injury during a loss to the Tampa Bay Bucs.
Justin Jackson is the next man up for the Chargers. The Chargers selected Jackson out of Northwestern with a late-round pick in the 2018 NFL Draft. Northwestern isn't exactly a powerhouse, but it's still a Big Ten school. Jackson started all four years and be became one of nine running backs in NCAA history to rush for 1,000 yards in four seasons.
Jackson might lack Ekeler's catching ability, but he's an old-school grinder. During his senior season, he was considered the most underrated running back in college football. If you're in a deep league and there aren't many RBs available, consider adding Jackson as your Week 5 waiver wire pickup.
Don't Sleep on Justin Herbert
If you passed on Justin Herbert when Tyrod Taylor went down with a punctured lung, here's your chance to snatch him up. The rookie went toe-to-toe with Tom Brady.
Brady threw five touchdowns and secured the win, but Herbert looked magnificent at times with three touchdown passes of his own. The clip of Herbert's 72-yard bomb lit up social media on Sunday. He also completed 80% of his passes for 290 yards and one interception. Herbert has gradually improved in each of his three starts as he gains more confidence and experience.
FADEAWAY DIME@_dreamjg | #BoltUp pic.twitter.com/8HqmHsoZGC

— Los Angeles Chargers (@Chargers) October 4, 2020
Dalton Schultz
With Dak Prescott, Zeke Elliot, and Amari Cooper getting most of the attention in Dallas, tight end Dalton Schultz (219 yards, two TD, 12.2 yards per catch) flies under the radar.
Over the last three games, Schultz averaged eight targets per game. He caught nine passes (out of 10 potential targets) in Week 2, and finished with 88 yards and a touchdown.
Last week in a loss to the Cleveland Browns, Schultz caught four passes for 72 yards and a touchdown.
Dak Prescott hits Dalton Schultz for a touchdown!@dallascowboys convert the two-point attempt and this one's not over yet.

📺: #CLEvsDAL on FOX
📱: NFL app // Yahoo Sports app: https://t.co/wvEEn0SFTV pic.twitter.com/K6Sg5f81az

— NFL (@NFL) October 4, 2020
Tre'Quan Rising
It's last call for Tre'Quan Smith. We tipped you off the young wideout when Michael Thomas went down with an ankle injury.
Smith emerged as the go-to guy for Drew Brees over the past couple of games. He hauled in 13 catches in the last three games. In Week 4's victory over the Detroit Lions, Brees and Smith connected on two touchdown passes.
Even when Thomas returns, Smith could still be a valuable option as a slot receiver, or in red-zone situations. With the Saints' defense looking awful, the only way Sean Payton can win the division will be to outgun their opponents. Smith could add value to your bench, so consider adding the up-and-coming wide receiver as a Week 5 waiver wire pickup.
Have a day Tre'Quan Smith! The wide out dusts his defender and scores his 2nd TD of the game!! 👀pic.twitter.com/WvWoFw0Xog

— Saints Nation (@SaintsNationCP) October 4, 2020
MNF: Robert Tonyan Hat Trick
We love hearing stories about undrafted football players from under-the-radar schools. Robert Tonyan went undrafted out of Indiana State and the tight end is currently tied for the NFL lead with five touchdowns.
On Monday Night Football, the high-octane Green Bay Packers were short a couple of wide receivers with injuries to Allen Lazard and Devante Adams, but that didn't slow them down one bit. Tonyan stepped up and caught all six passes thrown to him by Aaron Rodgers. He finished the primetime game with 98 yards and three touchdowns.
"I just had to continue to do what I've been doing, just keep playing well and stick to the game plan," said Tonyan. "When plays come to me, I've got to make them. Aaron had a nice little look in his eye tonight, so I just was trying to roll with that."
Tonyan spent the last two seasons buried on the depth chart, but he's finally seen action in 2020. In three games, he caught 13 passes for 173 yards and five touchdowns. The unknown tight end now has touchdown receptions in three consecutive games.
The Packers' high-volume offense is showing no signs of slowing down. Matt LaFleur likes to spread the ball around, so consider adding Tonyan to your squad as a Week 5 waiver wire pickup.
If you're desperate for a tight end, the big choice this week will be Tonyan or Schultz.