Heading into the final weekend of the regular season, Harvard (20-7) hosts Yale (22-6) with a chance to secure the Ivy League season title and the top seed in the Ivy Madness conference basketball tournament. Harvard has won six games in a row, while Yale has won four straight.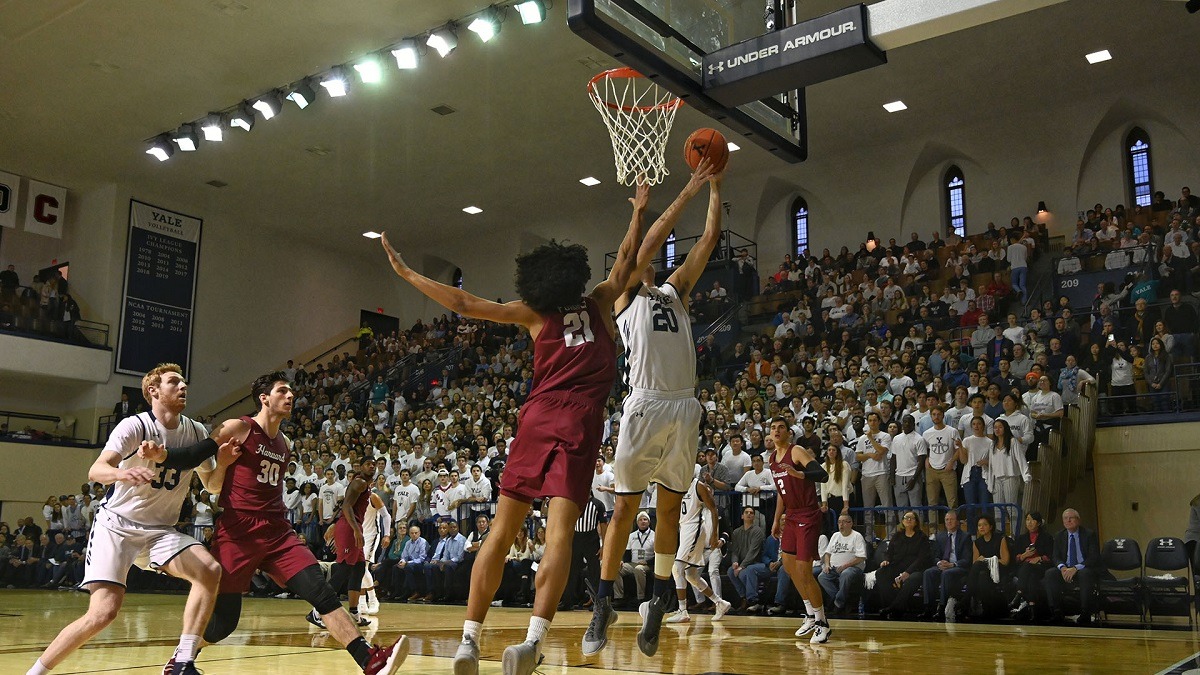 With the two rivals throwing down on the hardwood on Saturday night in Cambridge, it goes without saying that both Harvard and Yale must not look ahead and focus on their Friday night basketball games.
Yale hits the road for its final two games of the season. They battle sixth-place Dartmouth (12-15) on Friday night. Then, on Saturday, Yale invades Boston for a rematch against Harvard in one of the oldest rivalries in college basketball.
Four weeks ago, Harvard edged out Yale 77-76 in New Haven. Harvard will attempt to sweep Yale and secure a share of the Ivy League regular-season title in the same swoop. On Friday, Harvard hosts Brown.
Ivy League Standings
Yale 10-2 (22-6)
Harvard 9-3 (20-7)
Princeton 8-4 (13-12)
Penn 6-6 (14-11)
Brown 6-6 (13-12)
Dartmouth 5-7 (12-15)
Cornell 3-9 (6-19)
Columbia 1-11 (6-22)
Only the top-four teams in the Ivy League qualify for the conference tournament, known as Ivy Madness. Both Yale and Harvard clinched spots. Yale beat Harvard last year 97-85 to win their first Ivy Madness championship.
If Yale doesn't win this year's Ivy Madness conference tournament, then they will most likely bubble March Madness. With a jam-packed bubble this season, the selection committee won't squander an at-large bid on an Ivy League school, even though KenPom ranked Yale #58 overall.
Harvard: Injury Toll
Harvard's had its share of injuries this season. Bryce Aiken, a 6-foot-0 senior guard, averaged 16.7 points per game before he went down with a sprained foot in late December. Aiken exploded for 30-plus twice in the first six games of the season, including 30 points against Maryland (ranked #5 at the time) in the Orlando Invitational.
Last weekend against Columbia, Harvard lost starting point guard Christian Juzang (6.7 ppg) to an ankle injury. Juzang doesn't score a lot of points, but he knocked down two clutch free throws in the closing minute against Yale to seal a 1-point victory last month.
"We're kind of on pins and needles here going into the weekend," head coach Tommy Amaker told The Crimson. "It definitely hurts not having Christian, in particular, being our quarterback and leader in Bryce's absence."
Despite the injuries to their backcourt, Harvard has yet to lose on their home court at Lavietes Pavilion this season.
Noah Kirkwood, a 6-foot-7 sophomore swingman, currently leads Harvard with 12.0 points, 3.8 rebounds, and 2.4 assists per game. He dropped 18 points in the win over Yale.
Danilo Djuricic, a 6-foot-9 junior swingman, scored a season-high 17 points against Yale. He only averages 6.1 points per game, but stepped up when Harvard needed him to fill the scoring void.
In their first game against Yale, Harvard jacked up 45 points in the first half, which was the most first-frame points for the Crimson this season. Yale hunkered down on defense in the second half and stormed back, but their comeback fell short and the Elis lost by one point.
Yale's Close Calls
Yale won their last two home games by three points each. Last Friday, Yale picked off Penn 76-73. They avenged a loss to the Quakers earlier in the season in Philadelphia. Last Saturday, Yale held off Princeton 66-63. Paul Atkinson, Yale's top scorer, averaging 17.5 ppg, came off the bench because of Senior Night. The 6-foot-10 junior big man led all scorers with 18 points. Jordan Bruner, a 6-foot-9 senior forward, added a double-double with 11 points and 12 rebounds. Bruner has nine doubles on the season.
Atkinson dropped a career-high 28 points against Harvard, while Azar Swain exploded for 33 points (also a career-high). The two juniors accounted for 61 out of Yale's 77 points in the 1-point loss. Only four other players scored against Harvard, and no one else tallied more than six points.
If Yale wants payback against Harvard, head basketball coach James Jones needs a boost from his reserves. Harvard outscored Yale 27-3 in bench scoring last game. Yale also needs a viable third scoring option aside from Atkinson and Swain. Jones will look to Bruner for a big game in the rematch. During a quiet performance against Harvard, they held Bruner to only three points.
Two victories by Yale this weekend would secure a regular-season title and the #1 seed in Ivy Madness. Jones seeks his third trip to March Madness since 2016. Last season, Yale won Ivy Madness and earned an automatic bid to March Madness with a #14 seed.
"I'm fortunate to be blessed with a really great coaching staff," Jones told the Yale Daily News. "We've done a really good job of recruiting quality, young student-athletes. We have great players. They make me look good."
Yale/Harvard Betting Numbers
Betting, Ivy League sports, and the gambling world have intersected with each other since the two rivals met in the Big Game for the first time. Poker player and author, Peter Alson, penned Confessions of an Ivy League Bookie in 1996. Most recently, the Yale Daily News published an immersive piece on why sports bettors loved Yale's basketball team this season after Yale jumped out to a 14-3 record against the point spread.
Yale is 12-5 on the road this season and they won five out of their last six road games.
Yale is 17-9 ATS this season. They got off to a hot start with a 14-3 record ATS, but struggled to beat the spread over their last nine games with a 3-6 ATS clip.
The over is 10-2 in Yale's previous 10 games. Overall, the over is 16-10 for Yale this season.
Harvard struggled with a 10-16 ATS record this season.
The over is 15-10-1 this season for Harvard, however, the under total hit in three out of the last four games.
In their first meeting, Harvard closed as a +6 road dog and Yale failed to cover.
Harvard hosts Yale on Saturday night with a 7pm ET tip-off, or a 4pm Las Vegas time.